March 2007 Archives
Links were checked and verified as active only in the month the Eucalyptus entry was published. Links outside the silverscreentest domain may be inactive from this archive.
March 31 Permalink
I like Don Sutton on this year's television broadcast team because he makes it sound so professional. A subtext of having him in town is why he and Gaylord Perry get to be in the Hall of Fame, but the groundswell wants to keep McGwire and Bonds out.
Ray Knight on Nats Xtra is a bundle of cliches. So far, he's talked about his personal experience as a manager instead of as a player. That's about as meaningful to me as Michael Jordan loading you up with baseball anecdotes. Johnny Holliday actually hosted a sports call-in show when the Senators were on WWDC in 1971.
Permalink
Watched the Everybody Hates Chris episode "Everybody Hates a Liar". Chris has to dispose of a mouse from her neighbor Tasha's closet. She thanks him with a kiss on the cheek in the street. Soon everybody thinks something is going on between them. Tasha's grandmother Louise, played by Whoopi Goldberg, gets very angry. Chris has to stand up on the hood of car and tell the entire neighborhood Tasha is not his girlfriend.
In the other plot, Julius has to spend his trading stamps before the store closes and ends of buying a canoe that promptly gets stolen from the roof of their car.
Permalink
Went on to the How I Met Your Mother episode "Stuff". Robin resents that Ted has so much stuff he got from his ex-girlfriends. He gets rid of it all, but the emptiness of his aprtment reminds her how he rarely buys stuff for himself.
It turns out Robin got her dogs from her ex-boyfriends. Ted resents this and Robin decides to give her dogs to her aunt upstate. Ted has taken back the stuff from his ex-girlfriends which results in a huge fight that ends with them moving in together.
In the other plot, Lily appears in a pretentious avante-garde play that Barney tells her stinks. Lily says that friends should support each other at times like this, so Barney stages his own one-man show. It begins with him chanting "moist", a word Lily pathologically can't stand, then proceeds to fire a water pistol at her. Then he dresses up in a totally preposterous robot costume.
Permalink
Finished off with the CSI: Miami episode "Man Down". Delko is dead for 15 minutes when a jolt to the heart, Uma Thurman-Pulp Fiction-style, revives him. Cathy Gibson, the court stenographer Clavo Cruz supposedly kidnapped, was actually an accomplice, until he tied her up and left her to die under a boat on the beach for Tripp and Boa Vista to find.
General Cruz is back and the United States and Horatio expects Clavo to be after him, but does Caine tell the FBI, the CIA or the Secret Service? No, he decides this is his problem. Horatio can't stop Clavo from killing his presumptive father or escaping. In his dying breath, the General can't understand how he could have raised such a monster. Maybe the example set by torturing and exploiting your citizens might be a clue. It certainly wasn't right for Clavo to kill the General, but I would have preferred a trial in an international court or by a democratically elected government in Baracas.
The shot that got Delko in the head came from a security guard who'd been paid by Clavo. The million dollars transmitted through Horatio's account came from Joseph Trevi who is Clavo's biological father. Clavo was selling uncut diamonds to finance his escape. The diamond dealer has children in backroom sweatshop cutting diamonds. I thought diamond cutting was a highly skilled craft. A sweatshop filled with children cutting diamonds makes as much sense as children writing legal briefs for a law firm. They must be cheaper than associates.
Clavo just walks up to the Crime Lab to get himself killed by Horatio. No romantic shootout like Butch Cassidy or Bonnie and Clyde. It was a pretty lame ending for what was supposed to a great villain. I'll give him credit for the line from the previous episode,"Horatio Caine. Master of the Obvious."
March 30 Permalink
ESPN has "expert" predictions of the Nats' 2007 season. I'll post them here.
Peter Gammons 58-104
Jayson Stark 58-104
Jerry Crasnick 56-106
Buster Olney 49-113
Rob Neyer 69-93
Tim Kurkjian 63-99
Steve Phillips 64-98
Keith Law 59-103
Jim Caple 60-102
Eric Karabell 64-98

I tend to agree with Neyer, but we'll find out at the end of the year.
Permalink
Watched the Bones episode "The Man in the Cell". Serial killer Howard Epps successfully escapes from prison by starting a fire, killing the firefighter sent to rescue him, and taking his place. He then commits a series of murders to drive Brennan crazy.
First Epps sends a human heart to Montenegro, then leaves his ex-wife Carolyn's head in a refrigerator. There is a token in the head from a park that Parker, Booth's son, regularly goes to. When Seeley gets there, Parker has a note from Epps.
Instead of an MRI or x-ray, Saroyan saws into Carolyn's head, only to release a poison that seriously damages her lungs. Parker's note leads to the rest of Carolyn Epps' body, including a bag on her stomach with the rest of the poison that triggers an explosive. The news report released is that Booth is seriously injured and Addy is dead.
Hodgins is able to identify the poison to save Saroyan. The FBI catch Epps, hiding out in the apartment next to Brennan undergoing renovations. Epps tries to jump over the balcony. Brennan and Booth attempt to pull him, but he falls to his death. There is an unrealistic tumbling to his drop. Someone who is not a professional diver won't tumble from 50 feet, but will most likely die from a crushed spine or massive internal injuries.
Permalink
Went on to the CSI:NY episode "The Lying Game". Drag queen Quentin Conrad is found drowned to death in the toilet of a hotel men's room. Conrad had earlier confronted Connecticut Congressman Garth who quickly becomes a prime suspect.
Some years back, Garth was a mere campaign manager accused of raping Conrad's sister. With DNA from Garth handling a baby, the police are able to pin that rape on him, but not the murder. Turns out Quentin's killer was a guy at a trade party he/she had picked up and didn't know he/she was a man.
In the other plot, extreme sports marketing executive Robert Gallagher is found dead in a salt truck. One of the suspects is Gallagher's partner Jackson Rudnick who claims to have been at a marketing seminar, but his golf case was used to transport the body to the salt depot. Another suspect is Dana Haines whose trophy hole-in-one golf ball was found in the salt truck, but she says she was at a yoga class. Turns out Rudnick and Haines were using an alibi service and were actually having an affair with each other.
The killer was Steffen Cross, Gallagher's other partner, who saw the invoices for Rudnick's fake marketing seminars. Cross thought Gallagher was conspiring with Rudnick behind his back to start a new division. In anger, Cross bludgeoned Gallagher with a skateboard.
March 29 Permalink
Mia Hamm gave birth to Twins. As of this moment, I haven't seen any names. I think Ramona and Aim would be appropriate.
Permalink
JimBow picked his bests of Spring Training:
Best Rule 5 selections » A tie between catcher Jesus Flores and pitcher Levale Speigner. Both made it because they earned it; they were awesome.
Given there were only two Nats Rule 5 selections, this is as meaningful as JimBow naming himself the greatest General Manager of the Nationals since they moved from Montreal.
Permalink
Watched the CSI episode "Law of Gravity". Keppler is being haunted by a murder he committed in Trenton. He sees former Trenton police officer Frank McCarty in a Las Vegas diner. McCarty asks for a mysterious favor that Keppler reluctantly declines.
Another former Trenton cop, Dennis Graves is found shot to death in his hotel room, along with a hooker who has her hand removed. McCarty is the only witness, but Keppler says nothing. Long blonde hairs and high heel footprints are found in the bathtub, from a woman who was either the killer or a witness.
McCarty was the father of Keppler's girlfriend Amy. A drug dealer had been accused of raping Amy and Keppler killed him. Graves and McCarty helped Keppler cover it up, but now Graves was ready to talk so McCarty killed him and the hooker. McCarty cut off the hooker's hand because she scratched him and threw her hand in a dumpster. Keppler later learned that McCarty had raped his own daughter.
McCarty leaves in his room the gun Keppler used to kill Alvarez, the drug dealer, for the Las Vegas police to find. Keppler gives a call to McCarty to meet him at the Blue Siren motel that the blonde witness uses as a place of business. Keppler gets there just before the rest of the cops and stops McCarty from shooting the witness. McCarty shoots Keppler once and a dying Keppler empties his clip into McCarty.
Grissom may have found empathy in Massachusetts, wanting to talk to Sara and comforting Catherine after Keppler's death. Since Cold Case is also a Jerry Bruckheimer show, it would be nice to see the Alvarez case closed on that show.
March 28 Permalink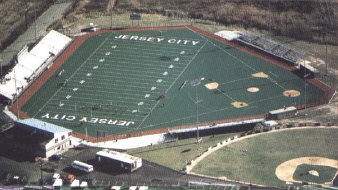 A Little League field in a predominantly black neighborhood of Jersey City has been vandalized with racist graffiti. The fields can be seen pre-vandalization. You can see them in the aerial shot, just north of one of my favorite locations to visit on the web, Cochrane Stadium. It's an astroturf field used for high school baseball and football games. I like the fact that they managed to fit the entire gridiron in the outfield. No messing up the football field with infield dirt here.
Permalink
Ugueth Urbina has been sentenced to 14 years in prison in Venezuela. I don't know enough to figure out the facts of the case, but this joins a line of colorful post-career events such as jumping off a moving train, falling off a stationary train, running off with someone else's wife and $1500 of his money, killing an ex-girlfriend and her boyfriend in a bar or gassing one's self in a San Francisco hotel. And those are just former Washington players.
March 27 Permalink
Today is the birthday of Bill Wynne. He started one game for the Senators on August 31, 1894.
Permalink
Shea Faithful has an interview with Bill James:
The internal discussion of the front office is vastly more sophisticated than the discussion that takes place in the public arena, more subtle, more layered, more complex, and with hundred of times more information. This doesn't mean that we make better decisions; sometimes we make worse decisions.
I think the entire baseball community would be illuminated if Bill James one day wrote about what really goes on in front office discussions. Perhaps fans would have more respect for the process. Or maybe it would verify our belief that they're all idiots.
Permalink
Basil, Brian and Chris provide their opinions at DCist.
March 26 Permalink
Richard Barbieri has a very clever analysis of the 2007 Nats at The Hardball Times done in the style of John McLaughlin.
Down in St. Petersburg, new field turf is being installed at the Trop.
The Rays also hope to utilize the turf's qualities on offense. They have been dabbling in more of a traditional National League-style offense this spring, with runners in motion on the bases and plenty of bunting, and Manager Joe Maddon believes the turf could aid the cause.
That just warms the heart of every stathead Rays fan.

Permalink
Today is the birthday of Josh Wilson. He has claimed the mantle of Nats' official scrappy white guy since the release of Jamey Carroll. Hard to tell yet whether Wilson is future managerial material.
March 25 Permalink
Patterson collapsed yesterday and need an IV.
Former Sunderland players Carl Robinson and Andy Welsh have signed with Toronto FC. Sunderland has a history in Canada. In the 1960s, the United Soccer Association in the U.S. and Canada consisted of squads lifted en masse from international club teams. The Vancouver Royal Canadians were the transported Sunderland team and owned in Canada by Jack Kent Cooke.
Permalink
Watched the Criminal Minds episode "Empty Planet". An anti-technology bomber is terrorizing Seattle and using a novel entitled Empty Planet as his motivation. The novel was written by Ursula Kent, a literature professor played by Jobeth Williams.
Dr. Emory Cooke, an expert in artificial life, is killed by bomber and Dr. Betsy Brasier, an expert in artificial narrowly escapes. Both were guests lecturers in Professor Kent's courses. The bomber is one of Kent's former students who also believes she is his biological mother.
Gideon orders Dr. Brasier's car destroyed even after the bomb is defused to make the bomber believe he succeeded in killing her. If I was Dr. Brasier, I'd immediately say,"You're buying me a new car, right?" If they didn't, I could imagine the insurance company not paying for a car deliberately destroyed by the FBI.
Permalink
Went on to the How I Met Your Mother episode "Lucky Penny". Ted finds a 1939 penny on the subway that he believes can buy dinner for him and Robin. It's only worth $1.50 and on the East Side, they find women camped in front of a bridal shop that will have huge sale in the morning.
Lily wants to get in on that sale so she and Robin camp out at the store. A car parked in front of them has its alarm going all night. In the morning, Robin is too tired to go home to Brooklyn so she crashes in Ted and Marshall's apartment.
She startles Marshall in the bathroom and he breaks his toe. He had been training for several months for the New York City Marathon, often saying positive affirmation to himself in the mirror like,"You are Marshall!" Barney finds the whole notion of training for a marathon preposterous and offers to take Marshall's place in the race.
Barney finishes, then takes the subway for the first time after the race. When he tries to get off, his legs are like rubber as he finally feels the effects of not training. Barney calls Ted to pick him up at the 86th Street Station where we guess Ted and Marshall live.
When Ted gets to the station he already sees Barney in the subway car and he jumps the turnstile. Ted is arrested and must go to court several months later. The court appearance delays him in getting to the airport for a job interview in Chicago.
So Ted doesn't get the job, but apparently his staying in New York enabled him to "Meet Your Mother". Robin was such an appendage in this episode. Did she need to camp out with Lily? Did she need to go to Chicago with Ted?
Permalink
Finished off with the Everybody Hates Chris episode "Everybody Hates Elections". Chris gets his speech stolen by Caruso and he has to extemporize something that sounds an awful lot like a stand-up routine. Mr. Omar, the funeral director, movies in upstairs. He is played by Ernest Thomas, Raj from What's Happening!
March 24 Permalink
Watched the Numb3rs episode "Contender". Sinclair's old Bronx buddy Ben Ellis is an ultimate fighter who gets accused of poisoning two opponents with a pesticide. He was obviously framed, but the story takes an awful long time to get there when it could have used a few more red herrings.
The deaths are all to get a particular match-up in the championship that will make big bucks in pay-per-view. And the guy behind it is Austin, played by Bruce McGill. It would have been a lot easier to make-up some bogus violations to disqualify certain people, than to engage in a series of murders.
In the other plot, Charlie defends Larry's faculty Texas Hold-Em Championship against a professor played by Arye Gross who hasn't aged well.
Permalink
Watched the Rays tie the Bosox in 10. The sacred calf Brendan Harris got two doubles, but I don't know if he's going west with the rest of the team instead of northeast to Durham. As my official favorite American League team, I didn't like hearing Basil's cousin repeating Joe Maddon's words that the Rays would rely on moving the runner along and keeping the defense off balance to counteract the Red Sox and Yankees.
Permalink
Replacement Level Yankees Weblog has the projections on this season. They projected 80 wins in 2005 for the Nats (one less than actual) and 76 wins last year (5 fewer than reality), so I give their prognostication more value than others.
RLYW made several projections using different assumptions that range from 66-75 wins, with 71 being the average. To take it from other end, that's 87-96 losses, not 130. Under current circumstances, it's nearly impossible for a major league team to lose 130 games in a season. I'd venture even the Columbus Clippers couldn't lose 130 games playing a major league schedule.
So it's going to be a bad year, not a historically bad year. Maybe even a boringly bad year, but not a historically bad year.
Permalink
Groin injury for n.000K. Maybe this will be like the fortunate Wil Cordero injury at the start of the 2005 season.
Permalink
Watched the Monk episode "Mr. Monk Goes to the Hospital". Neurotrauma specialist Dr. Grady Whitcomb is bludgeoned to death with an oxygen tank by a patient that he knew. Monk and Natalie go to the emergency room for his bloody nose. Natalie leaves for her date and Monk gets his nose cauterized. The doctor who did the cauterization says she worked under Dr. Whitcomb. When his nose starts bleeding again, Monk goes to Whitcomb's office and finds him dead.
When the police arrive, they find the murder weapon was an oxygen tank assigned to Hank Johansen, a feisty old man played by Charles Durning. Johansen's doctor is Davis Scott, who is himself a patient under observation for chest pains. Whitcomb was to be a witness against Scott in a malpractice trial which would give Scott motive for killing Whitcomb.
Monk figures out that Scott got Johansen assigned to a room near his. Scott went through an adjoining closet and hooked up his heart monitor to Johansen while he slept. Then Scott killed Whitcomb. Monk explains this to Johansen who immediately calls Scott when Monk leaves to find the EKGs.
Scott finds Monk in an office and bludgeons him with a crutch. Monk wakes up, heavily anesthetized in the throat so he can't speak, with an explanation that he fell down the stairs. Scott has changed the charts so that the nurse will administer a fatal does of tetracycline to which Monk is allergic. Natalie leaves her date out of guilt. She stops the tetracycline drip just in the nick of time.
March 23 Permalink
We left the house thing morning at 5:40 to be chaperones on a class field trip to Yorktown. I drove Whitlock and one of the other moms. We got there about 9:45.
I spent the entire day at the Victory Center, most of it in at outdoor snack area, reading science fiction under the table's umbrella. The temperature was in the 70s with an occasional light breeze. Before lunch, I went through the museum, watched the movie and shot a few pictures at the encampment. I bought Christmas ornaments for Williamsburg and Yorktown at the gift shop which also sold Civilization III.
March 22 Permalink
Ichiro matches wits on own TV show. It's a show unlike anything you'd ever see in the United States:
He has just completed one of his favorite offseason activities, the taping of an episode of his TV show, "ICHIRO VERSUS," in which he matches wits against a well-known figure from far-ranging disciplines such as stage, fashion, science or law. ...

Tapings comprise several segments, including an amusing psychological test and a lengthy, free-flowing conversation. But the one Ichiro finds most challenging is the word-association game, in which both participants utter the first thought that comes to mind in relation to a series of words or phrases...

Keeping in mind that much gets diluted in translation, here's a sample from a recent episode with acclaimed actress Keiko Matsuzaka in the opposite chair.

Off-camera narrator: "Ready? Associate to this thought: First encounter."

Matsuzaka: "Your first step into an unknown world."

Ichiro: "Forgive me, I was just a curious 18-year-old." (Guest and studio hands laugh out loud.)

Narrator: "Your teenage years."

Matsuzaka: "Quick maturation through constant reprimand."

Ichiro: "Sacrifice."

Narrator: "Experience."

Matsuzaka: "Asset."

Ichiro: "What you use to develop yourself."

Narrator: "Workplace."

Matsuzaka: "At times, the promised land."

Ichiro: "The only place where certain things exist."

Narrator: "Judgment."

Matsuzaka: "Your inner conscience."

Ichiro: "Something that has to be exercised in a split second."
My mind just goes to silly American combinations of this format such as Anne Coulter vs. Courtney Love or Nick Johnson vs. John Epperson.
March 21 Permalink
I've seen a little bit of Washington Post Live. It still needs a few more shows to figure out what it is. I don't think their target demographic is drooling at the thought of guys in suits, including Robert Novak lounging about in easy chairs. This isn't John McLaughlin swiveling like a bobblehead doll. It's the genial Russ Thaler - the Mike Douglas/Merv Griffin of Mid-Atlantic Sports.
Steinberg seems to be the exciting element, but it's like he belongs on a different show - or more properly - the Internet. While television and the Internet can work harmoniously, they're not the same thing. And he can't be on the show at the same time as Wise without one of them changing their appearance. People will get too confused. This Old House did this when Steve Thomas replaced Bob Vila. Originally, Thomas had a beard but when he stood next to Norm Abram, they looked like the Smith Brothers.
The show as currently constituted needs more passion and energy. I don't mean more shouting. I understand that passion and energy is difficult to sustain for 90 minutes. I'd try talking to guys who are primarily writers around a small, newsroom-style table with everyone on stools. If Washington Post Live is still around in three months, I don't think it'll resemble the show you see now.
Permalink
Basil associates a terrorist from Die Hard with a general manager. It's classic stuff that makes Basil Basil and not Dan Shanoff.
Jim Bowden notes:
Nook Logan is one of the better defensive center fielders in the National League; no team plays into October without a top defensive center fielder.
Except for the 1973 Mets who got to the World Series with a 42-year-old Willie Mays that was a disaster in the field that year. Kind of like Ken Griffey, Jr. in centerfield now. At least JimBow considers putting Escobar in center if when n.000K doesn't hit. I would love to have a rotation of Casto, Church, Escobar and Snelling in left and center until Doyle tears his ACL riding a stationary bike and Jose separates his shoulder changing a lightbulb.
March 20 Permalink
The Nats won two games in a row, allowing only one run. The Hardball Times projects the Nats to win 70 games and a 3% chance of winning the division. I think the Natosphere would be thrilled if that came to fruition.
On the roster front, JimBow re-signed Pedro Astacio, talked down Ryan Church and talked up Chris Snelling. If only Manny would keep n.000K on the bench only as a defensive substitute.
March 19 Permalink
Ken Levine has a post about watching has-beens at an Anaheim theater:
DAMN YANKEES with Sandy Koufax. Yes, you read that right. Sandy Koufax. Singing and dancing in a musical. I guess Cy Young Awards weren't enough. Sandy wanted a Tony. I wonder how many stage door theater uh…"enthusiasts" have his autograph and have no idea who he is.
Commenter Tallulah Morehead added a little more information:
My fatigable scribe, Little Dougie, bought tickets to see that DAMN YANKEES production because Bert Lahr was announced to play Mr. Applegate, but Lahr had a heart attack before the show opened, and was replaced by Eddie Bracken.

Sandy Koufax and "Playboy" Bo Belinsky were both playing for the Angels at nearby, just-opened Angel Stadium, so they were cast as ball players, singing in "You Gotta Have Heart" & "The Game", to tie-in to the new team, for all those musical theater-baseball fans. That would be just you. Also, instead of being The Washington Senators, in that production they made the team the Anaheim Angels. The manager of the team was played by the guy who played Marlo Thomas's father on "That Girl".

I suppose I should make it clear that Sandy Koufax did not play Joe Hardy, nor Lola, though that certainly would have been a showstopper! Joe Hardy was Allen Case, a now-forgotten - and dead - actor who then had starred as "Clay McCord" on a western TV series called "The Deputy". If memory serves, and as you accurately pointed out, my late-night, early-morning, mid-day and all other times vodka martinis don't aid my memory much, he had also co-starred with John Russell on "The Lawman".

Little Sandy was just one of the baseball players on the team. Few lines of dialogue, but solo lines in the two songs he was in. He & Bo were stuffed in just for the publicity, and it may well have been the year he retired from baseball. It somehow did not snowball into a new career for him.
Mister Applegate is one of those roles any actor could play, even a bad one like William Shatner. The only two people I couldn't imagine pulling it off would be Keanu Reeves and David Caruso.
March 18 Permalink
Everton scored in injury time to beat Arsenal. I was more impressed that they continued to play in what looked like driving sleet.
Permalink
While Sunderland moves up the Championship table, I found the listing for Malice in Sunderland in pre-production. It's a re-telling of Alice In Wonderland with an American girl in Sunderland. And the girl is played by Mischa Barton ????
Permalink
Watched the CSI: Miami episode "No Man's Land". Two policeman transporting confiscated weapons for disposal are cut off by a tractor-trailer and their van is upended by an exploding manhole cover. In the chaos, locals grab the guns that litter the street and the surviving officer is shot dead.
The guy who shot the officer is a cousin of Clavo Cruz. Clavo was revealed to not be the biological son of the dictator of the fictional nation of Baracas. The general lifted diplomatic immunity and Clavo has been rotting in prison ever since.
Horatio interviews Clavo behind bars and, as he leaves, Clavo stabs a guard. This was all a ruse to get himself arraigned on this new crime. While at the courthouse, a confederate with a rocket launcher stolen from the weapons truck shoots the courthouse, enabling Clavo to escape.
He takes a court reporter hostage. Clavo gets Horatio to give him a million dollars in cash he'd wired to Horatio's account. As Horatio and Eric attempt to free the court reporter from the trunk of a car parked on the top of a parking garage, another of Clavo's cronies opens fire. The episode ends with Delko shot in the neck.
In the other plot, a boy is accidentally killed by his brother playing with the gun he picked up from the weapons truck.
Plenty of stupid plot points here. A truck filled with weapons is not going to travel unescorted. You can't even pay off a $6,000 credit card bill without raising alarms at Homeland Security. There's no way Horatio could have withdrawn a million dollars from his own account without at least a two week delay.
March 17 Permalink
Nats pound the Mets 13-1. If these games counted I'd be worried if I was a Mets fan.
Permalink
Bowie Kuhn died. The former Griffith Stadium scoreboard operator wasn't powerful enough to keep the Senators from moving to Texas.
Even though Kuhn was a smart man, he always came off as kind of clueless. When it came to Ball Four or the work stoppages, he was like a quaint Louis XVI or Nicholas II that never understood the meaning of the masses revolting at the palace gate. When Kuhn partnered in a law firm with Harvey Myerson, that attitude sent him straight into bankruptcy.
Kuhn's family is asking for contributions in his name to the Ave Maria Foundation, if you're into theocratic towns.
Permalink
Watched the Cold Case episode "The Good-Bye Room". In 1964, 17-year-old Hillary West is sent to a Catholic home for pregnant girls until her child is born. The night after she gives birth, Hillary is found dead in the woods. Today, her daughter discovers, after the death of her adoptive mother, that the murder of her birth mother was never solved.
Now Bruce Boxleitner is the first guest star and we were all ready to accept that the murderer was Huck Oberland, Hillary's boyfriend and the father of her child. Boxleitner plays him today. But they managed to surprise us by having Karen Watson, one of the other pregnant girls, kill Hillary.
Hillary saw that babies were not being given away to adoptive families, but sold. She was going to run away with her girl Sunshine. Karen only held her boy for fifteen minutes and was probably suffering from so post-partum depression. She saw Hillary in the woods and thought Hillary's baby was hers. In her anger, Karen killed Hillary.
Permalink
Went on to the Monk episode "Mr. Monk and the Really, Really Dead Guy". A street musician is hit in the head with a tire iron. Then the murderer proceeds to check off on a list several methods of killing the street musician over and over again.
Monk is helping Stottlemeyer investigate the murder of Jean Garnett who had been beaten in the park, but managed to make it to a gas station before dying. They are all immediately called to the crime scene of the street musician whose murder has been claimed by the "Six-Way Killer" who promises to strike again in 36 hours.
Ms. Garnett was a pharmaceutical sales representative who may well have been on a date with a doctor since there is a medical convention in town. Immediately, I surmise that the Six-Way Killer is a diversion and the murderer is the city coroner who needs time to tamper with evidence implicating him.
I was close. The doctor took Garnett to an exclusive restaurant where she ate a distinctive dessert and he paid for the meal with his credit card. Something went wrong on the date and he beat her. The 36-hour deadline of the Six Way Killer would keep the police occupied so that her dessert would be digested and the evidence linking him to the murder would disappear. Monk figures this out and the doctor is arrested.
Of course, there were other ways to link the doctor to the murder. Certainly there were people at the restaurant who saw them together. The ruse of the Six Way Killer would not have been enough to exonerate him.
Along the way, Julie teaches Monk a little bit about the online world. Meanwhile, an FBI unit has been brought in to handle the investigation. Monk brings the notebook computer to the situation room when the authorities are trying to trace the Six Way Killer's calls. The FBI end up raiding a slumber party Julie is attending.
March 16 Permalink
Seventeen months ago, I produced a lame bit of photo-manipulation. Matt Manochio has managed to wrap an amusing story around it.
Permalink
Some folks in Wales want to remove the red dragon from the flag because they believe it is a symbol of the devil and "Wales is the only country in history to have a red dragon on its national flag."
They're right. Because Bhutan has a white dragon and Imperial China had blue dragons.
Permalink
Today's spring training game against Cleveland was rained out. Back here, in Washington, rush hour consisted of snow and sleet pummeling the roads.
Permalink
Watched the How I Met Your Mother episode "Monday Night Football". The gang are forced to attend the funeral of Mark, a guy who worked at their favorite bar who they don't remember at all until they see his body in the coffin. So they miss the Super Bowl and promise not to find out what happened and all watch together on Monday night.
Ted constructs a sensory deprivation device that enables him to get hot wings and sauce from the local bar without hearing or seeing the final score. Barney meets Emmitt Smith on the street.
Permalink
Went on to the CSI:NY episode "Obsession". In the Idiot Run, teams of contestants in ridiculous and frequently revealing clothing race shopping carts in the dead of winter. It seems unbelievably competitive. I'd think the winner is not the one with the fastest shopping cart, but the one who's drunk the most. The officials of the real Idiotarod were outraged. Apparently the winners get their mugs on magazines, plural, but not on any I've ever seen.
Anyway, contestant Bruce Abbott has been kicked in the head and pushed down a snowy hill in a shopping cart. The fatal blow was delievered by a woman, given the nature of the foot imprint on Bruce's head and the nail polish left behind. For a moment, Danny considers the killer might have been a homeless person whose shopping cart was stolen, but wouldn't that person take the shopping cart back?
On the shopping cart, they find hair from a white dog and determine the cart came from the now-closed Delfina's market. Hawkes and Messer go to where Delfina's used to be and find the dog and the murder weapon - the leg from a woman's mannequin. A homeless man did kill Abbott, but didn't take back the cart because it was already destroyed beyond repair.
In the other plot, real estate agent Alex Martin is found stabbed to death in a brownstone that is unoccupied while undergoing probate. There is evidence a kidnapped woman was held here and she possibly stabbed Martin and escaped. The trail leads to Liz Grayson, a wealthy woman who keeps her horses stabled in Central Park. Is there really any room in Central Park for private individuals to keep their horses?
Anyway, she had a strange bondage relationship with Martin. After their last sesson in which Alex staged her kidnapping, the pair was followed by Terry Rockwell, Liz's ex-husband. He watched the entire episode through a window, then came through the door and stabbed Martin. This excited Liz so much she had sex with Terry afterwards.
March 15 Permalink
In today's split-squad games, the Nats were shut out by the Tigers and merely beaten by the Dodgers.
Permalink
A Fox Sports bloggers wants to be baseball's version of Richard Dawkins:
The underground society of baseball intellectuals will remain buried for the same reason why people still believe in God: they like believing in their fairy tales -- that Jeter is as clutch as you can get; that God exists. It makes them feel better, and makes the game more fun. Who wants to watch a game and analyze statistics? Who wants to believe that there is nothing when we die? Only the small culture of logical, rational individuals; they're content with the unhappy ending to the story as long as the truth is known.
Permalink
C.C. Sabathia is concerned that the number of African-American, as opposed to Hispanic, blacks is declining in baseball. He' certainly doing his part, contributing to local leagues in his hometown of Vallejo, California. He could even be the baseball equivalent of the basketball AAU svengalis, directing youngsters to particular colleges.
There is no conspiracy to keep American blacks out of baseball. There does the remain the fact that baseball is not a revenue-generating college sport, so baseball players won't get a full scholarship. Given that basketball and football programs offer a full ride, the choice is clear for a poor kid. And they're not going straight to the minors without a hefty signing bonus.
Permalink
Niagara was not one of the two worst teams in the NCAA tournament. However, they played in the Opening Round game in Dayton because the NCAA didn't want two historically black colleges in it.
March 14 Permalink
Nats tie Cardinals in 10. Everybody pitched decently and the Nats scored two runs on eight hits.
Permalink
The Valley League is putting a team in Alexandria in 2008. The Aces will play in Four Mile Run Park, the same stadium that hosted the Alexandria Dukes in the 1980s.
The Calvin Griffith League has already lost the Herndon Braves to the Cal Ripken, Sr. Collegiate Baseball League and the Fauquier Gators to the Valley League. Now the Valley League is encroaching further into traditional CGL territory. The Clark Griffith League is down to three teams and the DC Grays, while composed of Washington players and a Washington name, actually played all their games on the road in Virginia. It's sad to see the implosion of a league where Steve Barber, Mark Teixeira and Milt Thompson spent their pre-professional summers.
March 13 Permalink
With no game, Stan Kasten hyped the cherry trees at the new stadium. A great idea I posted here.
Permalink
Watched the Numb3rs episode "End of Watch". Kids playing with their bikes in a vacant lot find the bdage of police officer John Everett who disappeared in 1990. They always suspected gang member Calvin Bradley of the murder, because Everett killed his brother Stephan.
Charlie's math and a bit of Megan's brains are used to figure out the dirty 17-year-old secret of the police gang unit. Through an informer, they knew where various rival gangs kept their stash of drugs. The unit fed those locations to Stephan who not only stole the drugs, but murdered a number of people at those houses. The police did not arrest him, but Everett was catching on to the scheme. Killing two birds with one stone, the gang unit surrounded Stephan's house, leaving an escape route right into Everett's line of fire. This supposedly would keep Everett quiet and silence Stephan forever.
However, Everett was talking to internal affairs. Before he could get there, he was killed by a member of the gang unit.
March 12 Permalink
Nats beat Mets 9-6. A decent performance from Shawn Hill. Cordero earned a save today. Snelling and Zimmerman homered.
Permalink
Watched the Criminal Minds episode "Distress". Someone has been killing men in the Fifth Ward of Houston by breaking their necks. It appears to be a homeless man with military training. The break comes when a restaurant owner tries to drive the unsub from a dumpster, but is stopped from killing him when he sees the restaurant owner's daughter.
Satellite photos of an S.O.S. constructed with rocks gives further evidence to support to the ex-military theory. Dana Woolridge, played by Joanna Going, plays the wife of the unsub Roy. She comes into the police station with his best friend from the Army, Max Weston.
Max explains that Roy killed a boy armed with an AK-47 in Somalia. That incident has haunted Roy ever since. Roy's pickup is found with a partially repaired flat tire in the Fifth District. The BAU surmises that an explosion, caused by the ongoing gentrification and construction in the area, sent him over the edge, believing he was back in Mogadishu. Now he is relying on his miltary training to stay alive, thinking he's in a war zone.
Max communicates to Roy who now carries a radio he stole from one of his victims. Max uses the proper code, including invoking the name of Mark Rypien. Roy is convinced that helicopters have come to rescue him and the SWAT team surrounds the house he emerges from. All of a sudden, a boy rides up on a bicycle. Roy tries to shoo the boy away. Believing he will harm the child, a SWAT team member shoots Roy dead.
I often complain that this supposedly cerebral show too frequently solves its problems with violence. In this case, the writers escape the issues of Roy's trial and/or future mental care by killing him. I suppose they tried to soften their tone by making him feel guilty for killing a child, but I don't think he should feel any remorse for defending himself from an armed threat, even if it was a child. If the boy in Mogadishu had a stick that looked like a gun, then I'd believe the guilt.
March 11 Permalink
Dodgers edge Nats in 9th. Nunez and Belliard homered. Michalak, Lewis, Bowie and Schroder got shelled.
Permalink
Watched the CSI episode "Meet Market". The body of ex-con Ross Neddy is found burned to death in a shack where he worked. The autopsy shows tissue missing and bones replaced with PVC pipe and an umbrella. It could not have been a suicide if the bones and tissue had already been removed.
The fingerprints on the body belong to Roger Kapinsky who'd already been buried. The coffin comes up empty, but bloodstains on it lead to Heidi Sultz, an ex-con who filed domestic assault complaints against Ross Neddy. Ross is living with her under an assumed name. He admits to digging up the body with Heidi, faking his own death and starting a new life. Neddy knows nothing of the tissue trade.
The umbrella leads to Ty Miloni of Longevity Tissue Services. He says Lapinsky's body parts came from Salvatore Heinz of Silver Hills Mortuary. The mortuary's paperwork shows signs of forgery. Lapinsky's actual cause of death was leukemia, not a heart attack as listed. It starts to sound like "The Graft in the Girl" episode of Bones. Several recipients of tissue and bones died of the same diseases as their donors.
In the other plot, Margo Dorton, wife of home-building magnate Bill Dorton, is found bludgeoned to death in her home. She'd gone to the Over part of the Over Under Cafe where women paid for romantic dates with handsome men that stopped short of sex. Margo had formed a relationship with Jesse Hottman, the mostly highly desired man in the club.
It turns out Jesse was the child she gave up custody to his father back in 1988. When Margo told him, he beat her to death, claiming he had no mother.
March 10 Permalink
About six weeks late, I bought new workout shoes at Dick's. I think they're more walking or running than cross training shoes, but it shouldn't matter. They look different enough from my other shoes that I don't have to mark it with a neon green paper clip.
Permalink
Nats beat Mets in 10. Redding did not pitch well, allowing homers to David Newhan and Ben Johnson. Obviously, Major League Baseball does not understand the public relations fallout of the steroids scandal if someone who lost a gold medal after a positive drug test can still play ball. Abreau, Colome, Rivera and Booker all pitched scoreless innings.
Permalink
Watched the Bones episode "The Man in the Morgue". First broadcast and set last April, Brennan spends her vacation in New Orleans identifying Hurricane Katrina victims. She has x-rays of John Doe 361 back to Addy in Washington.
Brennan wakes up, blood-covered in the bathroom of her hotel with two days past that she doesn't remember. Booth accompanies her in their investigation with the story playing out backwards. Brennan has to ask various pol witnesses if they remember ever seeing her.
At the home of medical examiner Graham Leger, Booth and Brennan find him skinned and crucified to the wall. She is arrested for his murder because her blood found at the scene, but Brennan has a wrist injury that would make him incable of wielding an edged weapon. Meanwhile, the body of John Doe 361 has disappeared. Addy finds evidence of spina bifida in the x-rays which enables him to identify John Doe 361 as Rene Mouton, a popular voodoo priest.
A key break comes when people remember morgue attendant Mike Doyle saying he found a new girlfriend who enjoyed sex in the morgue cooler. Perhaps she convinced him to hide or dispose of Mouton's body. A search of the cooler turns up Doyle's dead body on Mouton's corpse.
A mysterious mark on Mouton's hip turns out to be a Cadillac logo. Voodoo vendor Richard Benoit owns a Cadillac. He's also played by Giancarlo Esposito, which confirms the maxim that the guilty party is the most famous guest star. Richard's daughter Eve was Doyle's mysterious kinky girlfriend.
When the police, Booth and Brennan visit Richard, Eve is in the deep basement, apparently impaling herself on a wall spike. However, Brennan notes the room is too small for Eve to get a good running start. Richard must have impaled her there himself and he bears the scar when the spike passed through her and injured him.
Both Richard and Eve were practitioners of the dark art of Secte Rouge. They hit Mouton with a car, hoping that his murder would be lost among the many victims of Hurricane Katrina.
March 9 Permalink
Orioles hang on to beat Nats 4-3. Chico allowed two runs in 2 1/3, but Speigner pitched 3 2/3 innings scoreless. Biggest hit was a triple by Kory Casto.
March 8 Permalink
Harper has a post on nicknames. Those who have been in the Natmosphere long enough know that Distinguished Senators first gave him the nickname "Dutch". The Bog wants to go with RZA. In my own indiosyncratic tradition of calling that stubby shortstop Sister Cristian, I will be calling Zimmerman Jeri Lynn. She's now a Ryan, but was born a Zimmerman. And world-famous media fan Martin Morse Wooster identifies her as the reason for the rise of Barack Obama.
Permalink
Nats beat Astros 12-5. As unlikely as it may seem today, we will see regular season games like this in 2007. One night a Quadruple-A pitcher or Tom Glavine won't get any movement and the Nats will tee off on them.
A bad NFL team wins only once a month. A bad MLB team wins twice a week. Win three times a week and the teams in mediocre. A great team wins four times a week. Over a season, the difference between the top and bottom of the standings is easy to see. Over a day and a week, differences are harder to discern. Over just six games, the Nats could get swept by the eventual NL pennant winners, but more likely they'll grab at least one victory.
March 7 Permalink
Maury Brown interviews Mark Williams, one of the authors of Game of Shadows Williams says:
You know stepping back, the reason that games have drug problems is not because the players are inherently bad people, but its because its been tolerated and because the drugs work. And these are competitive, ultra competitive people fighting for lucrative jobs and if they think the other guy is cheating, they are going to cheat too and it is up to the people that run the institutions to clean this up.
Permalink
The Phillies signed Ryan Howard to a one-year, $900,00 contract. Bill Conlin says:
Bud suggests that the salary level of a player with 2 years' service time should not exceed the $900,000 that Albert Pujols got in his third year, 2003. And this Phillies president who signed off on so many contracts that were too long, contracts with the boa constrictions of ironclad no-trades, who OK'd a $4.2 million bonus for high school righthander Gavin Floyd, is now taking the high road with the Howard contract?
Mike Carminati is more outraged:
The truth is that the Phils delayed Howard's ascent to the majors far too long and the only way he earned a starting spot was due to a Jim Thome injury when Howard was already 25. While Howard was stuck in the Phils system, the fans were told a myriad of reasons why his great stats in the minors would never translate into the majors. He can't hit the curve, he can't hit lefties, he has minor-league power, he is unteachable, etc. Remember this is a team that had Chase Utley, the best second baseman in the league, platooning to start off 2005 as well.

Well, I would toss this "record-setting" contract on the pile of indignities the Phils have heaped on Howard.

Consider that the average salary for a 27-year-old player in 2006 was about $1.9M and the last time the average 27-year-old made less than Howard will make this year was 1998.
Howard is a little old to be making a newcomer splash. I am reminded of Jerome Walton and Dwight Smith. Okay, maybe that's a little harsh. But it wouldn't surprise me to see Ryan Howard's career numbers exceeded by Ryan Church - in all categories.
Permalink
Silver lining day. Only Saul Rivera screwed up. No errors.
Permalink
Watched the CSI: Miami episode "Throwing Heat". What appears to be a very healthy-looking Cuban refugee gets off a boat and runs on to the beach, only to be killed by a landmine. Never mind that his body looks pretty whole for a landmine death. Also, Cuban baseball defectors rarely take the boat route to the U.S. They usually defect on international tournaments. Livan Hernandez defected in Mexico.
Anyway, an American pitcher placed the landmine because he didn't want yet another competitor. There were so many things wrong here. The pitcher's agent was threatening to drop him. So what? He could sign on with somebody else. His pitching performance would determine whether he'd make the bigs, not his agent. As Stan Kasten would tell you, an agent only determines the final salary.
Why did the pitcher have to kill his Cuban competition? He could have arranged an arm injury or ingestion of a harmful or illegal substance. Also, there was no guarantee he'd kill the pitcher. He could have killed the Cuban outfielder. Never mind that we only see one man running on beach when apparently there were three on the boat.
Meanwhile, Delko tries to stop a fight between and a husband and wife. When he punches the husband, he gets served with a civil suit later in the day. It turns out the husband and wife run injury lawsuit scams. The bartender wanted a cut of their action and when he didn't get it, he killed the husband. The wife continues with the lawsuit, but for some stupid reason, Delko settles.
The third plot involved a top-flight assassin who rode with the ballplayers to Miami. It's never explained how the outfielder managed to take a scope and a bullet from the assassin without him noticing. Anyway, the assassin is on a personal mission from Fidel to kill a developer who's high in the anti-Castro movement. Horatio shoots the assassin at point-blank range as he's aiming at the developer.
March 6 Permalink
This was better than yesterday. Only on the basis that the Nats scored more runs and the Braves scored fewer. Otherwise, it was Colby Lewis and the cast of thousands who couldn't find the plate. Meanwhile, Josh Wilson did his best D'Angelo Jimenez impersonation with the glove.
Permalink
Watched the Cold Case episode "Rampage". In September 1995, two teenage boys speak into a video camera before opening fire on a shopping mall. Today, the case is reopened when that video camera is found in an air duct.
Tina Brox was a high school kleptomaniac who used easy sex to boots her self esteem. After an elevator session with Zach, a jock she likes, he unleashes his clique on her in a gang sexual assault. Davie, a boy who likes her from the electronics store stops them before they get too far.
After Tina and Davie talk on a mall staircase, she walks into the food court and finds the two shooters. Tina promises to film their immortal carnage. She looks at the jocks who assaulted her and says,"Kill them all."
One of the surviving jocks is named Dayton Moore.
March 5 Permalink
Braves beat the Nats 14-5. Fick homered and Josh Hall pitched three scoreless innings. Otherwise, Jerome Williams pitched like Hideki Irabu and D'Angelo Jimenez notched another error.
Permalink
Watched the Monk episode "Mr. Monk Visits a Farm". Somewhere in rural California, Jimmy Belmont visits his neighbor Harvey and offers money for Harvey's silence regarding some illegal activity on his farm. Eventually, Belmont agrees to take care of the problem the next day.
At the square dance, the lights go out briefly and when they come on, Belmont claims to have heard a gunshot. Sheriff Margie Butterfield investigates and finds Harvey dead. Apparently, he ran over his prize pig Nadine, plowed into an electric fence then shot himself out of distress.
In San Francisco, Disher botches a drug bust and resigns from the police force to run what we find out was his Uncle Harvey's farm. After a few weeks, he strongly suspects his uncle did not commit suicide and asks Monk to investigate. Monk arrives by bus because Natalie is busy.
Monk poses as a Spanish-speaking laborer and gets hired on at the Belmont Farm. He discovers the secret is marijuana, but Belmont also knows Monk is really a detective. Belmont burns off his marijuana crop.
As Monk is going through what he believes is a pot trip, he solves the case. Disher has been listening to motivational CDs in his sleep and Monk whispers to solution to the sleeping Randy to boost his confidence.
Belmont shot Harvey then either drugged or killed Nadine. Then he set Harvey up in the driver's seat and placed salt blocks to raise the rear of the truck, keeping its wheels spinning in air. Belmont attended the dance and when the sprinklers went on, as they did regularly at night, they melted the salt licks and the truck ran over Nadine and into the fence. Disher returns to the police force, convinced that sleeping on it helped him solve the case.
Tony Shalhoub's real wife Brooke Adams plays Sheriff Butterfield, the third rural female sheriff we've seen this month.
March 4 Permalink
Nats lose to Houston in Kissimmee featuring a two-run double by the immortal Jorge Toca. Back in Viera, the other half of the Nats beat the Dodgers. Juan Brita hit a homer and two RBIS. All the money the Cubs spent got them a 13-2 pounding at the hands of the White Sox. Former Nats Alfonso Soriano and Junior Spivey both doubled.
Permalink
Watched the How I Met Your Mother episode "First Time in New York". Robin tries to keep her sister Katie from losing her virginity to her boyfriend Kyle who is also visiting family in New York.
Robin's first time story appears to be in her bedroom with a guy, who admits he's gay after the act. Then we realize the frilly bedroom is actually his. Marshall and Lily had sex in the lower bunk while Ted was in the upper bunk. Ted tells Katie his story where he walks out on the girl 12 minutes after climax. Actually that was what the girl did to him. Barney eventually admits to losing it at age 23 to a 45-year-old friend of his mother.
Permalink
Went on to the Numb3rs episode "Take Out". The crime in this case is a series of robberies of upscale restaurants where the thieves take credit cards and cell phones. In the first scene we see, the robbery is stopped by two armed LAPD cops undercover as patrons. Then two thieves posing as patrons shoot the cops.
The culprits are two Mexican death squads trained in the United States. They use the cellphones and credit cards to quickly funnel cash electronically to accounts in Nauru. Jose Zuniga plays Bernardo Infante, their former leader who got a case of conscience after he saved three children that survived a village massacre and spirited them away to Los Angeles where he became an elementary school teacher. After one squad is apprehended, the second squad is also caught, but not before they kill Infante in his schoolyard.
In the other plots, Don visits a shrink who is a former undercover L.A. cop. Charlie has pangs of conscience about working for a pharamaceutical company that exploits Third World countries.
I have a hard time believing the death squads would risk their lucrative robbery racket to go after Infante. Also, I don't think Charlie's genius is so precious that the pharmaceutical company wouldn't just find another math professor with less scruples.
March 3 Permalink
First game on television. The bright side is it wouldn't have been so bad if it hadn't been for Joel Hanrahan.
So I'll talk about Debbi Taylor, who is short, but not a bimbo. They had her talking on and on with Jim Bowden and Stan Kasten, although you didn't need Bob Carpenter's play-by-play to explain the carnage depicted on-screen. Her best interview was with Ray King who made an engaging subject. Taylor seems like the type of reporter whose interviews reflect their subject. Talk to Kasten or Bowden repeating the company line, and you get boring television. Find somebody interesting and you actually want to watch and listen. From what I saw, I'm glad Taylor is not the kind of reporter who injects herself into the interview and forgets who the subject is.
Overall, I think sideline reporters are a waste of time, regardless of gender. Except for injury reports, I don't think their presence adds anything. They'd probably be better off with 1-2 minute pre-recorded segments with a title sponsor attached.
Permalink
Watched the Everybody Hates Chris episode "Everybody Hates the Class President". Chris runs for Class President with Greg as his running mate. Then he realizes he can't win unless one of the popular guys is on his ticket, so he dumps Greg for Frank DiPaolo, a big dumb guy people like. Then Greg runs on Joey Caruso's ticket. They make up when Greg reveals Caruso tore down his own posters to blame it on Chris.
In the other stories, Drew teaches Tanya how to moonwalk while Julius tells Rochelle the doctor told him he has too much stress.
Permalink
Went on to the CSI episode "Redrum". Drug crusader Assemblyman Danilo Zamesca is killed by drug kingpin Thomas Simon. Simon plants drugs and incriminating pictures in Zamesca's car to tarnish his reputation.
Simon is nowhere to be found and Keppler suggests at a meeting with Willows, Brass and Undersheriff McKean to stage a crime scene. They get an informer to take the rap for the Zamesca murder and the new murder where the victim would be the identity of an undercover cop. Simon will see the heat taken off him and come out of hiding. Keppler says it worked in Philadelphia, but not in Baltimore because the cops were too smart and saw through the ruse.
The plan enables the police to arrest Simon, but the D.A., who was not in on the plan, refuses to prosecute. Meanwhile, in a seemingly unrelated case, Monique Carter, an attorney who's ruined her life to addiction, is found dead of an apparent overdose. Her tatooed arm is in the picture of Zamesca snorting coke.
Carter and Zamesca knew each other in law school. Simon drove up to Zamesca in Carter's car, catching him off guard. Simon hid out in Carter's apartment, bludgeoned her with his gun, then shot her up post-mortem. The police are able to tie Simon to her murder with hair from the gun and fingerprints on the sleeper sofa.
March 2 Permalink
Congratulations to DC United and the Houston Dynamo for advancing to the semi-finals of the CONCACAF Champions Cup. I want at least one MLS team in the final, even if it's Houston. I'd prefer to see DC United beat Guadalajara and Pachuca in succession, so we can boast that our Brazilian and Argentines are better than their Mexicans.
Permalink
Hey! A game against somebody else! And unlike previous years, the season doesn't start with a college squad or a Korean team. D'Angelo Jiminez did an excellent FLop impression with his two errors. But it may actually be fun to watch 12-7 games this year.
Permalink
Watched the CSI:NY episode "Hung Out to Dry". This was the predecessor episode to Raising Shane.
College student Amy Fielder is decapitated and her headless body hung on a ceiling fan and her torso is wrapped in a t-shirt with a hydra on it. Later, her head is found underneath a rock. The victim is Kenneth Chandler, a bouncer whose body is fastened to a tree by railroad spikes through the eye sockets. His actual eyeballs are in his pocket and he wears a peacock t-shirt.
The t-shirts are clues to a website where the CSIs find a mysterious home movie of boys. Using triangulation, they pinpoint the location in Long Island City where an abandoned basement apartment contains the murder weapons and silkscreens for the t-shirts of the next two victims.
They figure out that Shane Casey, who was interviewed earlier in the show, is taking revenge for what he judges to be the unjust jailing of his brother Ian for a barroom robbery and murder solely on the testimony of the bouncer, Kenneth Chandler. Amy Fielder was the jury forewoman that convicted Ian. Shane's next two targets were to be Hawkes, as the medical examiner, and Ian's defense attorney with the name Jerry Glanville.
When the police reach Glanville, he's been tied up but still alive. Messer and Flack find Shane nearby, chase him down and apprehend him. However, at the end of the episode, Monroe announces that Shane Casey has escaped.
March 1 Permalink
Because the Nats haven't released their promotional schedule, I'm forced to analyze the Devil Rays' promotional items. I was alerted to them because I bought my Rays tickets online and they've been spamming me regularly ever since.
There's the model of the Trop. It doesn't leave a fuzzy feeling inside like Wrigley Field or Fenway, but I think it's a cool giveaway. In this last season at RFK, it would the perfect year to give a model of the stadium away.
Stuffed Raymond. We've already seen the bobblehead Screech. I bet there's a bobblehead Teddy this year.
Turn Back the Clock Night also features the Don Zimmer Double Bobblehead wearing both the current Rays uniform and a 1950s Brooklyn Dodgers uniform. He also played for the Senators from 1963-1965 and thus wore the Curly W. I'm guessing Pat Corrales is the oldest coach and the Nats could do a bobblehead of him currently with the Nats and with the 1964 Phillies. That might be tempting fate, since the '64 Phils executed one of the legendary late season collapes in history. Then again, if the Nats had a meltdown that close to a title and the media actually noticed, the fans would still be very happy. More likely, the fans would look at the Corrales giveaway and say,"Who's this?"
For Ryan, there's a wrestling night, but there's not further information on what this actually means.
Permalink
Gilbert Arenas is now officially "Da Man" because of this quote:
I just like to watch the Gummi Bears on TV.
Which explain why he was heard saying,"Bum-all gum-mo um-in," before sinking a buzzer-beater. After all, he is a Wizard.