June 2007 Archives
Links were checked and verified as active only in the month the Eucalyptus entry was published. Links outside the silverscreentest domain may be inactive from this archive.
June 30 Permalink
I don't like the new Capitals jersey. I actually liked the swooping eagle, but would have been satisfied with a recoloring to red, white and blue. The new typography is re-working of the old typeface. It's not a retro restatement or modernization. It just takes the concept of all lower case letters and changing the "t" into a hockey stick and re-presents it. It's pretty weak and doesn't pack much punch at all.
Permalink
While fan protest fizzles, Pirates dazzle in beating Nationals. This was over pretty early with the Pirates scoring six runs against Bergmann in the seventh.
June 29 Permalink
It's been a couple of weeks since the BrownO's fired Sam Perlozzo in favor of Dave Trembley, at least on a temporary basis. I don't know why Baltimore wanted Joe Girardi, given his history of conflict with Florida owner Jeffrey Loria. Similarly, given that history of conflict, why would Girardi want to get involved with Angelos?
And Trembley has won three minor league Manager of the Year awards along with two minor league titles. That's an impressive resume and he doesn't have a huge salary or ego.
Permalink
Snell rebounds from poor start as Bucs rally past slumping Nats. Chico blanked the Pirates for six innings, but quickly tied the score on Rivera in the seventh.
Rauch went into the ninth pitching his second inning. He could have recovered from the single to Paulino and Wilson's sacrifice bunt, but the game unraveled with a passed ball. Castillo went in to run for Paulino. After two walks, Bautista drove Castillo home with a sac fly.
June 28 Permalink
Watched the Doctor Who episode "The Impossible Planet". The TARDIS lands on some deep space base complex and the Doctor and Rose encounter squid-headed aliens who repeat,"We must feed, we must feed.." right into the opening credits. When the show returns, we realize the aliens had malfunctioned somehow and wanted to say,"We must feed you if you are hungry."
The aliens are Ood, a low-intelligence, telepathically-linked servant race. Operated by humans, the base is on a planet in synchronous orbit around a black hole. The planet generates a gravity field to balance the pull of the black hole that also generates a funnel through which the expedition traveled to reach there.
The crew want to know what could be generating such power so they are drilling into the planet's core to determine its source. Meanwhile a seismic event has caused the section where the TARDIS had been left to fall into a crevasse.
Archeologist Toby Zed is possessed by whatever spirit is trapped beneath the planet, but sounds an awful lot like Satan in his many incarnations. Maintenance trainee Scooti Manista sees Toby outside on the surface without a spacesuit, his face covered in runes. He gestures towards and the glass breaks, sucking her out and into the black hole.
The drill stops because it has reached the core. Toby reappears dazed and runeless. The Doctor and science officer Ida Scott get into spacesuits to explore what's at the bottom of the drilling shaft. The Ood advance, attacking the humans, possessed by the Satanic spirit. There is circular door in the pit and opens with more shaking as the episode ends.
Permalink
A belated congratulations to Sunderland for winning the Coca-Cola Football Championship and advancing to the Premier League for next season. They will do their off-season training in Ireland this year, owing to the nationalities of Chairman Niall Quinn and manager Roy Keane.
However, I think that's pretty wimpy place to train in the cool summer. They should toughen themselves up in triple-digit heat, where the humid air is thick as vichyssoise in the American Southeast. Anywhere between Miami and Baltimore will do.
Permalink
Watched the Bones episode "The Priest in the Churchyard". A water main has broken on the grounds of St. Agatha's Church, causing corpses to empty out of coffins. Although the latest of the bodies was buried fifty years ago, there is a body no older than five years with no corresponding coffin.
Montenegro draws a face from the unidentified and skull and a former altar boy identifies him as Father McCourt who disappeared, with a note saying he was leaving the priesthood. Meanwhile, the lab has been exposed to a rare fungus and everyone must be vaccinated. Hodgins discovers recent damage on the bones and corpses, indicating there was a grave robber looking for gold jewelry, probably the same person who broke the water main with a shovel.
So for suspects, we have Enzo, a parishioner who admits to robbing the graves; James, the altar boy whom Father McCourt may have been molesting; Father Donlan, the old school pastor; and Father Sands, the young wrestling coach, among other duties. But church administrator Lorraine Bergen looked awfully guilty from the beginning. She was an orphan who'd been raised in the parish, fiercely loyal to Father Donlan. She thought Father McCourt was molesting boys so she gave him a heavy dose of poison, along with bashing him in the head with the chalice. Now it appeared to her that Father Sands was threatening Father Donlan's job so she was poisoning him as well.
June 27 Permalink
Candy cigarettes may lead to the real thing:
The slim, pink-tipped sweets made of candy or gum are typically sold in boxes resembling cigarette packs. In the United States, candy cigarettes are available in supermarkets and convenience stores, according to the report in the July issue of the journal Preventive Medicine.

Klein's team wondered if kids who pretended to smoke using the treats were any more prone to smoking as adults. To find out, his group surveyed almost 26,000 adults regarding their smoking habits and whether or not they had played with candy cigarettes as children.

They found that 12 percent of the people who said they had never eaten a candy cigarettea kid were current or former smokers today.

In contrast, 22 percent of those who said they had eaten candy cigarettes either smoked often today or were former smokers. Just 14 percent said they had never smoked. In addition, the more often a child had consumed candy cigarettes, the more likely he or she was to become a smoker, Klein said.
I've always felt uncomfortable that a certain national high school championship tournament director offers chocolate cigarettes as the prize for sweeping a 60-seconds category. Maybe he has a massive portfolio investment in tobacco securities. In previous years, I brought stuff I bought from the dollar store. I didn't do that this year and I just may be encouraged by this article to resume that practice.
Permalink
Chipper backs Smoltz with four RBI as Braves whitewash Nats. Pretty much a disaster all the way around getting beaten 13f-0. Ka-Bowie finally ran into a buzz saw and Billy Traber took one for the team, giving up five runs in two innings. Batista pinch-hit for Zimmerman in the 8th. Eight hits and a walk were not enough for the Nats to score a run.
Permalink
Watched the Numb3rs episode "Money for Nothing". A tractor trailer carrying medical supplies and several million dollars in cash to Zambia is hijacked in Los Angeles. First of all, I didn't know you could drive to Zambia from California without passing through the Arctic. The shipment is guarded by two aid workers. A charity in the real world contracts a delivery company and takes out insurance in case the shipment gets lost or stolen. As for the cash, that would be delivered electronically. The only time they might need a courier for cash would be for tranportation personally through warlord country.
To complicate this is a vulture capitalist who purchased $30 million of African bonds for 7 cents on the dollar. For some strange reason he thinks he has a physical claim on the medical supplies and cash because of this. Real vulture capitalists would have nothing to do with physical assets and leave the battles to their lawyers. They'd had also have such a huge portfolio that one particular asset would not be worth sending bounty hunters for.
So anyway, the shipment is hijacked by a team consisting of gangbangers and career criminals working for a pharmaceutical company. Charlie uses his math to plot out their escape routes and when they're not found, Alan makes a crucial breakthrough that they're staying put. They've hidden the tractor trailer in a trailer park as just another double wide.
June 26 Permalink
Dave Del Grande thinks cutting Milton Bradley was racially motivated:
I'm not saying Bradley should be starting ahead of Travis Buck. But, when healthy, ahead of Shannon Stewart and Bobby Kielty? In a heartbeat....

This wasn't even a financial decision. This was a matter of Bradley being ... well, black. Tell me it's not as simple as that.
It's not as simple as that. Shannon Stewart is black. Milton Bradley is frequently injured. He's Albert Belle with all of the baggage but none of the performance.
I wonder if Don Sutton is thinking of this guy everytime he he starting catcher's name. Probably not. He never pitched against Oakland or California in 1985, the only year both he and Sutton were in the majors.
Permalink
A. Jones breaks out of slump as Braves defeat Nationals. Not a great night for Bacsik and the Nats bats were cooled by the immortal Buddy Carlyle. At least the Nats hung there in the ninth to force Wickman to come in for a save situation.
June 25 Permalink
Jack McCaffery says:
The tighter, 14-team, D.H.-rich American League is becoming the varsity, while the diluted 16-team National League is making like the water boy...

Baseball is in its 10th season under the 16-14 league imbalance. Even with one of the two 1998 expansion teams, the Tampa Bay Devil Rays, joining the A.L. while Bud Seligís Milwaukee Brewers dutifully shuffled to the N.L., could no one have forecast that a league with 50 more players would sacrifice stature? Thatís roughly two extra would-be minor-league players per diluted roster. And the league with the two bonus teams is also the one without the designated hitter, requiring rosters to include an additional pitcher, perhaps two. No wonder N.L. teams have trouble scoring against the A.L.; they donít have enough hitters. Conversely, the A.L. gets to pound away at those additional entitlement-job N.L. pitchers.
This idiot thinks the AL-NL imbalance is caused by more teams in the NL. He must believe that the entire player is split in half before it's divied up between the teams.
Permalink
McCann snaps Braves' five-game slide with homer vs. Nats. It was an unlucky night for the Nats who outhit the Braves 9-7. It pretty much came down to Traber grooving it to McCann. Bergman looked decent in his 76 pitches.
June 24 Permalink
The Israel Baseball League has started.
Our games are seven innings in duration and in the most exciting innovation of all, if games are tied after seven innings, they are decided by a Home Run Derby!
So finally, a baseball league has sunk to the level of soccer/hockey shootouts. I've liked the suggestion that soccer should have a standard 10-minute golden goal overtime. After that, each team must take out a player every ten minutes until somebody scores.
Permalink
Nationals 3, Indians 1. Simontacchi recovered from the Detroit blowout and Cordero recovered from last night's late inning homer. Flores drove in two and teh Nook was nowhere to be found.
Permalink
I saw the second half of the Gold Cup Final. Feilhaber's winner was beautiful and utterly undefendable.
June 23 Permalink
Totally forgot about the full moon May 30-June 1 when the Nats went 2-1, making them 6-24 all time. Next full moon games - the weekend series in Pittsburgh.
Permalink
Indians 4, Nationals 3. This felt like a full moon game, complete with a Chief gopher ball. At least Cordero didn't precede it with a couple of walks. What can you say about teh Nook? There's a reason the Tigers are in first place and let him go just for cash.
Permalink
And the soccer team was pretty embarassing, too. Meanwhile, eleven-year-old girls at a sleepover are an experience.
June 22 Permalink
Watched the Doctor Who episode "The Idiot's Lantern". The Doctor had planned to arrive in New York for the appearance of Elvis on The Ed Sullivan Show to find themselves in North London the day before the coronation of Queen Elizabeth II. There seem to be a lot of televisions and antennas on Florizel Street because Mr. Magpie of Magpie Electronics is selling them for just five pounds.
Mr. Magpie has been enslaved by an alien being called the Wire who travels down electrical wires and appears on the television as a BBC continuity announcer. She uses the television to take the souls of humans watching, apparently also taking their faces in the process. Rose herself becomes a victim of the Wire. The alien hopes to enslave many millions of people glued to the television for the coronation.
On the day of the coronation itself, Mr. Magpie climbs to the antenna on the top of Alexandra Palace, hoping to attach a device that will enhance the Wire's power. With the help of a young teen named Tommy, the Doctor is able to stop the Magpie and the Wire. The Doctor traps the Wire inside a Betamax tape.
Permalink
The Washington Post article on Chris Marrero notes that he has an older brother Christian in the White Sox system. Could he also have sisters named Christine and Christina?
I'm just glad his father didn't call him Bladimir Marrero, Jr. or else he'd have the shadow of living up to ghost of Vladimir Guerrero. Vlad is one of the spirits hanging over the Nats. If only the Expos moved a year earlier, Guerrero might be playing right field in RFK today. Over on Chris Creamer's board, Washington baseball concepts for four years usually employed Vlad's 27 to display the back of the jersey.
Permalink
Watched the Cold Case episode "Torn". In June 1919, suffragette and brewery heiress Francine Stone dies of a fall from the upper landing of the mansion she lived in. Today, her great-great niece Emma brings in a locket and some letters to re-open the case.
Both Francine's mother Elizabeth and her father Ambrose are suspects because, making their money from alcohol, giving women the right to vote might lead to prohibition. The only problem is, prohibition had already been enacted with the ratification of the 18th amendment - five months earlier!
The only person left is Audrey, the daughter of one of the housemaids. In the closing montage over Hoagy Carmichael singing "Stardust", she sees the ghost of her mother, along with Nancy Pelosi on the television. The confession comes from a vinyl recording made by Elizabeth on the day the 19th Amendment was ratified in 1920.
Permalink
Nationals 4, Indians 1. A ball bounced into the front of the neck of Zimmerman's jersey and lodged inside his shirt. That'll be shown on bloopers for years to come. Ryan Church was ready to catch a Grady Sizemore foul pop when a fan reached over and caught the ball. Sizemore was called out on fan interference, but the fan seemed to get a stern warning instead of an ejection.
In the second game after his call-up, Brandon Watson drove in runs with both hits including a double. Brian Schneider failed to get an RBI on an out when Da Meat Hook scored on a double play. My Ka-Bowie didn't get out of the fifth, but the six pitchers, including Luis Ayala making his first appearance since 2005, allowed only three hits and no walks thereafter.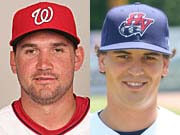 June 21 Permalink
What do the two players pictured at the right have in common? They're both named Ryan Zimmerman. For the sake of reference, the Nats' one is named Ryan Wallace Zimmerman and the Rays' farmhand is named Ryan George Zimmerman. Ryan George Zimmerman will be in Aberdeen tonight. One of my bizarre collecting goals would be a baseball autographed by both Ryan Zimmermans.
Permalink
Because it's easy to pick on Mike Greenberg and because there isn't a game today:
Johan Santana last night threw a complete game shutout against the Mets in which he threw only 92 pitches. Itís the fewest for a pitcher throwing a complete game shutout this year. Ö He didnít strike almost anybody out: itís the first shutout in Major League Baseball with one or fewer strikeouts since Chien-Ming Wang did it last year. Iím telling you right now, the strikeout in most ways is the most overrated stat in baseball. Your object as a pitcher is not to strike people out, it is to get people out. If you can get out of a game throwing only 92 pitches and allowing zero walks, you have done your job as good as it can be done. Short of a perfect game, I donít know if you can suggest a no-hitter is a better performance than this.
I wouldn't make a pitcher strain to get an out via a strikeout, rather than another method, but a strikeout has everything to do with the pitcher. The more outs generated by strikeout, the fewer batted balls can sneak in for hits and errors. Santana's game score was 90. The fact that he allowed only four hits has to be credited to his defense.
June 20 Permalink
Rangers owner Tom Hicks dropping hints about Juan Gonzalez and steroids:
During a wide-ranging taped interview with Channel 11 sports anchor Babe Laufenberg last week, Hicks was asked about the Rangers' deals he most regretted making.

First he mentioned wasting $65 million on pitcher Chan Ho Park. Then he referenced the two-year, $24 million deal the Rangers gave Gonzalez to come back to Texas in 2002.

"Juan Gonzalez, for $24 million, after he came off steroids probably... we just gave that money away," Hicks told Laufenberg.
In Washington, Laufenberg is a quarterbacking legend, for his great pre-season games.
Permalink
Tigers 8, Nationals 4. Despite the score, the Nats were still in it with the tying run at the plate in the bottom of the 8th. I don't wanna be all Screech's Best Friend here, but this series WASN'T THAT BAD.
The most comparable shellacking was at the hands of the Red Sox last year when Boston outscored the Nats 26-9. That's a Pythagorean percentage of .107. It felt really bad. The Red Sox looked like the best team in baseball. They ended up finishing only .500 and allowing more runs than they scored. This Tigers team outscored the Nats 32-13 for a .142 Pythagorean percentage, so the Nats looked better this time around. Despite being overmatched, the Nats alomst won game one and were in a position to win game three.
June 19 Permalink
Watched the Doctor Who episode "The Age of Steel". As the Cybermen close, the Doctor zaps them with his power cell. They escape into the van driven by Preacher Mrs. Moore. Pete reveals himself as Gemini, a spy on Lumic for the Preachers.
Lumic sends a message via the earpods to send humans to the Battersea Power Station for upgrade to Cyberman status. The good guys split up for the express purpose of getting Ricky killed. Lumic's henchman Crane asks for an upgrade as a reason to get close to Lumic and disconnect his wheelchair. This gives the Cybermen the excuse to upgrade Lumic and make him the Cybercontroller.
They will attack the Battersea Poer Station, above, middle and below, just like in the episode "The Five Doctors". Jake and Mickey will go high to take out the transmitter in Lumic's zeppelin. The Doctor and Mrs. Moore will go below and entire through the cooling tunnels. Rose and Pete will enter through the front door with false earpods.
Mrs. Moore is killed while, the Doctor, Rose and Pete are brought before Lumic as the Cybercontroller. Mickey and Jake watch from the security monitor in the zeppelin as the Doctor drops hints about the security code necessary to disable the emotional inhibitor on the cybermen. Mickey discovers the code, transmits it to Rose's cellphone, which the doctor transmits to all the Cybermen, which drives them mad.
Everyone escapes onboard the zeppelin. Mickey decides to stay in the parallel universe. The TARDIS can't return because there are no more Time Lords. This origin of the Cybermen is different from the origin in our universe.
Permalink
An article on the ex-Expos from Montreal, with an unfortunate slip:
Only nine players to appear for the Expos during that final year in 2004 still remain with the club while scouting director Dana White is one of the few baseball people to survive the move and regime change.
To set the record straight, the Director of Scouting is Dana Brown.
Permalink
Tigers 15, Nationals 1. This one was never in doubt. Billy Traber might have been a bright spot by pitching two scoreless innings.
June 18 Permalink
Depending on which calculation you look at the Nats look good for 65-70 wins.
Permalink
Guillen, Sheffield help Tigers edge Nats in barnburner. Saw the game with John Cooper and Rich Potter. Chico was a disaster, but the bullpen held the Tigers scoreless for four innings. After being down 9-1, the Nats scord four runs in the sixth and three in the ninth. Tigers were ahead by one, the Nats had runners on first and second with nobody out. I thought the Nats could pull one out, but Todd Jones was able to get the last three outs with no further damage.
After "Take Me Out to Ballgame," they sang "Heart" during the seventh inning stretch. Cooper was impressed that I predicted the Schneider would get an RBI without getting a hit, in this case a sac fly. I like that the Nats don't seem to quit.
I havenít felt the place rock like this all season. Granted Iíve only been there for one win, but the Orioles game was subdued.
The Tiger fans only got into specific cheers after they stopped scoring. This riled up the Nats fans who got really loud. Every eruption of "Letís Go Nats" in the ninth inning and most of the sixth was totally spontaneous and not instigated by the scoreboard. The stadium was plenty loud in the ninth even with less than 10,000 people left.
June 17 Permalink
Big Hurt becomes DH homer king but Blue Jays fall. Suddenly, things went well. Ka-Bowie went six innings. The bullpen retired all nine hitters they faced. Zimmerman homered and even Tony Batista got an RBI.
Permalink
Brian Whiting's solution for the RocketPod didn't seem to work. I can hope for a sudden power surge to make it better or theoretically install it inside the next desktop computer.
Permalink
Watched the CSI: Miami episode "Triple Threat". As Miami's beuatiful go to a mansion for a party, one of the arrivals looks suspiciously like Brian Schneider. Ashley Whitford is host for this benefit for the children's hospital and just as the champagne corks pop, her husband Dominic, stricken from a gunshot, tumbles over the balcony and impales himself on an ice sculpture.
The body of Dominic Whitford shows signs of a heart attack, cocaine addiction and plastic surgery. He was actually a double and the real Dominic is at a construction. As he tries to escape police, his vehicle is stopped by a dead body buried in shallow soil. This victim is Mia Graham, one of his employees, but she was killed by his assistant Josh Brockner.
Meanwhile, we discover Ashley has an identical twin Cayla who may have killed Dominic's double while Ashley was outside toasting the festivities. One of their ex-boyfriends, Neil Massey, is a trust fund baby who can never get his accent straight. Massey admits to taking a potshot at Dominic and Ashley at a polo match when he discovered he'd been conned.
Natalia is trying to figure out who is the mother of the Whitford child Noah. Ashley doesn't have a Caesarian scar and Cayla was in Africa at the time. That's when Beth, the third triplet appears to admit being the mother. A blood drop at the crime scene reveals antigens related to immunization identifying Cayla as the killer. Beth was at the gym during the murder as Cayla's alibi.
So a husband didn't know his wife was a triplet and probably had sex with all of them at one time or another, while the wif(v)e(s) didn't know the husband had a double. I think was meant to be film noir-type thriller with surprise twists, but came off as just a silly parody.
Permalink
Went on to the Criminal Minds episode "No Way Out II: The Evilution of Frank". Jane has escaped from Frank and he wants her back. Thinking Gideon has her, Frank kills Sarah, an old college friend of Gideon's who is visiting.
He kills her in Gideon's apartment and the BAU visit the crime scene, staying out of the way of the metropolitan police while surreptitiously taking cellphone photos. Hotchner doesn not want to tell the DC Police where Gideon is because they will focus on him and stop looking for Frank.
Frank has gotten a hold of Gideon's book where he keeps pictures and contact information of people he's saved through his work. At this point, I have no idea why the FBI doesn't immediately race to protect everybody in Gideon's book within reasonable driving distance. So they make a phone call to Rebecca Bryant, but Frank is already there posing as Gideon.
Frank kills her and gets away while Gideon hides out in a Smithsonian executive office with Garcia. Frank kidnaps a child name Tracy Belle whom he promises to return in exchange for Jane. The BAU retrieve Jane from the DC Jail and she tells him Frank says his mother's name was Mary Breitkopf. Gideon connects this to a seemingly random story Frank told about a woman who died in her Manhattan apartment, but nobody noticed she was dead.
Mary Breitkopf was in fact a prostitute, which explains some of Frank's psychosis and why he didn't kill Jane - because she was a mother figure to him. Reid and Jarreau go to New York and find the decomposing body of Mary Breitkopf on a bed in her apartment, as well as Tracy Belle, tied up, but safe in a closet.
The final confrontation with Frank comes in Union Station, which looks nothing like the Union Station I see everyday. As the SWAT team closes in, they allow Jane to get close to Frank. He takes her hand and pulls her with him into the path of an oncoming train.
If the law enforcement officers went to all the trouble to bring in the SWAT team, they aren't going to let any trains get near at all. Hotchner's supervisor Erin Strauss gives hima dressing down. I agree with her that he and Gideon make be greay profilers, but they're lousy managers. Strauss brings Prentiss and orders her to undermine Hotchner.
June 16 Permalink
Wells backs Marcum (11 strikeouts) as Blue Jays down Nats. Has midnight struck for Levale Speigner? Manny says he may be relegated to the bullpen. He couldn't get out of the fourth, allowing seven runs. Shaun Marcum pitched like he was Roy Halladay. Da Meat Hook and Jeri Lynn hit solo shots.
Permalink
Watched CSI:NY episode "Sleight Out of Hand". Criss Angel plays illusionist Luke Blade who has himself cut in half with a giant circular saw in public. At the same time, Vienna Hyatt, a former assistant to Luke, is cut in half with a hand saw.
Danny believes Luke's stunt engineer Austin Cannon may be responsible for her death because his bloody bootprints are found at the crime scene. Before Cannon can be arrested, he is burned to death while Luke is simultaneously setting himself on fire continuously for four hours. Looking at recordings Stella figures out Luke could have left the illusionist scene and let an assistant take his place when the flames were being replenished.
Research into Luke's childhood reveals he was put up for adoption by a career criminal father. He was adopted by Sylvia Walker who returned Luke when he started showing signs of fetal alcohol syndrome. Luke binds her in a straitjacket and dumps her upside-down in a tank, just like Harry Houdini, before the police arrive to stop him. It's never made clear, but we are supposed to assume Cannon killed the first victim.
In the other plot, Lindsay testifies at a trial for a multiple shooting she witnessed as a teen. Danny flies all the way out to Wyoming and we assume the relationship has restarted.
Permalink
Kenny Albert said today that only the Chicago Cubs have not played a game in Fenway, but they have.
Permalink
Watched the CSI episode "Ending Happy". Ex-boxer Lorenzo "Happy" Morales is found floating in the swimming pool of a brothel. Happy was there by the generosity of brothel owner George "Binky" Babinkian. Morales was supposed to be training for a comeback and Binky doesn't quite realize the incongruity of housing a boxer with a tendency to over-party at a whorehouse.
As you can guess, Happy was not really a friendly presence around the brothel. Prostitute Dreama Little and bartender Connor Foster injected Morales with snake venom, putting in two puncture points to make it look like a real snake bite. Connor dumped Happy in a culvert, but he couldn't stay dead. The flashbacks make Morales look like Tor Johnson from the Ed Wood films.
From here, Happy wandered into the clutches of Binky's wife Doris who performed oral sex. She had recently eaten shrimp and Morales was allergic to shellfish so he went into anaphylactic shock. Connor took a shot at Happy with a crossbow which ended up giving him a makeshift tracheotomy that actually prolonged his life.
He wandered back to Dreama's room and, surprised to see him still walking, hit Happy in the head with a hammer. Still quite woozy this entire time, Morales sits on a lawn chair by the pool. The chair breaks and he falls in. There are are many potential suspects, with no evidence to convict any of them.
June 15 Permalink
Teresa Nielsen Hayden has some suggested disclaimers for fan fiction:
The BtVS characters belong to Joss Whedon and associated companies. The story itself belongs to me.

None of these characters belong to me. Only the words do.

Whatís Joss Whedonís is Joss Whedonís, and the same goes for Mutant Enemy; but whatís mine is mine, including the original elements in this story and the words Iíve used to tell it.
Permalink
Tonight I treated the extended family to dinner at Ruby Tuesday for Miranda's birthday. Viola's two sisters Corky and Rosie also came along. Afterwards, Victoria and Ian slept at our house and frosted the cake. It was overkill on the decoration, and not really worth eating at that point.
Permalink
Glaus, Lind gang up on lowly Nats to lift Halladay, Jays. Bacsik couldn't get out of the 5th and neither Abreu nor Traber went unscathed. The Nats got two runs off Halladay, which was the standard 2007 performance versus a staff ace. What didn't happen was the replacement starter being possessed by spirit of Walter Johnson long enough to get the win.
June 14 Permalink
Watched the Doctor Who episode "Rise of the Cybermen". The TARDIS lands in alternate universe where zeppelins cruise above London and Rose's father Pete is a successful soft drink manufacturer. Both Rose and Mickey want to investigate their alternate existences and given the choices, the Doctor tags along with Rose.
Pete and Jackie Tyler never had a child, but their little dog is named Rose. Mickey's grandmother is still alive, but her grandson is Ricky, the leader of an underground anti-technology movement called the Preachers. Nearly everyone has EarPods, products of the Cybus Corporation, a device that allows communication and downloads directly into the brain. Rose and thr Doctor notice everyone on the streets stopping all at once as they receive their daily download.
Meanwhile, John Lumic, President of Cybus Industries, a Davros-like character confined to a wheelchair has discovered a way to sustain the human brain inside a metallic shell - the Cybermen. He orders a roundup of homeless people to be the first of his Cybermen army. Lumic presents his ideas before the President of Great Britain who rejects it immediately.
The Doctor and Rose infiltrate Jackie's birthday as servants. The guests include the President of Great Britain. The Preachers load up on weapons to assault the party and kill Lumic. The Cybermen invade the party first and force the President to "upgrade" an gunpoint. he refuses and is "deleted". The episode ends with the Doctor, Rose, Pete and Preachers Mickey, Ricky and Jake about to be killed by the Cybermen.
Permalink
Miranda had her fifth grade promotion ceremony which was held at Clarksburg High School. She won a Presidential Academic Fitness Award. Afterwards, Whitlock and I took herm Alyssa, Eileen and Helen to Lakeforest Mall for an afternoon of shopping.
Permalink
Nationals 3, Orioles 1. Tonight the MASN scoreboard read "NATS" and "BAL". Although I'm glad that MASN has recognized that when Carpenter or Sutton are broadcasting, Washington is the home team, not Baltimore, but the "NATS" in the corner feesl unprofessional to me. Simontacchi pitched seven good innings, allowing only one run. Jeri Lynn hit the game-winning RBI and Langerhans hit an insurance double.
June 13 Permalink
I'm not sure if the worst fielding outfield of my lifetime is the 1990 Tigers of Lloyd Moseby, Larry Sheets and Gary Ward or the 1990 Rangers with Jack Daugherty, Pete Incaviglia and Kevin Reimer.
Permalink
Nationals 9, Orioles 6 (11 innings). The Nats had a 4-2 lead going into "Thank God I'm a Country Boy" when Chico, Colome, King and Rauch allowed three runs. Immediately in the 8th, Lopez, Zimmerman, Kearns and Church answered with two runs. In the bottom of 9th, Cordero couldn't hold the lead as the Orioles tied the score with a bunch of dinks. FLop blew the game wide open in the 11th with a bases-clearing double, earning Billy Traber his second win of the year.
June 12 Permalink
Nats come on strong, swat past O's with three home runs. After all the outcry when the MASN scoreboard on the Washington feed read "WSH" and "O'S", tonight's scoreboard read "WSH" and "BAL". Bowie went six innings as Church, Zimmerman and Schneider all homered.
June 11 Permalink
On an off day, some material from Ken Levine's blog. First a comment on Saturday night's game:
Ken, the Nationals beat the Minnesota Twins again tonight, 3-1, as Levale Speigner (a former Twins farmhand and Rule 5 selection) outdueled Johan Santana, helped by a three-run homer from Ryan Zimmerman. I bring this up because two folks you probably know were at the game -- the telecast showed that Rob Reiner (whom we all know is an avid baseball fan) was on hand at the Metrodome, and filling in on MASN play-by-play (Bob Carpenter has the weekend off) was Johnny Holliday, whom you may know both from his Top 40 work in the sixties (I believe he was the final jock on WINS in New York before it went all-news in April 1965) and his decades of sportscasting work (ABC radio, University of Maryland). He was his usual professional self.
And from Ken himself on writing for the Tony Randall Show:
But happily he liked the scriptÖ and us. At the time I was single, bringing dates to filmings (hoping that might help me get lucky) and after the show I would always introduce them to Tony. He would praise me to the heavens, how they couldnít do the show without me, etc. All total bullshit but the girls were impressed. Say what you will about Tony Randall, he was the best Wing Man Iíve ever had.

June 10 Permalink
Today is the birthday of Matt Chico. As noted here, Chico played for USC and Palomar Junior College. His best game was probably this past Thursday against the Pirates went he went 7 innings and allowed two runs.
Permalink
Twins perk up, salvage series finale against Nationals. Gardenhire talked the umpires out of granting Dmitri Young a homer. Bacsik had a lousy game the umpires allowed the Nats to have only one extra-base hit.
Permalink
Torii Hunter said in reaction to Sheffield:
I do agree that, you know 10 years from now you'll see no blacks, at all.
Soccer is not exactly a black sport, but somehow Cobi Jones, Zach Thornton and DeMarcus Beasley made it as pros. Ten years from now, there will still be African-Americans playing major league baseball. They'll just be upper-class blacks from the suburbs, or more likely, sons of former major leaguers.
Permalink
Our old friend Brian Whiting came over to try and fix a problem with an external hard drive. Afterwards, we order some Chinese food.
Permalink
Watched the Numb3rs episode "Under Pressure". An Islamic terrorist cell is planning to release sarin gas into the Los Angeles water system. Charlie figures out who the central figure of the terror network is, but he was killed four months ago in Afghanistan. Captain Adams, the Army Intelligence Officer on the case admits that he found the dead terror leader's plans and allowed them to continue to prove how vulnerable the United States is. Funny, how the real terrorists are outnumbered by Americans who are making a point about vulnerability.
Adam planned to stop the conspiracy before it had a chance to actually be carried out. Unfortunately, the terror cell started to act independently. Alan uses his knowledge of the Los Angeles municipal infrastructure to figure out exactly where the terrorists would strike.
June 9 Permalink
Last night the Devil Rays jumped out to an 8-2, but lost 14-8 to the Marlins anyway. Upton got injured his quad running out a grounder in the first. Dioner Navarro got hit in the throat with a pitch in the dirt. He seemed to have difficulty breathing and had to be taken off the field on a stretcher. Scrappy ex-Nat Josh Wilson ended up pitching a scoreless 8th inning to finish out the game for Tampa Bay.
Permalink
Watched the Everybody Hates Chris episode "Everybody Hates the Substitute". While Ms. Morello has either gone to Africa or Harlem, Orlando Jones plays Mr. Newton, the long-term substitute teacher. He gives Chris a B-, which Chris is willing to settle for, but Mr. Newton will have none of it.
Mr. Newton then puts Chris through tutoring which at one point parodies An Officer and a Gentleman. Mr. Newton accepts a permanent position at Corleone and Chris decides he must get rid of him somehow. Chris has Mr. Newton's resume and gets him a position at Lamont Sanford Jr. High.
Permalink
Went on to the How I Met Your Mother episode "Columns". Barney, Ted and Robin find a nude portrait Lily painted of Marshall back when they were in college. They extract maximum embarassment for Marshall by displaying it behind the bar.
Still, Barney admires Lily's artwork and asks her to paint him nude. Like Indecent Proposal, he's paying her $5,000 so they can spend their honeymoon in Scotland. Suddenly, Marshall appears to get cold feet about his fiancee seeing another man naked, but it's just a ruse to get Barney to pony up more cash for a nicer hotel in Scotland.
Once Lily is sure Marshall has Barney's check, they run away leaving Barney to see the painting for the first time. Lily has omitted his member and Barney is left lamenting it as he holds the portrait. But Barney's rich. I'm sure he could get some starving NYU student to paint it in.
In the other plot, Ted continues to plan his Spokane bank skyscraper. His former boss Hammond Druthers now works under him, making snide remarks about Ted's ideas. Ted gets approval from a senior partner to find Druthers, but just as he's getting ready to sack hi, a surprise birthday party turns up for Druthers.
Not wanting to pink slip a guy on his birthday, Ted holds off and returns to the office after hours to find Druthers sleeping there. He's going through a messy divorce so Ted takes him to his apartment to sleep on the couch. Still, Druthers continues to be a jerk which the bank tower is discussed.
Ted is about to fire Druthers yet again when another surprise birthday party erupts for the benefit of firm members who were out of town for the last birthday party. Ted fires Druthers anyway who immediately suffers a heart attack from which he recovers.
Permalink
The Nats have a strange ability to defeat top-flight pitchers. John Smoltz and Jake Peavy preceded tonight's victim Johan Santana. Essentially he made only the mistake of allowing baserunners before the three-run homer to Zimmerman. What was more amazing was former Twins farmhand and Rule 5 selection Levale Speigner who allowed just the home run to Morneau. Sister Cristian has succedded way beyond Nate's Guzmania fantasies and puverized his old team with seven hits so far.
Permalink
Watched the Bones episode "The Boneless Bride in the River". A ornate box is found in the river with the boneless corpse of a woman inside. All of her bones have been removed and her flesh was stitched back together. Montenegro thinks the victim may be Asian from her hair.
We learn of a rural Chinese practice called Minghum where a never married man is buried with a young woman who died first so he has a bride in the afterlife. In this case, the woman may have been murdered specifically for this purpose. Through Angela's drawing and a database of missing persons, the victim is identified as Li Ling Fan, who came to the United States from China to marry American Drew Harper. She also had a genetic bone defect called Fong's Disease.
Harper is a fence with a fascination for Asian culture. Although he's a prime suspect the marriage broker, PerfectBride, had a money back guarantee, so it was the marriage broker that was out its fee. They were they ones who had Li Ling Fan killed and her bones removed in partnership with a mortuary. PerfectBride sold her bones to the family of William Chang who died of cancer two years ago.
In the other plot, Sully asks Brennan to sail the Caribbean with him. She turns him down and pretty much everybody including the audience thinks this is a bad idea.
June 8 Permalink
Jon Weisman believes hitters are harder to scout than pitchers. Certainly, when you show up to see them, all you may get are four plate appearances and the hitter you are scouting may just walk four times.
Not even the highest level of the minor leagues provides much of a clue. Although AAA offers some transition to major-league pitching -- hurlers who can throw hard and/or spin off a sweet curve -- rare is the pitcher who can do so consistently at that level. (If they could, they wouldn't be down in AAA -- not for long, anyway.)
Still, it is possible to project a AAA hitter to the majors. Even if there aren't many pitchers in the International League who hurl smoke or knee-buckling charlies, your typical AAA pitcher has the same talent as a borderline major leaguer. If a AAAA hitter can't hit the Cy Young winners, they can still fatten up their stats on replacement level talent.
Permalink
The Nats drafted another Zimmermann. We should all note the additional "n" at the end. He's a right-hander from University of Wisconsin-Stevens Point, home of the world's largest trivia contest. The video of Zimmermann showed him pitching in driving snowstorm.
Permalink
Young stays hot as Nats beat Twins in Mauer's return. The Nats jumped out to an 8-0 lead and Simontacchi worked into the 8th.
Earlier in the day, Torii Hunter said the following about Mauer:
ĒI think some people take pain in different ways,Ē Twins center fielder Torii Hunter said. ďSome people have to play at 100 percent, and Joe may be one of those guys. Iíve seen it happen. Joe is a good player, and he wants to perform at 100 percent, not at 80 percent.

ĒMe, I grew up in a different time. Iím ready to play no matter what - broken toe, hamstring, groin, back - and thatís the mentality Iíve grown to have.Ē
I guess Joe Mauer is missing that fire in the belly.
June 7 Permalink
Pirates 3, Nationals 2. Again, the Nats took an early lead with a two-run homer by Da Meat Hook. Freddy Sanchez answered with a homer in the third. And Cordero gave the winning homer to Jason Bay in the 9th. Apparently, Manny Acta took FLop out of the game for not hustling on ground balls.
Permalink
But it seemed most of the thoughts of the Nats fans were on the draft. They took Missouri State left-handed pitcher Ross Detwiler with their first pick and the 6th overall. In his first interview on ESPN, he admitted to having a hard time gaining weight. Just hang around Ray King and Dmitri Young long enough and that could change.
June 6 Permalink
Nationals 6, Pirates 5. The Nats broke out to a 5-1 lead in the bottom of the 5th on a Jack Wilson error and a Schneider single. Unfortunately, Rauch and Traber let the Pirates get back in the 8th with a Bay sac fly and a three-run homer by Adam LaRoche.
Salomon Torres looked terrible in the 9th. Once he walked Kearns to load the bases with two outs, I knew it would end in a crazy way. I was guessing either a wild pitch or another walk and it ended up being the WP.
June 5 Permalink
Bryan Curtis explains why guys love fantasy baseball. He got paid to say what I said for free more than two years ago.
Permalink
Pirates 7, Nationals 6. Went to this game with Chris Pendley and his girlfriend Jessica Simpson. Okay, not THAT Jessica Simpson.
The talk was about Tony Batista running through a stop sign and getting thrown out at home. Church had two doubles but Paulino and Jack Wilson both homered.
June 4 Permalink
The Washington segment of the National Academic Championship was won today by Harrison High School of West Lafayette, Indiana, beating Torrey Pines High School of San Diego.
Permalink
Over the weekend Buzz Bissinger wrote a story about pitchers that had a great profile on Kerry Wood. Unfortunately, it also stated as a truism that 400 innings of minor league ball are necessary for major league longevity. I immediately thought of Mike Mussina who, from my cursory research, had just 189 innings in the minors. I think scouts should not underestimate the importance of intelligence in the development of a pitcher. Jared Park has a more complete response than I have:
Pitcher, Minor League Innings (numbers courtesy of The Baseball Cube)

Steve Carlton, 306
Nolan Ryan, 287 (and quoted by Bissinger in the piece)
Don Sutton, 249
Tom Seaver, 210
Jim Palmer, 129
Bert Blyleven, 123

And a few current players with no durability issues:

Johan Santana, 334
C.C. Sabathia, 232.7
Mike Mussina, 178

Finally, in yet another act of deception, in the paragraph that begins with the 400-inning rule of thumb, Bissinger writes:

ďFrancisco Liriano, in his first full season with the Minnesota Twins in 2006, went 12 and 3 and seemed destined for greatness, but he will miss the entire 2007 season after undergoing ligament replacement surgery - the so-called Tommy John procedure - on his elbow last November.Ē

Liriano, 484.3 minor league innings pitched. I wonder why that wasnít mentioned.
And on the Boog Sciambi show, Bissinger got pwned.
June 3 Permalink
Worked with Jason Russell today. For the preliminary rounds, the players are permitted to use pseudonyms. One team used various related terms but in all cases, their girl uses a term that was also a euphemism for breasts, i.e., tomato, eggplant, carrot and melon. In the end I enjoin.
The Ithaca team had a player who called himself Schmithaca so I ended up calling out,"Ithaca, Schmithaca." That same Ithaca team had a bonus where we gave them a country and a state and they were to identify the largest city with the same name in both jurisdictions. For example, for France and Texas, the answer would be Paris. The Ithaca team thought the biggest city with the same name in both Greece and New York was Syracuse. Unfortunately, Syracuse is in Italy.
Both PACE luminaries David Bykowski and Tom Chuck were around observing the competition and introducing themselves to players, coaches and teams they had previously known only on the internet. Jason didn't like them hanging around, going to somebody else's tournament, luring them away. If Roger Goodell wanted to attend a game in Mark Cuban's UFL, what would be the problem if he just enjoyed the competition? We both agreed that if Chip showed up at PACE or NAQT, he'd been drawn and quartered all across the internet.
The customers of the current quizbowl market are the players and coaches, who want a lot of games and quality questions, which some can argue NAQT and PACE provide better. Chip actually makes a living at this and targets his flashy product at administrators, sponsors and ultimately television. The arguments I hear on both sides are sometimes just talking past each other, making essentially irrelevant criticisms from their points of view.
Permalink
Padres 7, Nationals 3. So apparently RFK was a quagmire today. David Wells complained a lot, maybe about the size of the buffet. Simontacchi gave up 3 runs in the 1st inning and again in the fifth. The Nats scored all their runs in the third with a n.000K single, a Belliard double and a homer from Jeri Lynn.

June 2 Permalink
Today is the birthday of Junior Spivey. The Nats traded Tomo Ohka to the Brewers for him in June 2005 until he broke his wrist hitting off a batting practice tee. He hit a home run just after the Mariners brought in the infield in back during his first weekend with the Nats.
Permalink
Today I worked with Ernie Anderson. After one squad's "A" team finished up a lackluster victory, a member of the "B" team screamed,"You suck! That's unacceptable!"
In the evening, Ernie hosted "Who Wants to Be a Game Show Host?" which was won by Kim Nguyen of Lamar High School in Houston. She's on the list to be called back by Chip next year to be a moderator. As one of the judges for the festivities, I hadn't done anything like this since an air guitar contest back in grad school. Jason Russell felt it was uncomfortably like a job interview.
Permalink
Padres 11, Nationals 3. This was pretty much a loss cause by the time I checked the score. Speigner gave up six runs in the first inning when eleven batters came to the plate. He did managed to last four innings.
June 1 Permalink
Worked with Chip this morning. Most interesting bit of trivia was finding out that Samuel L. Jackson was the voice of God in a new audio version of the Bible. All of I could think of was,"I have had it with these motherf- snakes in this motherf- garden."
One game had to run through six questions in overtime before we got a winner on a Yoplait question. The losing team didn't wait to let me finish on the bounceback of a Planck's constant question.
The funniest wrong answer of the day was to identify the source of quote,"Being with a woman all night never hurt no professional baseball player. It's staying up all night looking for a woman that does him in." Although the incorrect guess of Yogi Berra was logical, the subsequent response of Wilt Chamberlain was funnier.
Permalink
Nationals 4, Padres 3 (10 innings). The Nats had a 3-1 lead going into the 6th when Adrian Gonzalez and Bard doubled him home. Abreu relieved Chico and Nats trivia answer Terrmel Sledge doubled home Bard.
In the 10th, FLOp flied out and Sister Cristian followed with a single. Jeri Lynn singled him to third. Then Belliard grounded to Marcus Giles who was trying to start a double play, but just couldn't handle the ball and Guzman scored.