September 2007 Archives
Links were checked and verified as active only in the month the Eucalyptus entry was published. Links outside the silverscreentest domain may be inactive from this archive.
September 30 Permalink
Read at the Maryland Fall High School Classic. The format was a modification of It's Academic with two teams, four players and a set number of questions instead of timed rounds. Thomas Jefferson won it was quite exciting to have them buzz in early on most of the buzz-in rounds. I'd say the worse of the teams were still better than the worst teams in the National Academic Championship.
Permalink
It was the third inning when I started the drive home. Howard singled to drive in Ruiz and Rollins. I got home in the sixth inning and took a nap until the game ended. For the real end of the season, Charlie and Dave gave a heartfelt farewell with hopes that the Nationals would soon be celebrating a division title.
Permalink
Watched the Masters of Science Fiction episode "Jerry Was a Man". The original was written by Robert Heinlein and published in the October 1947 edition of Thrilling Wonder Stories. I didn't read it so I can't comment from that aspect.
In 2077, Martha Van Vogel, played by Anne Heche, and her golddigger husband Bronson or "Brownie" visit genetic mogul Tibor Cargrew. One of their friends brought a six-legged dachsund to the club and Brownie wants to outdo him with a real flying Pegasus he can ride to the roof of the building. Cargrew says a Pegasus is physically impossible, but instead provides a toy poodle-sized elephant.
On the way out, Martha sees a Jerry about to be destroyed, a genetically engineered man bred as a landmine detector. She gets a lease on him and takes him home. Jerry only wants candy and cigarettes out of life.
Martha eventually falls in love of a sort with Jerry and wants to buy him outright, then give him his freedom. Cargill refuses to sell and Martha goes to court. Her attorney is able to prove Jerry personhood because he is willing to lie for cigarette and pushed another minewalker to be killed when he detected a landmine.
September 29 Permalink
Watched the Doctor Who episode "The Girl in the Fireplace". The Doctor, Rose and Mickey step out of the TARDIS into an abandoned spaceship that is using a massive amount of power to maintain a time portal through a fireplace into 18th century France. On the other side of the fireplace is a young girl named Reinette and the Doctor steps across the portal into her time. There he finds a robotic clockwork man in period dress and a hideous mask. The robot wants her, but she is "incomplete" so it will not harm her.
Reinette turns out to be Madame de Pompadour. Parts of the ship, including an eye and a heart seem to have been scavenged directly from human body parts by the robots. Because the vessel itself is 37 years old, the robots believe they need to wait until Reinette is 37 to harvest her brain for the computer.
Along the way the Doctor falls in love with Reinette. When her 37th birthday arrives, the Doctor smashes through a mirror and a time portal with a horse. By breaking the portal, he has broken the connection the robots have with the ship so they fall into inertness. This also traps the Doctor, but he soons finds a loose connection in a fireplace to get him back to the ship.
The Doctor promises to take Reinette with him and travel into the future, but he makes a terrible miscalculation about the rate times travels on the ship, relative to France. When the Doctor returns, Reinette is dead. As the Doctor, Rose and Mickey leave in the TARDIS, the question remains why the clockwork needed Reinette's brain and not someother human's. As the camera pulls back the ship's name is revealed as the S.S. Madame de Pompadour.
Permalink
Phillies lose to Nationals, fall into tie for first in NL East. I believe this is the first and last game the Nats have for a Fox national broadcast. They met the goal of winning avoiding a sweep in the last seven series, after clinching not losing 100 games. The Nats also clinched fourth place ahead of the Marlins.
Chico pitched a terrific game. You could suddenly see the Phillies starting choke away their lead over the Mets. Young dribbled a ball to Howard, who couldn't seem to get a hold of the ball and still tried to touch first without it. Then there was the reigning MVP looking like Charlie Brown while Da Meat Hook lumbered by. Then with Maxwell pinch-running for Young, Romero bounced a ball to Church. As the ball rolled away from Phils catcher Ruiz, Maxwell sped for second and Ruiz inexplicably threw it into centerfield instead of keeping Zimmerman at third. Jeri Lynn scored and J-Max went to third. No all we have to hope for is the Mets and Phils doing the same thing tomorrow to set up a Monday tiebreaker game.
Permalink
Watched the Monk episode "Mr. Monk and the Wrong Man". In 1993, John Valerie Davis were brutally murdered in their upscale home. Neighbor Sally McNally was the eyewitness who put Max Barton in prison.
Today at Barton parole hearing, both Monk and McNally are there to testify against his release when Barton's lawyer immediately withdraws the parole request because DNA evidence has exonerated his client. The release is big news and security guard Pauly Flores seems particularly disturbed by this development. Monk feels very guilty about putting the wrong man in prison and gets Barton a job at a loading dock in Natalie's father's company.
Barton pays a visit to Flores and kills him because he's afraid Pauly will talk about other jobs they did together. Apparently, Barton was involved in the Davis murders, but it was Flores' DNA left at the scene.
Barton desperately wants to find his ex-wife and Sherry and he and Monk find her about to re-marry with a man named Justin. Monk convinces her Max wants her back. Meanwhile, the police find the scene of Flores' murder and while Barton cannot be retired for the Davis murders, Monk finds evidence to convict him of this murder. He returns to the church with Stottlemeyer and Disher to find Sherry about to amrry Max again. Adrian is able to prove Barton's guilt because he still wearing the belt he got off Pauly Flores.
Permalink
Went on to the Everybody Hates Chris episode "Everybody Hates Promises". Chris discovers he really can't fulfill the promises he made to get himself elected president, so he gets impeached and has to resign. In the othe plot, Rochelle's layabout brother Michael is being slacker at their house.
Permalink
Finished off with the Numb3rs episode "Trust Metric". Colby Granger is in fact a triple agent being handled by FBI agent Michael Kirkland. Granger and Dwayne Carter escape while being transported under the cover of Vietnamese street gang.
Granger and Carter get onto a small power boat which pulls up to a Chinese freighter. There FBI agent Mason Lancer, portrayed by Val Kilmer, is Carter's handler, a sleeper agent planted by the Chinese since birth. Lancer tortures Granger with a combination of drugs and sheer brutality.
Granger's handler Kirkland is found tortured and killed. Charlie uses his math to figure out which freighter Granger and Carter are heading back to China on. The FBI boards the freighter. In the shootout Carter and Lancer are killed but Granger survives.
September 28 Permalink
Phillies blank Nats, get sole possession of first place. The Nats had nothin'. Hamels was unbeatable tonight. Redding looked okay for four innings.

September 27 Permalink
Today is the birthday of John Lannan. He began the season at Class A Potomac and was undoubtedly the most unlikely Nationals starting pitcher of the season, as opposed to Redding, Hanrahan and Bacsik who were at least on the Viera radar. Lannan sped psat Woodbridge, the City Island and Cooper Stadium to make a remarkable debut July 26 against the Phillies. He hit Chase Utley, sending him to the disabled list, and followed that up by hitting Ryan Howard immeidately afterwards leading to Lannan's ejection as well as the only ejection of Manny Acta this season. John's best game may well have been August 11 against Brandon Webb and the Diamondbacks when he allowed one run and two walks in seven innings for the loss.
Permalink
Apparently, Chad Cordero threw up in his glove last night which was why he wasn't pitching the ninth. Apparently the New York Post reported that Cordero had dinner the night before with David Wright, Ryan Zimmerman and others, which caused the unpleasant reaction with his stomach. Now is Jimmy Rollins the secret owner of that restaurant?
September 26 Permalink
Went with my father to see the Blue Jays and Orioles. The construction on what used to be parking lots, now obstructing the view of downtown and the Bromo Seltzer tower, there are no longer any food or souvenir vendors along Eutaw or Camden Streets. Fortunately, we did find a portable establishment beneath on umbrella on Howard Street, in front of the Convention Center.
The game was over in the first inning when the Black, Gray and Blue Jays scored eight runs although Payton made an excellent catch on what threatened to be a grand slam homer for Frank Thomas. I bought a program which was filled with Cal Ripken Hall of Fame pictures and pages of meaningless trivia of Orioles' favorite comedians, movies, etc. Normally, this should fill, at most, four pages, but the editor chose to make a two-page layout for each subject matter, including a head shot of each player.
There was supposed to be a Knights of Columbus buddy of my father sitting with his. Then a foul ball bounced off the upper deck into the next section and there was his freind with the ball. It seems he was seated in the wrong section, but it got him a ball. There seemed to be no more than 5,000 paid customers in the stands so it didn't matter.
The folks behind me seemed to be very interested in the Nats score as it was updated on the out-of-town scoreboard. The center panel mentioned the back-to-back homers in the first and the Beltran homer in the third. Anything to put down the Nats in Angelos' book. Why not if Mike "Gopher Ball" Bacsik is pitching. There was no further center panel update until Wilfredo Modesto's two-run double to take the lead.
We left during the seventh-inning stretch and I followed the ninth inning driving back to my house. Always a good idea to give Cordero a three-run lead to work with. But it wasn't Cordero. He got up and Ayala came in. Has Manny lost confidence in Chief?
September 25 Permalink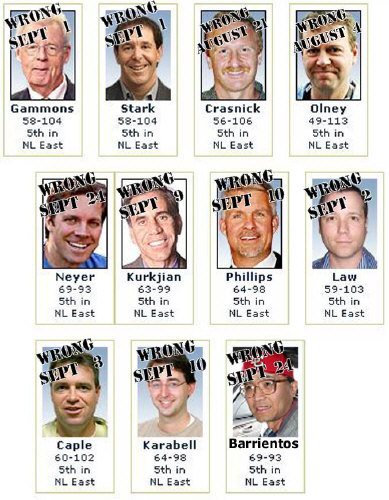 As of last night, Rob Neyer and my pre-season predictions for the Nats' win total this year were wrong. But most of the ESPN prognosticators were wrong with the Nats passing some win totals as early as August 4.
Permalink
Mets rally in ninth falls just short, lose once again to Nationals. The Nats took a 10-3 lead into the bottom of the ninth. Jesus Colome couldn't hold off the Mets. Neither could Cordero in a save situation. It was a full moon and felt exactly like the meltdown in San Diego, but Manny Acta is not Frank Robinson. He saw Chief had nothing and brought in Rauch to retire Delgado and Lo Duca.

September 24 Permalink
Today is the birthday of Levale Speigner. The Nats picked him in the Rule 5 Draft from the Twins, requiring them to keep him on the 25-man roster all season. He was sent down to Columbus and Washington gave Darnell McDonald to Minnesota in order to retain Speigner's rights. His best game was undoubtedly on June 9 when he allowed one run in six innings to defeat Johan Santana and his former team the Twins. Capitol Punishment notes his name is an anagram for Girl Revels in Pee.
Permalink
Nationals roll; Mets' lead down to 2 games; Alou extends streak to 28. Yesterday felt like the end of the season, but it continues as the Nats keep winning the Mets keep losing. Both Kearns and Langerhans belted three-run homers.
September 23 Permalink
For the last baseball game at RFK Stadium, misschatter hosted a tailgate for pretty much the last time as well since there won't be much parking at the new stadium. Channel 4 interviewed her about the tailgate. I met Josh for the first time.
There wasn't much worth buying in the team store for the 50% off sale. There weren't even any baseballs with the RFK logo on them.
A fine singer with the incongrous name of D.C. Washington performed the National Anthem. A number of former Senators stood with Nats on the field before the game including Ron Hansen and Frank Howard. Dick Bosman threw out the first pitch. Teddy Roosevelt lost again by showing up at the new stadium.
The Nats took the lead in the bottom of the sixth on a bases loaded hit by pitch of Jesus Flores. Fick with a single and Schneider with the inevitable productive out, gave Cordero a three run lead into the ninth. With the go-ahead run at the plate, Chief struck out Helms and Werth to end the game.
I've always preferred home closers to home openers. You realize the players, the announcers and the characters on the commercials have been like a part of your family for six months. Now autumn bears down, my birthday, my anniversary, switching from lawn-mowing to leaf-blowing, and surviving the chilling dayd until Christmas. The previous two years, the Nats limped out of their home closer getting swept by the Phillies. Today they won and felt almost as satisfying as winning a title. Also, with their 69th win, the Nats have met my pre-season prediction. With six more games to go, it's unlikely they won't exceed that.
Though the paid attendance was more than 40,000, I'm sure less than 10,000 stayed for the closing ceremonies. Don Sutton talked to some of the players as they gave their game uniforms to lucky fans. Ted Lerner, Manny Acta and Screech ceremonially pried out home plate together. Screech arrived on a wire from the top of the stadium. Overall, it wasn't very emotional, except for Manny Acta thanking the fans.
September 22 Permalink
Watched the Everybody Hates Chris episode "Everybody Hates Chain Snatching". When Chris warns a potential victim, the thief Malvo threatens to harm Chris if he doesn't produce a replacement chain. As he figures out whether to steal a chain or buy a chain, he tells Julius, disguising it as Greg's problem. Julius stands up to Malvo who seems to flustered to actually meets someone's real father. In the other plots, Rochelle is incensed Julius has been hiding a credit card from her and Drew uses his incredible luck to score Billy Ocean tickets for Tanya in a radio call-in giveaway.
Permalink
Went on to the Bones episode "Stargazer in a Puddle". A ten-year-old girl is found in a cage in an alley. She has a bullethole in her head and suffered some bone damage from continually looking up.
The girl is identified as Chelsea Cole, a 22-year-old who suffered from Wener's Syndrome, an aging disease that also caused her to have the mental age of a six-year-old. Chelsea's mother Cynthia was suffering from AIDS and was afraid no one would want to care for her daughter after she was gone, so she overdosed her on HIV drugs. Ironically, Cynthia's latest treatment was successful, leaving her with the guilt of killing her daughter. The "bullethole" was actually from brain surgery.
In the secondary plot, Brennan's father Max Keenan has returned to Washington and Booth arrests him. Unfortunately, all records seem to show Max is actually some other law-abaiding citizen. The dirty deupty FBI director Max is charged with killing wanted Max dead so deleted all the FBI records of him. Eventually a DNA sample from an Indiana diner enables Booth to charge Max.
In the tertiary plot, Jack Hodgins and Angela Montenegro are getting married. A government agent stops the wedding because Angela is legally married to a man in Fiji in a wedding she didn't realize was serious. They run away, leaving everyone else to enjoy the reception. There's a bit of a continuity error here in that the establishing shot shows a white church and the couple are shown leaving a red brick church.
Permalink
Next up the CSI:NY episode "Snow Day". A raid on an Irish mob warehouse yields a massive haul of cocaine and the dead body of boss Gavin Wilder, shot by an underling. Danny and Lindsey are in bed together and he sneaks off to take her shift that morning processing the warehouse.
The building where the lab is located is evacuated because of gas leak, but Mac quickly determines there is no gas at all, just mercaptain, the additive to make methane detectable. The Irish gang pose as gas company employees in order to get their cocaine while Mac, Stella and Sheldon are the only civilians in the building. It turns into Die Hard as the three fight off the gangsters. At one point, Mac duct tapes one of them to a chair in a room boobytrapped with a pipe bomb. Of course, at the end, a huge explosion rips out the window.
Meanwhile back at the warehouse, the mobsters have overpowered the police guards, taking Adam and Danny hostage. Of course, it's a diversion to allow the operation to recover the cocaine to continue.
Permalink
Finished off with the Masters of Science Fiction episode "A Clean Escape". First of all, the producers made an odd choice of the robotic voice of Stephen Hawking as the beginning and end narrator. After Rod Serling, Charles Aidman, Robin Ward and Forrest Whitaker, I thought perhaps they'd turn to a woman like Kathleen Turner or Linda Hunt.
Based on the 1985 short story of the same name by John Kessel, the episode stars Judy Davis as psychiatrist Deanna Evans and Sam Watterson as the mysterious Robert Havelmann. He believes himself to be the 41-year-old CEO of a defense contractor, but is in fact the 61-year-old President of the United States who, just a year before, began a nuclear war that resulted in only 871 survivors in their bunker deep inside a Virginia Mountain. Havelmann suffers from Korsakov's Syndrome where memory reverts to a point twenty or thirty years in the past while less than a hour of short-term memory remains.
Evans is dying of cancer and thinks Havelmann may be faking his memory loss. It upsets her greatly that he seems to have made a "clean escape" with no guilt at wiping out most of human life. Eventually with video footage of Havelmann's wife's diamond ring, the only recognizable part of her otherwise charred skeleton at the Western White House, he confesses his guilt and mindset when incited the first strike.
Evans is satisfied and shoots herself. A new psychiatrist resumes therapy as Havelmann's memory loss returns. It's not clear whether Korsakov's sundrome was faked or Evans managed to pry open a box of memories that quickly snapped back shut.
A search through the Internet Speculative Fiction Database led to the first publication of "A Clean Escape" in the May 1985 issue of Isaac Asimov's Science Fiction Magazine. The pointilist illustration by Janet Aulisio bears an uncanny resemblance to Sam Waterson. The television adaptation could easily have been shortened to fifteen minutes but may have been best at half an hour.
I know at the 30-minute mark I thought,"We've got all the story we need. What are they going to do to fill out the last half-hour?" The teleplay was padded with a power struggle within Havelmann's company and the anguish of Evans as soldiers took her away, leaving her family to die in the holocaust.
The original short story only had two scenes plus final snippet with only Evans and Havelmann as characters. Evans points a gun at Havelmann and breaks down when she is convinced his memory loss is real as he takes the gun from her. Evans is still his therapist in that final snippet as Havelmann conitnues his therapy.
There are a few interesting non-material differences between the short story and the teleplay. In the original story Havelmann believes himself to be a 35-year-old in 1984 as opposed to a 41-year-old in 2007. In the 1985 edition, he follows the Braves and lives in Alexnadria whiles he's a Redskins season ticket holder living in Maryland for the teleplay. The bunker in the short story is in West Virginia,
Overall, I'm happy that short science fiction is being mined for television, but I wish it wasn't so padded.
Permalink
Phillies keep up with Mets by beating Nationals in 10th inning. Tim Redding matched Kyle Kendrick for approximately six innings. Rauch and Cordero fulfilled their standard eighth and ninth inning roles, but in the tenth, Schroder couldn't retire any of three batters in the tenth.
September 21 Permalink
Phillies beat Nationals to keep pressure on Mets in NL East. The Nats gave up three homers and amazingly they were all given up by Shawn Hill, not Mike Bacsik. Sister Cristian reappeared as a defensive substitute and Jeri Lynn's double was the only Nats extra-base hit.
September 20 Permalink
Phillies rally in D.C., move within 1 1/2 games of Mets. Schneider, Belliard and Church all doubled in the second to give the Nats a 6-2 lead. Bergmann went six nice innings and was replaced by Luis Ayala who didn't retire anybody. The Phillies tied up the score off Ayala, Muñoz and Albaladejo. Rollins drove in the winning run on a double.
September 19 Permalink
Mets end five-game dive in Washington with Wright's good night. Bad luck tonight as the Nats could only convert 15 baserunners into four runs, while the Mets turned their 12 baserunners into eight runs. The Mets fielding woes continued with three errors. Interestingly, the three Mets errors and the one by Fick all were bonus advances after the batter reached safely.
FLop went 3-5, but got picked off first in the third. Belliard had the only Nats extra-base hit, a double in the second.
September 18 Permalink
Mets blow lead vs. Nationals, losing streak at five, lead down to 1 1/2. The Mets keep making it worse. Click over to MetsBlog and see the Mets Fans' anguish up-close.
The Mets jumped out to a 4-0 lead in the first, but starter John Maine couldn't hold it, allowing 8 runs in 4 1/3 innings. Belliard hit a three-run homer and Jiminez hit a pinch-hit homer. After retiring the first batters in the 9th, Cordero allowed three consecutive singles to close the lead to one, but he finally struck out Gotay to save the game.
September 17 Permalink
Bumbling Mets lose fourth in row, this time to Nationals. Nats gone their win early in this series. The Mets committed four errors in this game, combining with the six yesterday in Phladeladelphia made for ten errors in two games. Even the '62 Mets didn't do that.
Jonathan Albaladejo picked up his first major league victory after relieving Redding who lasted only four innings. Ryan Church hit a pinch-hit two-run homer in the seventh.
September 16 Permalink
Braves 3, Nationals 0. Watched this game with Dave and Jessie Bykowski. I picked up a couple of 2005 A's vs. Nats and Blue Jays vs. Nats interleague t-shirts in order to get a free Screech bobblebelly.
The Braves started Brandon Jones in left field so they had Andruw, Brandon and Chipper - A. B. C. Jones in the lineup. Hudson was pretty much inhittable. Mike Bacsik pitched two surprisingly scoreless innings.
September 15 Permalink
Watched the Monk episode "Mr. Monk and the Buried Treasure". Dr. Kroger complains about his slacker teen-age son Troy who skips school and skateboards with his friends. When we actually see him and his friends Ridley and Pez, the actors are way too old for their parts and the characters just appear to be directionless nerds.
The boys come upon a dead mean behind the wheel of a car with empty bank bags in the back seat. In the front seat is a map that the boys assume leads to where the stolen money was taken.
Meanwhile, Stottlemeyer and Disher are investigating that very bank robbery where a security guard was killed and a robber was wounded. The police notice the assistant bank manager Steven Connelly has a picture on his desk of his infamous brother "Smiling Jack" Connelly. It doesn't take long for the audience to figure out that Steven was in the inside man on the job. I don't know why a bank wouldn't make a cursory background check and put Steven in such a sensitive. Even more stupid, if you planned to pull inside job heist, would you display a picture of your notorious criminal brother on your desk that you claim you have been out of contact with him.
The boys want to find the buried treasure, but the map is not exactly transparent. So they concoct a story they tell Adrian and Natalie that this is all an extra credit English project related to Treasure Island and they just have to take a picture of where the map leads them. Monk deciphers the map which leads to a quarry where lo and behold, there's a giant X sticking out of the ground.
In police headquarters while discussing the bank robbery, Monk realizes the boys had found the body of Tony Gammalobbo, one of the bank robbers, taking his cellphone, ID and the map. The boys had dug up only $5,000, just a fraction of the amount reported stolen. Telling no one, Monk and Troy go back to the quarry to re-bury the money, perhaps in hope of finding the robbers digging it up. But while they are at the quarry, Steven Connelly buries them in their car under gravel. That's a real original idea.
The map was not where the money was buried, but where Steven Connelly told Gammalobbo to bury Jack when he died a few hours after the robbery. When the kids got a hold of the map, Steven buried money there to staisfy them. When Stottlemeyer, Disher and Natalie come to the quarry to look for Monk, Troy turns the car stereo up really loud to signal their location.
Permalink
Nationals 7, Braves 4. The Nats got their win for this series on unlikely homers by D'Angelo Jimenez and Robert Fick. Da Meat Hook had to leave the game after being hit in the head by a ground ball.
September 14 Permalink
I think the punishment levied on Bill Belichek and the Patriots is as appropriate as the NFL felt it was. If I were the NFL commissioner, I might have added a suspension to Belichek with league security enforcing all attempts to communicate with the team. I also would have said,"I told you so," to teams voting against putting helmet radios for the defensive captains. The moral posturing and the calls to strip the Patriots of their three Super Bowls are garbage. These are not so much cases of cheating, but calls not made. It's not like I would give the 1985 World Series trophy to the Cardinals because Don Denkinger blew the call.
Permalink
Braves 8, Nationals 5. Matt Chico recovered from allowing three runs in the first to give up no more runs through six. The Braves caught up with runs in the eighth and ninth off Rauch and Cordero. Larry/Chipper doubled into the right field corner for Chad's blown save. At least Cordero didn't allow any more runs to send the game into extra-innings.
For the second straight game, the Nats went to twelve innings and actually to thirteen. I thought that the longer the game went, the odss would be more in favor of Washington as the home team. Colome allowed three runs the thirteenth that just couldn't be made up in the bottom of the inning.
September 13 Permalink
Finished Warriors: Forest of Secrets by Erin Hunter. It could have been written by John Bradshaw, Dr. Phil, etc., pretty much any pop psychologist who believes keeping secrets is a bad thing. The book overflows with secrets - that Tigerclaw killed Redtail the clan deputy, but did not kill Oakheart, the Riverclan deputy who actually died accidentally in a rockfall; that Bluestar had kits by Oakheart, but gave them up secretly to Riverclan because she wanted to succeed to Thunderclan leadership rather than allow the belligerent Thistleclaw to be deputy; that Riverclan warrior Silverstream was bearing the kits of Thunderclan warrior Greystripe; that Yellowfang's son is Brokentail, the former leader of Shadowclan and that she poisoned him with deathberries for bertraying the hospitality and mercy of Thunderclan; and finally Tigerclaw's coup attempt with the help of rogue Shadowclan warriors.
There's a wroking woman allegory as Bluestar in her warrior days as Bluefur gave up motherhood in favor of the management track. I'm still trying to figure out the meaning of clan loyalty and the warrior code is. I can understand the purpose of helping kits and elders.
Finally, the author(s) did a bad job of describing Silverstream's death. I had to ask Miranda to larn it was plain old childbirth.
September 12 Permalink
Marlins' Linden brings Abercrombie home with winning run in 12th. The game went back and forth with Jeri Lynn and Wily Mo homering. I figured the game would be over by the time I got out at Shady Grove. But the game was still going on and Saul Rivera gave up a game winning hit in the twelfth.
September 11 Permalink
I'll pretend to be McSweeney for day. Rejected Nationals Promotional Items
John Patterson Flowerpot
Nick Johnson Bobbleleg Doll
Ryan Church Candleholder - so you can light the fire in his belly
Chad Cordero Defibrilators
Ronnie Belliard Paternity Test Kit
Mike Rizzo/Dana Brown Souvenir Tape Measure - to scout those high ceiling prospects
Jim Bowden Five-Tool Toolkit
And for real, the Nats should consider these items:
John Rauch Growth Chart Poster
Racing Presidents Wind-Up Toys. Earlier this season, the Twins gave away a Joe Mauer windup doll. With Racing Presidents windups you could collect all four and have your own races at home. There could even be a separate giveaway of the foul line area as the race venue. Whitlock and I have a particular affection for windup toys. Our wedding favors were a firebreathing windup Godzilla, King Kong or the Creature from the Black Lagoon.
Permalink
Marlins 13, Nationals 8. If a Nationals pitcher gave up three home runs, it must be Mike Bacsik. Props to Justin Maxwell for making his first major league hit a grand slam homer. If Marlins pitcher Chris Seddon were on the same team as Adam Dunn, it really would be all Seddon-Dunn.
September 10 Permalink
From Gene Weingarten's chat, someone wrote it in without a real question:
So I'm dropping my two year-old daughter off at her first day of daycare, and I'm asked to fill out a "child profile" form. I'm happy to oblige until we get into questions like "What manner of discipline works best with your child?" These are the ways I considered answering this question:

"I'm not sure, that's why I'm sending her to you."

"We don't discipline her, and I insist that you don't either. She needs to be free to grow into the pure child of light that she wants to be."

"Tylenol with codeine. I know it's not recommended for kids, but we find it shuts her up pretty good."

"She's got a HUGE fear of clowns, so, you know, get clowns."

"At home we use the 'Paddle of Justice.'"

"Have her stand in a corner and count to 100. Given that she's only two and can only count to about fifteen, that oughta take care of her for the day."

"Fire."
Permalink
Pena homers twice to lead Washington to the win. The Nats score first on a n.000K walk, steal and coming home on a sacrifice fly. Peña hit a homer in the third down the left field line that went over the fence in a hurry. I thought it was foul because Carpenter was stunned and said nothing at first. Wily Mo also hit a second homer in the fifth.
In the top of the 7th, rain came crashing down, but the game continued. With Peña on second and Belliard on first, Flores popped up. The Florida fielders looked totally lost, not being able to see the ball in the rain. It landed just fair behind third base. At this point, apparently, an infield fly was called. Peña was tagged out at third for a double play. The game was halted with a 2-0 count on Shawn Hill.
Speaking of Shawn, he allowed two runs in six innings and didn't return after the rain delay. Colome did not do a good job following Hill, with a hit batter, a homer to Jacobs and single. But the bullpen managed to hold on for the win.
September 9 Permalink
With news that Rick Ankiel was taking HGH, Dmitri Young's road to Comeback Player of the Year Award looks better.
Jayson Stark examined the revelation in the light of three double standard issues, namely:

The likability test
The "he's just a pitcher" myth
and
He's no football player
The Dragon has a diatribe that doesn't shed any light, but it's funny. It's a non-traditional attitude towards steroids, with a "get off my lawn attitude".
Permalink
Nationals 7, Braves 4. The Nats went ahead on a three-run homer by Church to straightaway center. The Nats contined to add single runs in the 7th, 8th and 9th. I was nervous about Luis Ayala, thinking Chris Schroder may have been a better option. Manny Acta left him in for 2/3 of an inning before calling on Muñoz for the last out. It was Rauch who ended up allowing a run on a homer. Cordero went one-two-three for his save. I'm now hoping for six wins in the last six series.
In discussing the Cubs-Brewers rivalry, Carpenter said that since the Milwaukee went to the National League, there were suddenly two teams in the same league only 90 miles apart, the shortest since the Brooklyn Dodgers and the New York Giants. I immediately thought of the Baltimore Orioles and the Washington Senators, only about 35 miles apart for eighteen seasons. Not to mention the Milwaukee Braves that were about 90 miles from the Cubs during 1953-1965. Even before the Brewers moved to the National League, they were in the American League with the White Sox who are only a few miles further away from Milwaukee than the Cubs. So I have no idea what specialy rivalry Carpenter was talking about. After the Dodgers and Giants left New York, the two closest same league rivals were the Orioles and the Senators. When the Senators left town, it was the Brewers and whatever Chicago team they shared a league with.
September 8 Permalink
Watched a little bit of the San Marino-Czech Republic game. I was amazed San Marino held the Czech Republic scoreless for 33 minutes. I was probably even more surprised that Fox Soccer Channel felt that was the most important game to show live on a Saturday afternoon.
Permalink
Watched the CSI:NY episode "A Daze of Wine and Roaches". Fifteen-year-old Evie Pierpont, is co-hosting a Haitian benefit with the French consulate at the U.N. while her parents are overseas on business. The charity event is presented in 18th century costume while her French teacher Simone De Lille portrayed Marie Antoinette. Simone appears to die at the guillotine, but she'd actually been poisoned.
The DNA from Evie's shooting coach Charlie Cooper turns up on Simone's necklace, but his body was already in Sid's freezer, dead from an apparent suicide. Cooper and De Lille were engaged to be married, yet her DNA was found on his gun, so apparently she killed him. A blackmail note indicates he may have intended to expose that her work visa had expired and she was in the U.S. illegally.
The poison had been delivered by a patented polymer that can hold toxic drugs safely until they can enter the proper part of the body. Pierpont attorney Luther Vandeross poisoned Simone, because she was blackmailing him, threatening to expose that he was embezzling Pierpont money. However, all the blackmail notes were written in Evie's hand because she enjoyed setting her handlers against each other. Stella ends the episode saying,"It's not illegal being a sociopath."
In the other plot, celebrity chef Alec Green has been stabbed with a corkscrew and a jeweled cockroach crawls out of his mouth. A nipple marker used in mammograms leads to Gregory Sanford, a radiologist who moonlighted as busboy. Alec had gotten into an argument with a restaurant critic who wore the jeweled cockroach. As he tried to kill it, Sanford defended the cockroach because he admired the resilency of the species. He was the one who killed Green.
Permalink
Braves 9, Nationals 2. The defense didn't get any better as Jeri Lynn, FLop and n.000K combined for three errors. All the runs Chico gave up were unearned. Saul Rivera did not look very good allowing two runs, three walks and a hit in 2/3 of an inning. I expected the Nats to lose this series, but not by horrible defense.
September 7 Permalink
Watched Grand Slam, the game show featuring former champions such as Victor Lee, Kevin Olmstead, Brad Rutter and Ken Jennings among the people I've actually met. Pat Kiernan of The World Series of Pop Culture is the unseen Questioner and impressed me with his ability to read rapid fire questions.
There are rounds on numbers and wordplay which are very different from run of the mill trivia. I would probably need more practice on quick addition and subtraction and some of the multiplication. The rest of the calculation isn't too different from those seen at the high school level. For the wordplay, it's mostly knowing it or not. You probably have to memorize the Roman and Greek alphabet by number, i.e., figuring out which letters preceded another by ten.
The anagrams would totally throw me. I'd probably hit the Internet Anagram Server, trying out celebrities and other proper names. The anagram for what major league GM is Dim New Job?
It's an open question whether the winner is the undisputed game show champ. You could argue this is more like The Superstars than the decathlon. Maybe this show can pry open the doors acceptability for calculation and word play questions to general quizbowl universe.
Permalink
Went on to the Doctor Who episode "School Reunion". Mickey has noticed some funny goings-on at a comprehensive school and enlisted the help of the Doctor and Rose. The Doctor goes undercover as physics teacher John Smith and Rose as a lunch lady.
Anthony Steward Head plays headmaster Mr. Finch. A girl with a headache can't go home so he takes her inside his office and we hear a scream. Milo in the Doctor's class seems to have some incredible knowledge way beyond Earth science. The cafeteria ladies are transporting a huge vat of some mysterious liquid that is highly dangerous to them.
In the computer room, students put headphones on, look at mysterious symbols and rap on the keyboards at high speed. Late at night, Sarah Jane Smith, who is working on a newspaper story about the school, returns to find the Doctor, Rose and Mickey. Sarah Jane recognizes the Doctor. Inside Mr. Finch's office, they discover huge batlike creatures asleep. They are Krillitanes, aliens that acquire the best physical characteristics of the creatures they conquer.
Sarah Jane shows the Doctor K-9, broken in her car. The Doctor gets K-9 working again. The Krillitanes are using the children's brains to solve some problem, enabling them to control all time and space. Mr. Finch tempts the Doctor into joining them and saving the Timelord race.
The Headmaster begins the final phase which includes the Krillitanes eating the humans. The doors are sealed to trap them inside. K-9 will lure the Krillitanes to the cafeteria where he will sacrifice himself by blowing the Krillitane oil which is now toxic to the them. The children escape from an opening created by Mickey when he bashed a car into the front door. The Doctor leaves Sarah Jane with a new K-9.
Permalink
Notes from the Shadows of Cooperstown specializes in baseball history, especially Joe Jackson and the Black Sox scandal, so it's disheartening to see the site mess up political history:
Reagan did not single-handedly win the Cold War, but he was there when the Berlin Wall crumbled;
George H. W. Bush was President of the United States on November 9, 1989 when the Berlin Wall fell. I don't know where Reagan was, probably asleep in California, but I know for a fact, he wasn't in Berlin.
Permalink
Smoltz takes no-hitter into eighth, whiffs 10 in win over Nats. Maybe I'm a certified team fanatic because I wasn't rooting for the no-hitter. Jeri Lynn made three errors and struck out four times. FLop and Schneider also committed errors to bring the miscue total to five. Ross Detweiler made his major league debut with a single scoreless inning.
Permalink
Madeleine L'Engle died Thursday. She was the guest of honor for the 1994 Mythcon that Whitlock ran. Madeleine was great sport. She usually stayed at the Willard while in Washington but she settled for something near George Washington University. Most of the Mythcon committee members and membership were a cheap group staying in the dorms at American University.
I actually thought Madeleine's books were only okay. She was a great public speaker. Afterwards, we sent her Christmas cards along with pictures of Miranda. Madeleine sent back those standard xeroxed letters.
I remember two of her stories. One was of a child asking whether a dead pet was going to heaven. Her answer was,"What makes you think they were ever ejected from the Garden of Eden?"
The other concerned a toddler who wanted to speak with her newborn sibling - alone. The parents were concerned the toddler had become jealous and would harm the infant. So they stayed close by to listen. The toddler said to the baby,"Can you tell me what heaven is like? I'm starting to forget."
September 6 Permalink
Gene Weingarten arranged for violin virtuoso Joshua Bell to play at L'Enfant Plaza, posing as an ordinary busker. Would anyone recognize him or his overwhelming talent? Do we need the formal confines of a symphony hall to appreciate greatness?
As it turned out, nobody recognized him, but a few seemed to enjoy what they were hearing. In some circles this ended up as a condemnation of Washingtonians as soulless bureaucrats. I think this would have happened in any industrialized city. I suppose part of the point was that life itself was too busy to recognize beauty on the way to work.
I've been working next to Union Station for nearly twenty months. So I walk through a venue that is simultaneously a transportation center, a shopping center and tourist attraction, not only in the morning and evening, but pretty much anytime during the workday. There are the zombied visages of commuters getting off the MARC trains, but I've also seen celebrities engaged in longer distance travel such as Mark Warner, Bob Novak and Brian Lamb. Okay, Brian Lamb works just around the corner, so he was probably just shopping.
Despite how difficult their trip has been, I always find a face filled with anticipation, adrenaline or excitement. And sometimes that's enough to jumpstart a day or brighten the ride home. There are also the school trip groups. It's funny to see the cliques from back home reforming themselves miles away. I also wonder if there are fetishists watching the youngsters.
Now I hear Larry Craig was cruising the bathrooms in Union Station. Quite honestly, the Union Station bathrooms are pretty icky. I prefer to wait until I can get in my building. The thought of anonymous sex in those places feels even ickier.
I'm not sure how I connect Joshua Bell to Larry Craig, unless the latter thinks the former is hot. The violin experiment suggested our blinders are on too tight to see anything else around us. This post was to say that my eyes are open, because I'm somewhere with things worth seeing. And perhaps, somewhere hidden, things you don't want to see.
September 5 Permalink
Went to Back to School Night at Roberto Clemente Middle School Back-to-School Night. The front hall and the main office is filled with Roberto Clemente posters and even some memorabilia. Mostly stuff signed by members of his family. The scoreboard in the gym seems to be partially blocked by part of the bleachers.
Permalink
When I plugged back into the game, Olivo had just tied the game on a homer by Olivo. Singles by Peña and Schneider put the Nats ahead for good. Jonathan Albaladejo and Justin Maxwell made their major league debuts. The ninth was more of a classic Cordero nail-biter as he allowed a double to Ross and walked Cabrera.
The Nats have now won 63 games, making a hundred loss season impossible. Looking over the last 21 games, I am hoping for 7 wins, one for each series. Twelve wins or 75 for the season would fall into the category of fanboy dreams. It might be possible with a sweep in Florida, a split with the Phillies at RFK, series wins against the Mets and Braves at home and one more series on the road.
It ain't gonna happen. My guess is that the Phillies are the least likely to falter. They have a good chance to be in a competitive race. I think the Braves will be out and the Mets may be trying to stay healthy for the playoffs. That said, none of the teams want to lose to the Nats under any circumstances.
September 4 Permalink
Nationals 4, Marlins 3. Jesus Flores was the game story, dropping two pop flies errors. However, with two runners on, two out and the Nats down by one, he hit a two-run double that won the game.
September 3 Permalink
Nationals 6, Marlins 3. Bergmann followed a recent trend and gave up the lead early on a homer to Mike Jacobs in the top of the second. In the bottom of the second, with Young at third and Kearns at second, Peña grounded to third and Cabrera nailed Da Meat Hook at home. I was surprised Dmitri merely tried to slide under the tag when it was obvious his only chance at scoring was bowling over Olivo and hoping to knock the ball out.
A four-run sixth inning topped off by a Wily Mo homer drove Rick VandenHurk from the mound. A five-run lead looked safe until Jesus Colome allowed two runs. Granted, most of that was due to Belliard trying to start a double play, but ending up throwing the ball into left field. With bases loaded, Jon Rauch struck out Jacobs and Ross. Cordero finished out the save allowing only a double to Ramirez.
Permalink
Watched the Monk episode "Mr. Monk and the Daredevil". Once again, Monk is arguing with Harold Krenshaw, one of Dr. Kroger's patients who is similarly neurotic. A day or so later, the daredevil the Frisco Fly falls off the face of the Telegraph Tower, but survives because his fall is slowed by an awning. When bystanders unmask him, he turns out to be Harold Krenshaw.
Meanwhile, the police find a mysterious burned out car. The victim seems to have died from the car accident, but all his identification has been removed and so have all the identifying marks from the car. Meanwhile, Harold is visited in the hospital by his cousin Joey. Their mutual rich uncle who owns several acres in Nevada is dying.
Since the audience is convinced that Harold cannot be the Frisco Fly, the real Frisco Fly must be dead because he would unmask Harold as an imposter. Obviously, it's the guy in the car accident, Victor Granja. The uncle was dying, but Joey did not want to share the inheritance with his cousin. He stumbled upon Granja's accident, took the Frisco Fly costume, then burned the car. Joey drugged Harold and dropped him off the side of the Telegraph Tower, but unfortunately the awnings kept him alive.
Joey tries to kill Harold one last time by pushing him off the roof of the hospital. Natalie and Monk stop Joey from killing Harold.
Permalink
Went on to the CSI: Miami episode "Kill Switch". Ryan Wolfe is now a consultant to the local news. Using enhancement techniques on a security camera, he is able to find the face of a man who carjacked coed Sherry Williamson.
The carjacker is found dead on the beach and urinated on. The DNA on the urine leads to a vigilante named Derek Hewitt, but he had nothing to do with the death. The carjacker turns out to be Jason Billings, a wealthy guy with a boat.
The boat is revealed to be a drug runner with a "blister" on the surface of the hull to easily transport and dispose of drugs. While Duquesne and Boa Vista look for where the blister might be hidden on the beach, Wolfe observes with a cameraman at a distance. Eddie the cameraman backs off to shoot Ryan at a distance and his leg gets snapped between the jaws of a spiked booby trap.
Boa Vista and Duquesne find heroin beneath the trap, wrapped in banana leaves. On the leaves are the DNA of Cole Telford, a college student who takes care of Jason Billings boat. He admits to helping him load the drugs in Cuba on to the boat.
Wolfe returns to Delko and shows him what he found in watching the security tape again. He finds sparks, indicating someone took a shot at Jason Billings. Actually, Sherry Williamson was a girlfriend of Jason's brother Paul. Both Billings brothers were working for drug kingpin Tony Decker. Decker wanted Jason killed for shorting him on drugs, and Sherry was luring him to his death. Paul couldn't bear to kill his brother and Jason escaped in Sherry's car. He did not carjack her.
A few hours later, the brothers were back on the boat. Jason discovered Paul tried to kill him and they fought, both falling into the water. Paul rode the boat back to shore and Jason found himself swimming up to Tony Decker's boat. Decker kicked him, breaking his neck. Eventually, Jason's body floated to shore where Derek Hewitt found him, but had nothing to do with his death.
September 2 Permalink
Went to the game with misschatter and her son Tyler. We talked a lot about her experience in the radio and television booths. Read about it on her site.
Yudite Simon Oliver Lockwood sat a few rows in front of us along with his wife and infant daughter. The national anthem was sung by Allie Haines, a tiny blonde who seemed to be singing in her bare feet.
Both Chico and Zito looked so unhittable that I hoped at least for a combined 27 outs for a pseudo no-hitter. However, Belliard led off the bottom of the third with a single that could have been an error charged to Vizquel. Logan tripled Ronnie home with the first run to make the point moot.
Aurelia led off the top of the 5th with a homer to tie the score. Both starters went seven innings. In the top of the ninth, pinch-hitter Dave Roberts slipped a double past Dmitri Young. It was exactly the sort of situation where you second-guess not putting in Robert Fick.
In what was his last plate appearance at RFK Stadium, Barry Bonds grounded weekly to Ronnie Belliard to advance Kevin Frandsen as a pinch hitter.
Misschatter called Zimmerman to hit the walk-off. I was expecting a home run. With one-out, FLop hit a double to the wall that I thought he should have streched to three. No matter, Zimmerman hit a single to right field and FLop beat Winn's throw home.
Permalink
Went on to the Monk episode "Mr. Monk and the Birds and the Bees". Burglar Dewey Jordan enters the mansion of Rob Sherman, expecting to steal some items as part of an insurance scam. However, Sherman shoots him and when his wife Pam comes down to investigate, Rob shoots her as well. When the police arrive, he tells a story that his wife was cold so she went downstairs to adjust the thermostat. Pam was shot by the burglar and Sherman shot him.
It all looks like a typical scenario where Sherman kills wife in order to be with his secretary Allison, but he shows an unusual interest in Julie Teeger's t-shirt which shows her and her diving team boyfriend Tim at the Bay City Pier Amusement Park. At school, quarterback Clay Bridges has taken an interest in her, hiring Julie as a Spanish tutor. When Natalie cuts short a session at her house, Clay makes a call to Allison from his car.
Although Sherman claims he never knew Jordan, but court records show they were together in court on the same day. Sherman suggests, Jordan may have followed him home to case his house. Disher thinks he sees them talking together on a court security camera.
While Natalie and Monk are on the street, she spots Clay kissing another girl. He admits to being paid a woman who looked an awful lot like to Allison to break up Julie and Tim. It turns out Sherman recognized himself with Jordan in the background of the picture on Julie's shirt. If she broke up with Tim, then she'd stop wearing the shirt.
At Bay City Pier, Monk spots Sherman who goes to the booth where Julie and Tim had their picture taken. Although Julie burned her shirt in a fit of anger with her mother, the booth still had copies of the original picture. Sherman overpowers the clerk and dumps the disk into the ocean. Tim dives into the water and recovers the disk.
In reality, such booths usually take pictures in front of some stock background, not in front of the rest of the amusement park. Also, Sherman could have snuck into the amusement park in the off hours, rather than wrestling the clerk in broad daylight.
Permalink
Watched the Cold Case episode "War at Home". In 2004 Corporal Dana Taylor came home from Iraq without an arm and had it replaced with a prosthetic. One night she walked out of her home and disappeared. Today, the prosthetic has reappeared in the river.
The usual suspects are her husband, the woman who was having an affair with her husband, the widow of someone killed in Iraq and a Marine lieutenant who didn't believe woman belonged in the military. On the night she died, Dana finally told her husband about the attack that crippled her. Then she goes out to meet with her comrade Tommy who lost a leg in the attack as well. However, Tommy has fallen in love with her and threw her over the bridge.
September 1 Permalink
The World Series of Pop Culture was won by Twisted Misters, a group of NYU students who played in TRASHionals under the name Jacket Mandatory and came in 11th out of 40. James Dinan thought a Simpsons category for the final was too easy, but it looked to me as if it was deliberately set up to force a tiebreaker. It seems that the real tension in the game is not by answering a question or stealing it on the rebound, but forcing players to come up with the members of a list. The long-running game between Team Motherboy and Wocka-Wocka was because of the numerous tiebreakers. It was nice that World Series of Pop Culture could extend the Mother/Wocka-Wocka game across two episodes. That meant they didn't need to create filler for the additional half-hour of air time like the MBA Challenge did.
Permalink
Took Miranda to Frederick to see one of her doctors.
I finally got to see Sunderland live for the first ever, probably. They seemed to be in the same league as Man U - in the same was that the Red Sox and the Devil Rays, the Patriots and the Browns, the Spurs and the Grizzlies and Virginia Tech and Duke football are in the same league. The defense looked good. They weren't bunkered in the penalty box but actually got the ball out of their end until the counterattack petered out in some half-hearted launch at the goal. I went grocery shopping so I missed the Man U goal.
Appalachian State beat Michigan. Which shouldn't be a surprise because everyone knows Appalachian State is hot! Hot! HOT! I'd forgotten how long college football games are. This was quite an opening game for the new Big Ten Network.
Permalink
Nats stop seven-game skid with victory over visiting Giants. The streak had to end sometime. Jesus Flores was the star of the game with a home run and the game-winning single. The much-maligned Chad Cordero retired the Giants in order in the ninth including Barry Bonds to end the game. Hanrahan pitched six innings of one-hit ball allowing only a solo homer to Pedro Feliz.
The Mariners now have the longest losing streak at eight. Clay Buckholz no-hit the Orioles. It was the second time a pitcher no-hit a team in his second start. The first was when I saw Wilson Alvarez no-hit the Orioles. The last time a pitcher no-hit a team in his first major league start was Bobo Holloman of the St. Louis Brown who no-hit the Philadelphia Athletics on May 6, 1953. So in two of those no-hitters, the Orioles were the victim. In the other, the Orioles' predecessor, the Browns, threw the no-hitter.