January 2008 Archives
Links were checked and verified as active only in the month the Eucalyptus entry was published. Links outside the silverscreentest domain may be inactive from this archive.
January 31 Permalink
Nevertheless, he said he preferred Northern Virginia over downtown due to its "better fan base." Then he told the crowd, which included Nats principal owner Mark Lerner, that he "would have requested a different location" in the city.

"We were sold on the idea that there would be enough parking," he said. "I'm afraid that's not the case. I would have insisted on [the RFK site]."
Reinsdorf thinks fans would rather spend four hours trapped in bumper-to-bumper traffic than ride Metrorail. The city council would have been happy to build at RFK. The land acquisition costs would have been nil. But if remember correctly, it was Reisndorf himself and Bob Dupuy who insisted on building elsewhere.
January 30 Permalink
Kevin Keegan is back at Newcastle. As a Sunderland fan, this feels a lot liek Joe Gibbs going back to Washington. I fear the same disappointment for the Geordies.
January 29 Permalink
DC United has a new jersey without the iconic three horizontal stripe. Apparently, Adidas did not want their trademark interrupted by a sponsor. Couldn't the stripes be in the upper chest where they've always been with the sponsor on the center chest? I would have preferred two wider white stripes or a single wide white stripe or four thinner stripes. Now it's just a boring black shirt.
January 28 Permalink
Watched the Cold Case episode "Justice". After the 1982 graduation at Powell University, the valedictorian Mike Delaney is shot to death. Today, on the 25th anniversary, someone has spraypainted the word "rapist" on his tombstone.
Delaney was a serial date rapist. Several of his victims lived in the same door and confessed their secrets to the bathroom wall. They confronted him graduation night, made him beg on his knees, but no one could shoot him. The gun was tossed in the trash and the girls all stayed together until morning. But one of them had a 12-year-old brother who saw what was happening, picked the gun out of trash after thay had all gone, and shot Delaney.
The killing is labeled justifiable and Vera sees Delaney's ghost in disgust. The villain is portrayed as child of privilege like a Kennedy. Where were his family members - rightly or wrongly - coming to his defense.
January 27 Permalink
Watched the CSI: Miami episode "Stand Your Ground". Calleigh is her parked car when another vehicle pulls up and a man in the passenger seat points a gun at her. She points a gun back and identifies herself as police office. The car returns and Calleigh fires at it from a standing position in the middle of the street, causing the car to crash into a sporting goods store. The passenger escapes on foot and the dead are the driver and woman under the car.
The car is registered to the dead driver Mark Dowd. The woman, Valerie Gaynor, was a middle school teacher who was killed from upper body trauma inconsistent with a vehicle crash. The passenger Pete Morton claims their escape was blocked by a truck so they had to turn around and Calleigh unnecessarily shot at them. However, Delko recovers a bullet from her gun in a tree. If there actually were a truck, the bullet would have hit it instead of the tree.
Gaynor had drugs in her school desk drawer and had a restraining order placed on her by a family for snooping around their home. While Horatio is questioning art substitute teacher Dave Keppling, a middle school student.
Ryan correctly deduces that Gaynor was not a dealer but investigating a drug ring. She was snooping around a house because she suspected thee younger son was dealer. Keppling ran the operation from the sporting goods store, paying kids to be dealers with athletic shoes. When Gaynor discovered Keppling was involved he killed her with a dumbbell. As Keppling, Morton, Dowd and the store owner were trying to figure out what to do with her body, they saw Calleigh walk by. The carjacking was supposed to get rid of her, but Morton and Dowd panicked when they discovered she was a cop.
January 26 Permalink
Watched the Monk episode "Mr. Monk Joins a Cult". Amanda Clark is found stabbed to death in a park picnic table. Witness Tom Donovan fingers The Father AKA Ralph Roberts and his Siblings of the Sun cult as the killers. Amanda left the cult a year before. However, dozens of the cult members verify Father was at the compound the entire night.
Monk volunteers to infiltrate the cult and ends up joining for real. Natalie, Disher and Stottlemeyer must stage an intervention as they kidnap him from the airport selling flowers. While Dr. Kroger attempts to deprogram Monk, his beeper goes off, allowing Monk to solve the case.
When he was at the cult, a member named Zach said he heard a microwave oven go off in Father's cabin. However, Monk never saw a microwave when he was inside. It turns out Father had a legitimate alibi - a doctor who was treating him for back pain. It wasn't a microwave oven Zach heard that night, but the doctor's beeper. The physician entered by a secret door and Monk saw evidence of the door is a pile of gravel outside. However, Father could not let it be known that he ever actually got sick.
The witness Tom Donovan had in fact engaged Amanda Clark as a prostitute, but he got caught in photographic speed trap. Since he was driving a company car, the ticket would be sent to work where his wife could see it. So to provide an explanation of what a woman was doing in his car, he killed Amanda with the explanation that he was driving her to the hospital. Donovan probably heard about the cult connection in casual conversation. However, the car's seatbelt had no blood where it would be if she had worn it on the way to hospital, instead of sitting on it.
Father meets Monk on the street and promises to do anythingfor thanks in clearing his name. Monk asks him to tie his own shoes. Father can't because of his back problems and is exposed before his followers.
Permalink
Went on to the Bones episode "The Santa in the Slush". A man in a Santa suit, legal name Kris Kringle, is found dead in a sewer. Best as I can tell, he discovered another Santa in the agency was a pickpocket. Kris took the money home, but was later confronted, killed in a Chinatown dumpster and dropped into the sewer. I'm really not sure, as the storytelling was pretty vague.
January 25 Permalink
Who's a worse owner, Angelos or Snyder? I say Snyder. Angelos is so much older than Snyder, i.e., the pain might stop soon. Also, Angelos just steps in at random times to stop a deal involving a favorite player. Snyder pervades the whole operation. He won't let a coach or general manager get in the way of his personal toy. It reminds me of the Edward D. Jones commercial of the guy performing surgery on himself.
January 24 Permalink
Watched the Numb3rs episode "Breaking Point". Television eeporter Bonnie Parks is missing. Charlie attempts to decipher a mysterious list of numbers from her notebooks.
From Charlie's television appearance, a truck seen at the same parking garage where Parks disappeared runs him off the road. She is still alive, her kidnapping ordered by real estate developer Richard Taylor. The numbers are list of properties and assessments values.
Taylor is acquiring properties for a new project and getting city officials to underassess their values. Parks was about to report this, so she's being kept under wraps until the city council votes. I don't why Taylor doesn't believe she'll report the story anyway after her release and stop the project. One wonders why he didn't resort to a safer, conventional tactic like bribery.
The property list shows an isolated house where Parks is being held captive. The FBI come in to rescue her.

January 23 Permalink
Today is the birthday of Wily Mo Peña. Wily Mo is short for Wilfredo Modesto. Along with Matt Chico and Tim Redding, that's three players with California city names. His best game was September 10 against the Marlins when he homered off Scott Olson twice.
Permalink
Watched the CSI:NY episode "The Thing About Heroes". We're nearing the end of the solution of 333 stalker. Inside the Tribune Building in Chicago, Mac finds a body, dead 30 years, hanged in a room with a hangman puzzle on the wall. The word is "Coward". Meanwhile, back in New York, the rest of the opening credits cast investigate the murder of a subway operator when the train suddenly runs of its own accord. Danny is able to stop it, a #3 train at 33rd street.
Mac explains that when he was a teenager is Chicago, his best friend Jimmie had an older brother Will who worked for mobster Sal Marchelli. Will brought a package to Bobby Toole, the hanged man in the Tribune Building, but Toole insisted something was missing, so he beat Will up. Jimmie and Mac tried to save Will and Mac had a gun in his hands, but he froze, leaving Jimmie to shoot and kill Toole. They brought Will to the hospital but he couldn't be saved. Marchelli took care of everything and no one was charged.
It turns out the youngest brother Andy followed and saw everything. He saw Mac freeze and blames him for Will's death. Toole's room number was 333. Andy has been posing as Drew Bedford, Stella's suitor. He binds captures Mac and binds him in abandoned room of the subway, boobytrapped to a chair with a gun set to kill Taylor. When the police arrive, Mac breaks the laser beams and it explicably doesn't shoot him while both Andy and Jimmie are wounded.
January 22 Permalink
Watched the Criminal Minds episode "True Night". Frankie Muniz plays Los Angeles comic artist Jonny McHale whose recent drawings depict a series of murders committed with a long sword. He keeps trying to reach phone his girlfriend Vickie, but keeps getting her voicemail, and we're pretty sure she died a violent death he hasn't processed yet.
There's wasn't much of a surprise as McHale is the vigilante, slashing down gangbangers in the night. It turned out the night he discovered Vickie was pregnant, he asked her to marry him and they were attacked by a streetgang. McHale just doesn't remember going out as the sword of vengeance.
In the most brutal of the slayings, he kills six gangmembers in their house. I can't believe six gangbangers, probably armed with guns, couldn't take him out eventually. McHale is treated rather sympathetically and sentenced to an asylum where he continues to call Vickie's cellphone number.
January 21 Permalink
Got our new reclining sofa and loveseat. The armrests have cupholders and storage inside. The back of the storage cubby has a hole in the back for discreetly running a laptop cord through.
Permalink Watched the CSI episode "Lying Down with Dogs". Elizabeth Rodriguez, half of a well-known philanthropic couple is found where dogs are illegally dumped. It turns out she was part of an illegal dogfighting ring and other people involved are willing to finger somebody else for murder.
However, she was killed by Tommy Halpert, a young ex-con working as an informant. He saw everything going on around him and even showed video evidence to Rodriguez' husband Felix. When no one did anything to stop the animal cruelty, Halpert tied Elizabeth up to a stand where bitches are forced to mate and injected her with drugs commonly used to euthanize dogs.
In the other plot, Richard Dorsey, a homeless man living around Pigalle Boulevard and played by Dennis Christopher, is framed by Lou Gedda for the murder of Candy the stripper. Warrick knows he's innocent and barges into the interrogation room. Grissom is forced to put him on suspension.
January 20 Permalink
Played the Chris McCray Tournament For Academic Excellence II: Is Chris McCray Really Chris Ray? "Anais Ninjas" with world-famous media fan Martin Morse Wooster, Hillary Goldberg, Wendell Wagner and Raghu Mukkamalla. It was trash tournament and we finished somewhere between 2nd and 4th. I finished at the top of the individual statistics.
Hillary made to our second match after a harrowing icy journey to and around campus. After that the other three guys rotated. She's better trash player. In an academic tournament, I'd play Martin more often.
I saw exactly in specific games where I was was too timid on the buzzer. If I jumped in when I should we could have won a couple of the games we lost. Not that I had before, I will refrain from calling any professional athlete a choker. I will still feel free to denigrate their ability. I am perfectly willing to admit when I am overmatched in quizbowl.
We played Villanova, which still has my best man Bob Maranto as their official faculty sponsor. I noted to Villanova that Martin and Wendell were also at my wedding. I proceeded to power a toss-up on Fluxx based on knowing that 15,000 copies of the Stoner version were sold. The creators of Fluxx were also at my wedding.
Permalink
Watched the How I Met Your Mother episode "The Platinum Rule". Ted is getting his tramp stamp removed and is going to date his doctor. Barney warns against this because of the Platinum Rule - which has many forms. I remember the one in college about dating a girl from the same dorm.
All the others have stories about how it happened to them - Barney with Wendy the Waitress, Marshall and Lily with the Gerards across the hall, and Robin with sportscaster Kurt "The Iron Man" Irons. There are eight stages to the Platinum Rule which, we explained to Miranda, are a lot like the stages of death:
Attraction
Bargaining
Submission
Perks
Tipping Point
Purgatory
Confrontation
Fallout
And Old Ted notes the 9th stage - Coexistence.
Permalink
Went on to the CSI: Miami episode "Permanent Vacation". As the Canadian family, led by Dean Cain as father Roger Partney, are about to leave their Miami hotel to go home, the oldest son, 18-year-old Brian is shot in an elevator. He had a room key where gangster Mitch Peña was staying with ridiculous young girlfriend Amy Hobbs. She admits to flirting with Brian.
A cloth associated with the gang Cobra Familia and younger brother Slone's observation that a motorcycle sped away from the scene, leads to Vasco Torres who is burning the motorbike as the police arrive. Brian's blood is found on the jacket of bellman Luis Mendoza. When Mendoza is working a second job at a construction site, Sloane hits him with a 2x4 but he survives. Luis lives in gang territory, but is working to get out and believes he may have been framed as an intimidating tactic.
When the bullet and casing are found, the gun belongs to Peña, whose real name is Garza. Torres wanted in the Cobra Familia so Garza ordered the hit on Brian specifically because Amy was flirting with him. Horatio gets Mendoza to drop charges against Sloane in exchange for help in getting out of the neighborhood. Mrs. Partney is able to get close to Torres and shoot him as he is being transported. Boy these Miami cops are so incompetent.
Permalink
Finished up with the Cold Case episode "Boy Crazy". In 1963, high school girl Samantha Randall is found floating in a marsh with what was ruled then as a suicide. She liked to dress in boys clothes in what sounds at first like the plot of Boys Don't Cry. Rather, she was a tomboy who didn't live up the feminine ideal of the early 1960s.
Among the suspects is a girl played by Elizabeth Harnois. Today her father Archie confesses to sending her to Brookview Hospital where she underwent electrochock therapy. One of the nurses, Polly Leonard let in Sam's best friend Dom Barron. When he realizes what a vegetable she's become, he suffocates Sam and dumps her body off the bridge.
January 19 Permalink
Watched the How I Met Your Mother episode "The Yips". The gang decides to work out together at the gym. Barney actually "invests" at they gym, paying for memberships for girl who, when they get thin, throw themselves at him. Marshall gets a female drill instructor personal trainer and Lily's is really hot, driving Marshall to jealousy. Robin realizes he can look grubby in front of Ted at the gym and Ted hasn't really been working out at all.
In the main plot, sees the woman who deflowered him, Rhonda "The Manmaker" French, working behind a bar but she doesn't remember him. At 23 and still a virgin after a terrible breakup, his brother James directed her to Rhonda who said afterwards,"You rocked my world." It turns out James got her to do it only after promising a session with Rhonda himself.
Now Barney has the Yips and is totally ineffective at the Victoria's Secret afterparty. According to Have You Met Ted, Heidi Klum describes the phenonmenon as,"Ach du meine Güte, gar nichts klappt mehr, so'ne Scheiße" or in English "Oh my goodness, nothing's working anymore, oh crap." He returns to Rhonda and they get back in bed and apparently he legitimately rocked her world.
Permalink
Went on to the Bones episode "The Knight on the Grid". The body of Father Douglas Cooper, vicar to the Archbishop of Washington is found wrapped in plastic at a construction with his kneecaps missing. The kneecaps are lated mailed to Brennan.
The weapon marks lead Hodgins to suspect the Gormagon killer may be responsible. A tapestry, when overlayed over a map of Washington pinpoints the bank where the first widow's son was found and also to the Silver Hill Cemetery. There they find another widow's son skeleton from at least 18 different victim and are over 50 years old.
Booth gets close to Gormagon wtice - first when he nearly succeeds in killing lobbyist Ray Porter and later when he delivers a bomb with human teeth for shrapnel. The old Gorgmagon master is found - an Alzheimer's sufferer named Arthur Graves - who says nothing, only hisses with his toothless grin. There would be no point in arresting him.
In the other plot, Russ' stepdaughter is suffering from cystic fibrosis and wants to see him. Brennan is able to provide a doctor who will treat Hailey for no charge as a favor. Russ and Temperance's father Max gets Russ to come out of hiding under the pretext Booth wouldn't arrest him. With the help of Dr. Sweets, Booth and Archbishop Steve, Russ gets a slpa on the erist sentence of 30 days, an additional 17 months probation and an ankle monitor.
January 18 Permalink
Watched the Monk episode "Mr. Monk and the Man Who Shot Santa". Traffic is blocked and Monk is late for his appointment with Dr. Kroger because a Santa is throwing stuffed animals from the roof of a building. Monk gets angry, climbs up to the roof and, as a gun drops from Santa's suit, he shoots Santa in the struggle.
All over San Francisco, Monk is shunned as the Man Who Shot Santa. The Santa, whose real name is Mike Kenworthy, is seen by the audience beating up retired teacher Alice DuBois. Monk makes a key breakthrough when he remembers Santa had a walkie-talkie among the toys on his person - no one would give away just one walkie-talkie as a present - so he must have been communicating with someone else.
Kenworthy was part of a conspiracy to steal the Star of Bethlehem jewel from the MacMillian museum. He was in communication with the rest of the robbers and deliberately caused the traffic jam to keep the cops from getting their quickly. In the second attempt, Alice Dubois had to be killed because she worked at the museum store. Someone inside the gang would now be taking her place to help bypass the security.
A large truck becomes disabled and Monk realizes it's happening again. He is able to chase down Kenworthy who was holding the diamond and defeat him in a bizarre public brawl.
January 17 Permalink
Flushing University AKA F.U., wonders why the Mets only have four retired numbers. They'd like to see Ed Kranepool or Keith Hernandez or Dave Johnson. I can go with Johnson or even Gary Carter. I say only Hall of Famers should have their numbers retired.
January 16 Permalink
As controversy swirls, medical ethicist remains a center of calm and certainty.
As the controversy over use of anabolic steroids by athletes swirls like a wind-whipped snowstorm, Norman Fost, professor of pediatric medicine and director of the Program in Bioethics at the University of Wisconsin, is a center of calm and certainty. He says, as he has for many years and virtually alone, that the maelstrom is nothing more than "the hypocrisy, bad facts, inconsistency and moral incoherence of anti-drug hysteria."

To him, athletes who take banned performance-enhancing drugs are as morally and ethically blameless as the pole vaulters who quickly converted from bamboo poles to fiberglass when they saw a competitive edge. Rather than being banned, he insists, steroids should be available, under a doctor's supervision, to any pro or amateur adult athlete who wants them...

Fost absolutely opposes giving steroids to adolescents because steroid use can stunt growth. He urges stringent testing of young athletes, and, for those distributing steroids to children: "Hanging followed by a fair trial."

In all the health and morality questions about steroids, Fost said: "It's as though the drug hysteria serves as a distraction from more serious issues. You'd be hard-pressed to find a single death associated with steroid use, yet the TV cameras keep showing [Red Sox manager] Terry Francona drooling disgusting spit from something [chewing tobacco] that has a very high cancer rate associated with it.

"You have 400,000 deaths a year due to tobacco and tens of thousands of alcohol-related deaths, a substance heavily promoted by Major League Baseball, yet the president and Congress and the press have virtually nothing to say about tobacco and alcohol in athletics, but lots to say about steroids. A football player spending more than three years in the NFL has an 80 to 90 percent chance, according to one study, of some permanent disability, but the NFL produces films focusing on the most vicious hits. The dangers to health in sports today come not from enhancement but the sport itself."

January 15 Permalink
Today is the birthday of Ray King. The player to make the majors from Lambuth University, he had a 4.54 ERA in 55 appearance last year for the Nats. Despite JimBow's love for toolsy outfielders, he still seems to have a penchant for the ectomorphic - Livan Hernandez, Matt LeCroy, Dmitri Young and of course Ray King. Ray King is a repetitive name like Ursula Bear, José Joseph or Ivanovitch Johnson.
January 14 Permalink
The Richmond Braves are moving to Gwinnett County, Georgia. According to Live Search Maps, this will be either the shortest or second shortest trip between a major league team and its AAA affiliate: 37 miles and 36 minutes. The distance from Safeco Stadium, home of the Seattle Mariners, to Cheney Stadium, home of the Tacoma Rainiers, is 36 miles, 36 minutes. The Boston Red Sox and the Pawtucket Red Sox are 46 miles, 51 minutes apart. Boston and Providence, however, are the two closest state capitals.
According to the Hive Mind, this doesn't necessarily open Richmond for the Nats affiliate. There would have to be an International League dissatisfied enough with its stadium situation to move, but none currently exists. Probably the most unstable AAA team is the New Orleans Zephyrs, but they'd have to move east from the Pacific Coast League to the IL and another team, Indianapolis and Louisville are best situated, would have to move west to the PCL, but no one wants to play a West Coast schedule from the Midwest.
More likely we see the Potomac Nationals of the Carolina League moving in. Art Silber has been wandering the valley, proposing even a stadium in Dunn Loring, to find a new place to play. He would love a bigger market, even in an older stadium.
January 13 Permalink
Charles Stross on Kindle:
The ideal launch market for an ebook reader exists; it's college students and academics. They're used to paying over $1000 a year for textbooks and often up to $100 for a single book. The books are big and heavy and they need to carry them around. The books go out of date - an ebook reader with an online subscription service for correcting errata and adding supplementary material would be perfect. If Amazon had designed their hardware a little bit differently, then stitched up a deal with Elsevier and the other big publishers of peer-reviewed journals and textbooks, they could have rented pre-loaded Kindles out to students for $1000 a year and shifted container ships full of the things on day 1.

But instead of designing a device that will allow college students to carry all their (expensive) textbooks around in a single notebook-sized package, Amazon seem to be going after the consumers of (cheap) popular literature and fiction. Readers who are unwilling to spend much more than US $7 on a mass-market novel in the first place, and very unlikely to read more than 100 titles per year. And then they're expected to put up with intrusive DRM that devalues their purchases, intrusive privacy-invading monitoring, and (to add insult to injury) a $400 entry price before they can join the party.

Yes: for no obvious reason, Amazon have ignored the obvious, lucrative market and aimed Kindle instead at a tiny population of mad bibliophiles. They've invented the perfect Christmas present for Harriet Klausner.
January 12 Permalink
Watched the How I Met Your Mother episode "Slapsgiving". Robin has a new boyfriend who's a young-looking 41, but in Ted's mind he's portrayed by Orson Bean. Lily wants a perfect Thanksgiving and reminds me of Buffy in "Pangs".
Marshall promises to slap Barney which creates maximum tension. Meanwhile, last night Robin and Ted had sex which all agree was a bad idea. Lily has the great line,"And if you have sex again, neither one of you gets dessert."
Permalink
Went on to the Numb3rs episode "Chinese Box". Surveillance subcontractor Ben Blakely starts shooting in the FBI lobby and takes a female hostage in the elevator. He agrees to take Sinclair in exchange as the elevator doors close.
Blakeley jasn't been the same since he lost his teenage son in a car accident, says his wife Sarah, portrayed by Megam Gallagher. Among his shooting victims is his boss Max Devane who recently didn't renew the contract. Blakeley's paranoia is verified by surveillance footage he hacked into.
The snooper is another surveillance expert working for Elcar, a potential gubernatorial candidate. It turns out Devane was retiring soon to join the governor's campaign. He got Blakeley get dirt on Elcar for the governor, on the FBI's dime. Despite a SWAT team assault, Sinclair eventually talks him out.
January 11 Permalink
From the Japan Times, another stadium naming rights tissue:
Finally this week, if you haven't yet heard, the naming rights to the Tohoku Rakuten Golden Eagles' home ballpark in Sendai have been transferred, and it will no longer be known as Fullcast Stadium Miyagi.

The rights now belong to Nippon Seishi, or Japan Paper, and the Eagles' home ground will be known as Kleenex Stadium.
January 10 Permalink
Went on to the CSI:NY episode "One Wedding a Funeral". Groom Brett Dohn is found dead inside a tent for a Central Park wedding. Some of the blood was staunched with packing peanuts. The best man George Foodim admits to finding to finding Dohn dead in his apartment, then dressing him for the wedding in order to win a bet with the other groomsmen about whether Brett would make it to the wedding. The murderer was the caterer Timothy Maxwell, who had enough of the demands Dohn and his bride Emma Blackstone were making.
In the other plot, Stella finds a suspicious package on the hood of her SUV, but contains only puzzle pieces. Put together, they are 3-D models of New York buildings. Mac recognizes certain missing pieces as being connected to some of his first cases. Traces lead him to Chicago and the Tribune Building.
January 9 Permalink
Went on to the Criminal Minds episode "Penelope". The previous episode ended with Garcia's date James Colby Baylor shooting her on the steps of her apartment. Fortunately, her neighbor hears the shot and she survives.
Garcia recalls Baylor wearing a monogrammed shirt and Rossi deduces he must have the same initials because those shirt are expensive. Nicholas Brendon appears as Kevin Lynch, another computer specialist who fills in for Garcia. It turned out Garcia spent off-hours working in a victim-support group and, contrary to FBI policy raised the priority of certain unsolved cases involving the victims she worked with.
Some of those cases had deputy Jason Clark Battle as the first responder. Apparently, he killed the victim, then appeared to be a hero as the first on the scene. When he discovers his cases have been flagged, he blamed Garcia and targeted her. Battle is brought into the BAU offices. He is cornered and J.J. shoots him.
January 8 Permalink
Watched the CSI episode "Cockroaches". A trash truck is chased by police and after it crashes, the driver runs out on foot and is killed accidentally by the car. He is Brody "B.B." Biggs, a former police officer, most recently in the employ of Lou Gedda, a mobster that owns the Pigalle Boulevard strip club. In the compactor section of the trash truck is limo driver and limo executive Jason Crewes.
Biggs suffocated Crewes in bed, then attempted to dispose of the body, but the truck was so old, the body broke the hydraulic cylinder. He killed Crewes on Gedda's orders. Crewes had discovered Gedda's extortion scam, overcharging patrons, them cutting off body parts when they wouldn't pay. Crewes threatened not to bring any more limo customers to the club. Other victims of the scam refuse to testify against Gedda.
Warrick is determined to find evidence to put Gedda away. He befriends a stripper named Candy and they have sex, but his memory hazy due to drugs. When Warrick takes a cab back to his car parked at Pigalle Boulevard, Candy's body is dead inside his car.
January 7 Permalink
From Fast Company:
What's the one organization that never cracks in a crisis, that never complains about "putting out fires"? The fire department! Firefighters are constantly interrupted from doing their work. When the alarm goes off, everything gets interrupted - and most of the interruptions are false alarms.

Of course, firefighters don't complain about this reality - which is the reality of life in most organizations. They create methodical procedures to deal with it, and they implement those procedures with integrity. That's a good lesson. Your ability to deal with surprise elegantly, or to innovate in surprising ways, is the ultimate source of personal advantage. But you can't turn on a dime if you're always fumbling around.
January 6 Permalink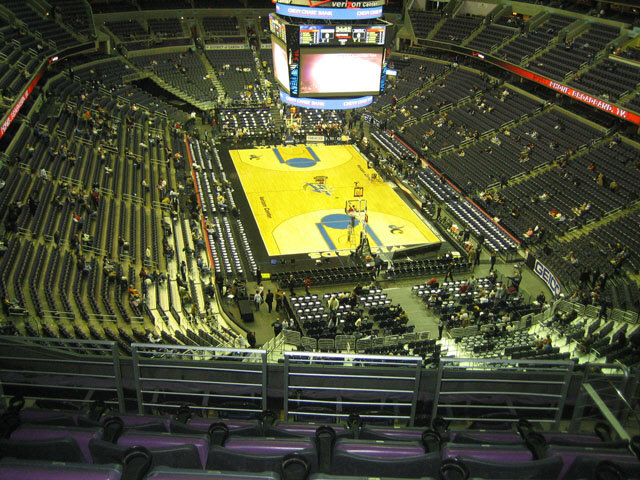 Went with world-famous media fan Martin Morse Wooster to see the Sonics play the Wizards. I got the tickets from a co-worker as a fund raiser for her son's high school football team.
I got to see Kevin Durant, the highest pick from last year's draft actually playing. The Sonics were never in it and won handily.
The Wizards sell 6-month calendars of their dance team. There isn't a different girl for each month, but each girl has their own calendar. While they're pretty undressed in most of the photos, I found myself offended when they wore more, but when that costume was a schoolgirl uniform. An adult woman wearing that seems slutty an inappropriate while a real schoolgirl trying to look sexy in that outfit is a more honest expression of her sexuality. Kinda the same way the Vanessa Hudgens picture is a symbol of empowerment.
Martin thought the timeout local dance children were pretty lame, but the drum and dance group for New Jersey was good.
January 5 Permalink
Watched the Bones episode "The Boy in the Time Capsule". A time capsule sealed in 1987 is re-opened to reveal human remains. The victim is identified as nerd Roger Dillon, who was seen in the video still alive in the video of the capsule being buried, so how did he get in?
Roger's best friend Gil Bates is now a small-time computer tech. The time capsule contains two items not in the original inventory - a yearbook mocking the popular kids and a 5 1/4 inch Amiga disk. The disk contained a Doom-style first-person shooter ten years ahead of its time.
Roger had been tutoring cheerleader Janelle. Her son Alex bears a striking resemblance to Roger. After the capsule was buried, Gil and Roger dug it up again to plant the yearbook. However, Roger discovered Janelle was pregnant with his child, so he needed the money they were going to use to start a computer company instead for Janelle. Gil got angry and killed Roger with a shovel, dumping his body in the time capsule.
Permalink
Went on to the CSI: Miami episode "Chain Reaction". At a fashion show, you can already see trouble as models walk through an inch or so of water amid various eletrical equipment. Model Alisha Reilly is elecrocuted as she holds a metal pole. Throu circuitous means, rival model Juliana Ravez confesses to the murder, having learned some lighting and electrical techniques.
Along the way we learn Alisha was married to Joe LeBrock, the hood who kidnapped Horatio's son Kyle in prison. Oscar, the con Horatio engaged to protect Kyle is killed with a bomb while the prisoners are out on chain gang duty. The cellphone used to trigger the call is traced back to Kyle, but Corey Burton actually made the call. LeBrock's son Scott is discovered to be a pedophile that the FBI haven't caught yet. Joe confesses to Oscar's murder instead of the police letting on his son is a pedophile, considering how pedophiles are treated behind bars.
Oh yeah, Joe was providing heroin to the designer of the fashion show who wove the drugs into the fabric.
Permalink
Finished up with the Cold Case episode "It Takes a Village". A 12-year-old boy is found dead in a storage locker, his throat slit and left index finger removed after a long stravation. There were three other boys in the 9-12 range found dead in storage lockers in recent years, but the police never followed up on the missing African-American boys.
The perpetrator rents storage lockers under the name Theo Gamble and insists on strage lockers whose digits ad up to 17. He lures boys from video arcades and lists his high score under the name "Theseus". Apparently he looks young enough to be an older teenager.
The killer's real name is Malik. He was at Pritchard House, a juvenile facility where the boys cut off his finger in bathroom #17. When cornered by the police, he slits his own throat.
January 4 Permalink
Tim Brandt notes something I never knew about the victory totals of Joe Paterno and Bobby Bowden.
Lost in the over four decades of Joe Paterno's career is victory number 373. You won't find it mentioned in Penn State's football records or in their media guides. It's been lost in time, but it really exists. It happened on December 31, 1972 versus Oklahoma in the Sugar Bowl. On the field, it was a 14-0 Oklahoma victory over a flu-depleted Penn State team. In reality, the Lions victory came in March of 1973, when OU was forced to forfeit 7 wins from the '72 season, including the Sugar Bowl, for using ineligible players. When the forfeits were announced, Joe Paterno was gracious, saying that his team "knew who won the Sugar Bowl." And, Penn State has never counted the win, nor even marked the game with an asterisk. Thus, it has been largely forgotten.

Why does it matter now?

Funny you should ask. It matters only for purposes of a fair comparison between the two winningest coaches in NCAA Division One-A football history. You see, Bowden and Florida State also have a forfeit victory... a game that they count in both the school's and Bowden's career victory totals. Check out the FSU media guide to see for yourself. On September 17, 1983, the Noles lost on the field to Tulane, 34-28. But, you will also find an asterisk by that result. Tulane later forfeited the game to FSU, and if you check the records for the '83 season, you'll see that five on-field losses and 7 on-field wins have added up to an 8-4 record for both the Noles and Bowden.

To be fair, there is nothing wrong with this. However, if Bobby can count his forfeit win over Tulane, shouldn't Joe get to count his forfeit win over Oklahoma (even if it seems that Joe doesn't want to)?

So you see... the REAL SCORE is BOWDEN 373, PATERNO 373... (or 372-372, if you don't think the forfeits should be counted as wins)...
January 3 Permalink
Today is the birthday of Mike Restovich. Born in Rochester, Minnesota, he was drafted by the Twins and played 61 games for the home town team. The picture is when he played for Minnesota's AA affiliate in New Britain.
Mike's best game with the Nats was his first on April 18 when he came up from Columbus. He entered the game in the 11th and singled. Restovich came up again in the 13th, doubling to follow Snellings' single. With the Aussie at 3rd, this enabled FLop to send him home with the game-winning sacrifice fly.
January 2 Permalink
The 1965 AL MVP won by Zoilo Versailles has always been considered one of the worst MVP selections next to Andre Dawson's 1987 NL MVP, but according to Steve Treder, the award was legit, but it stick out in his career. If it happened today we'd be apt to suspect steroids.
Step aside, little pups. The Big Dog of Flops is here.

Just what kind of a year did Versalles have in his 1965 MVP-winning campaign? Using his adjusted stats:

Versalles' 139 runs scored would be the most by anyone in the major leagues between 1949 and 1985
It would be the highest total of runs scored by a middle infielder between 1936 and 1996
His 323 total bases would be the most by an American League middle infielder between 1949 and 1982
His 80 extra-base hits would be the most by an American League middle infielder between 1936 and 1980

All this while winning the Gold Glove and stealing 27 bases in 32 attempts. It was, simply, one of the greatest seasons any shortstop has ever achieved.

But then Zorro didn't just lose the formula. He wrote it in invisible ink on toilet paper, locked that shred of tissue inside a double-walled tempered steel safe, and dropped the deadweight safe overboard a ship steaming across the Mariana Trench.
January 1 Permalink
Watched the Everybody Hates Chris episode "Everybody Hates Kris". Chris finally has money to buy Christmas presents for everybody because of his job at the store. However, he still needs $35 to get the presents out of layaway.
Julius gets a job as a Santa Claus, but he spends it telling children how useless it would be for them to get the toys they're asking for. He gets fired and Chris gets so sick with the flu, he requires hospitalization. Chris shares his room with Richard Lewis as "Kris" who guilts him into feeling better about his situation.
Julius pays the $35 to get Chris' presents out of layaway, Chris has to pay him back. When they arrive Kris is not in the other bed, so may have been just a Christmas ghost.