February 2008 Archives
Links were checked and verified as active only in the month the Eucalyptus entry was published. Links outside the silverscreentest domain may be inactive from this archive.
February 29 Permalink
Larry Bowa will not wear a helmet as a base coach:
"Umpires get hit with line drives. I've probably seen 50 of them get hit. If coaches have to wear helmets, umpires should. I'll sign a waiver. And there should be a grandfather clause. These are very cumbersome. They talk about delay of game, and when the helmet falls off, you'll have to stop the game. It should be an option. I know I'm talking for a lot of guys who won't say anything. I'll write a check for 162 games if I have to to not wear it."
Umpires are further away from the bat. This reduces the velocity of the ball and increases the reaction time of the umpire so they have less chance of getting hurt than the coaches. I've been advocating helmets for base coaches for years, basically because they're old guys in the line of fire with slow reaction times.
This reminds me a little bit of when airbags were first required. I knew somebody who worked in an ER and they were getting injuries never seen before and attributable to the airbags. Of course, without airbags these people would have been dead.
Permalink
Meanwhile Ryan Church and Lasting Milledge are loving their trades. Church implied he was being held out of the lineup to delay his arbitration years. Chris doesn't think Manny would do that. I can't speak for Manny as a person, but the record shows Church played in a career high 144 games. If the Milledge trade never came off, I'm sure Church would be the starting center fielder with Langerhans or Watson as a defensive substitute in 2008. The best thing Milledge has going for him is that he's 23.
Permalink
Finally got to see the first Spider-Man movie. Funny I liked Harry and Norman Osborn. Peter and Mary Jane never seemed to know what they wanted out of life.
The voice of the Green Goblin persona sounds too much like Gilbert Gotfried. While the Green Goblin's voice murmurs through the Osborn mansion as Harry comes home, I screamed out,"AFLAC!"
The final confrontation on the Queensboro Bridge and the building immediately following was lit way too dark. I couldn't tell what was happening.
There's no way Norman Osborn would have been ousted by his board without getting wind of it earlier. First of all, CEOs pick their board, in reality, not the other way around. These are his hand-picked friends and buddies who get a boatload of money for rubber stamping his decisions. They're not firing him without warning. In addition, a CEO could do a worse job than Maury Wills as Mariners manager and still receive a golden parachute of $2 million or more on his way out.
It was okay. Maybe I missed something on the 27-inch screen.
February 28 Permalink
Some quotes from Nats Scouting DirectorDana Brown in Baseball America on the lack of African-Americans in college baseball:
"I thought, personally, it was kind of window dressing," Brown said. "I thought it was something that was brought up. I'm scouting a lot of (prep) players across the country; certainly not all of these African-American players are going to be drafted. There's a lot of guys I see that are good students that could go to some of these elite schools that just don't get recruited. I don't buy that there's not enough African-American players that we can get in school that we can recruit."

As a player, Brown was recruited to play at Seton Hall along with Mo Vaughn and Marteese Robinson by Ed Blankmeyer, who now coaches St. John's and attended the meeting. Brown cited former Florida prep standout turned Southern star Rickie Weeks, the No. 2 overall pick in the 2003 draft, as a black player who should have been more highly recruited.

"What happened with Rickie Weeks?" Brown asked. "How does Rickie Weeks get out of Florida? That's embarrassing. You don't go from suspect to a first-rounder. That might be the greatest example of neglect in the state of Florida. A guy goes second in the country out of Southern. Rickie Weeks should have had 12 baseball scholarships lined up.

"I'm sure raising the scholarships would help some, I just think that coaches have to make a conscious effort to go out and recruit players. They always talk about, 'Well, there's a drop-off in African-American players in the game.' Colleges have to scout them, recruit them, sign them and develop them also."
February 27 Permalink
I didn't realize that there was a third tier college basketball championship called CBI. If a school can't qualify for the NCAA or NIT, there's now CBI. Sometimes the rest of the world makes irony for quizbowl. The only thinbg that doesn't work is that this concept devalues TRASH as fourth tier. Then again you could argue they're playing a totally different game.
Permalink
John Brattain commenting on Rosenthal and other who have trouble with teams singing Bonds now:
However, he's overstating his case. Baseball's PED problem is front and center right now and Bonds is unemployed. Further, a lot of average fans put a great deal of financial and personal investment into the game and into their team. They do so with the hope that their team is putting the most competitive product on the field that they are able under their present circumstances.

Two of baseball's greatest scandals (the Black Sox and collusion) were such because they violated the fans' hope. In the case of the Black Sox, it was the men on the field not doing everything in their power to win. In the case of collusion, it was the owners not doing everything in their power to put the best possible team on the field.

Yet writers are saying that a club should forgo employing Bonds even if it means not putting their best effort into assembling the roster in order to protect the game. If we've learned anything from baseball's sordid past is that the biggest breach of trust is not doing everything within the rules to win, or failing that, being the very best that a player or team's efforts allow.

We look back on the pre-Jackie Robinson era of the sport and while it's right and proper to look at it as prejudice toward non-Caucasian players, it wasn't only a crime against human decency—a lesser part of the scandal is that it destroyed what baseball is supposed to be about: a true meritocracy. To deny the very best a chance to compete at the highest levels degrades everyone from the players down to the folks in the bleachers.

A personal burr under my saddle is when I hear a player stand up for an underperforming teammate by saying "He makes too much money to be sitting on the bench." That's a violation of the meritocracy of baseball. The one's performing the best play the most regardless of skin color, national origin, or salary.

But I digress.

Getting back on track, I cannot see how denying your team of an eligible/available player that improves a club's chances for success protects the game's integrity. There isn't a rule against employing Barry Bonds. He is not under sanction from MLB. If those in the game feel that hiring Bonds degrades the game then the sport should have the courage of their convictions and make Bonds ineligible to play.

In short—suspend him.

Then he gets baseball's version of due process--a grievance hearing in front of a neutral arbitrator. Both sides present their case on why Barry Bonds should be ineligible/eligible to play in the major leagues. Then a decision in handed down and we go from there. To collectively deny an eligible player employment based on non performance-related criteria is a form of vigilante justice.

To disqualify him from playing by this sort of collusive behavior strikes me as cowardly. It's taking a stand without making a stand. It's doing so without risking scorn from the media and the team's fans that may improve their chances in 2008 of reaching the post season. As stated earlier, either suspend him and make your case why he deserves sanction. If the arbitrator agrees then nobody can complain that Bonds cannot find work—after all, he's ineligible. If the arbitrator disagrees and a team thinks they can benefit from his services then they should feel free to employ him without incurring official wrath.
February 26 Permalink
The Nationals have announced their food partners, namely, Ben's Chili Bowl, Boardwalk Fries, Cantina Marina, Gifford's Ice Cream, Krazee Ice, Kosher Sports, Hard Times Café, La Piccola Gelateria, Mayorga Coffee, Noah's Pretzels, and Red Hot and Blue. So there won't be a former playing signing autographs nightly at a barbeque named for them like Boog Powell or Greg Luzinski. I still like the idea of Carlos Baerga. Then again, does anyone believe both Ray King and Dmitri Young will still be playing in three years?
Permalink
Tim Marchman believes signing Barry Bonds could make the Rays a contender:
In any reckoning of a potential relationship between Bonds and the Rays, the fact that the team is actually pretty good is certain to go lightly noted. This is understandable — the franchise is a laughingstock, and if they manage not to lose 90 this year, it will be the first time they'll have avoided doing so. Even so, while signing Bonds would be generally taken as desperate flailing on the part of a sad-sack franchise, it would in truth be more like a shrewd bet on the part of a team that's much closer to a playoff spot than most realize.
Permalink
Jason Cook doesn't believe Babe Ruth wasn't a great pitcher:
Just to put that career ERA(plus) in perspective, Ruth is surrounded by pitchers like Dave Stieb, Eddie Plank and Kevin Appier in the all-time ranking...

I find it hard to believe that a pitcher who didn't even rank in the top ten in his league during his three best seasons in most of the meaningful pitching metrics is a great pitcher.
He does call him a "good" pitcher. An approximate comp on the right side was Smokey Joe Wood who had his pitching career curtailed by injury but continued a decent career as an outfielder. I used to compare Ruth the pitcher to Glavine, but maybe he's more like Valenzuela - pudgy, childlike, charismatic lefties, although my understanding of Fernando's excesses was that they stopped at the dinner table. And lunch table. And breakfast table. Here are their comparative ERA+

Age Ruth Valenzuela
20  114    135
21  158    122
22  128     96
23  121    116
24  102    141

You might also want to search for OOTP leagues where Ruth has been separated into two people - Babe the batter and George the pitcher. Here's George in the
Boys of
Yesteryear
.
February 25 Permalink
More on the Zimmerman negotiations by Dave Sheinin:
I didn't have the space to get into this in the Ryan Zimmerman-contract story in the print edition this morning, but I'm guessing the Zimmerman camp is looking for a contract more in line with David Wright's deal with the Mets (six years, $55 million, signed in Aug. 2006). And if so, you can see why there is such pessimism over getting a deal done, since Jim Bowden all but telegraphed the fact their offer to Zimmerman is more in line with the Tulowitzki/McCann/Sizemore deals (let's say six years, $25 million-$30 million). That's a gap of, oh, $30 million bucks or so.

Would Zimmerman be justified asking for the Wright deal? Zimmerman is essentially the same age (23) and has virtually the same service time as Wright did when he signed his deal. And of course, they play the same position, in the same division, and hail from the same area. Looking at OPS+ (which adjusts for stadium effects), Wright posted a 139 and 133 in his first two seasons (and a monster 150 last year), versus 114 and 107 for Zimmerman's first two years. Zimmerman, however, is considered the superior defensive player.

But now, look at how the market has changed since the Wright deal was signed. Back then, the Mets were criticized for overpaying and setting a new market. Now, however, the Wright deal is starting to look like a shrewd move for the Mets. One thing about the contract jumps out: In 2008, Wright's fourth full season (or what would have been his first arbitration-eligible season), he will make $5 million. When the deal was signed, that seemed like a ridiculous amount of money for a player in that service class. But now, Ryan Howard (who is arguably Wright's equal as a player) is set to make twice that -- $10 million -- in his first arbitration-eligible season.

This is why it almost always benefits the player to wait. The downside, of course, is injury risk.
I forgot Wright already had a contract extension.
Permalink
An e-mail from Wendell Wagner about my mention that in Shakespeare in Love, the lovers don't end up together:
I've been interested for a while in movies that are more or less romantic comedies but end with the couple not staying together. In an effort to describe these films back when I was writing reviews for the D. C. Film Society, I named this genre the anti-romantic comedy, although this isn't a particularly good description of them. Woody Allen is the master of this genre. The closest to being a standard romantic comedy and yet ending with the couple not together is Play It Again, Sam, where Woody Allen's and Diane Keaton's characters seem right for each other and yet decide that they don't belong together. Similarly, in Annie Hall, they don't end up together either. In his film The Purple Rose of Cairo (which seems to be a romantic comedy through most of the film, although it has a real downer ending), Mia Farrow and Jeff Daniels don't end up together either. There's little bits of this almost-a-romantic-comedy sort of thing in most of his movies, regardless of what genre you want to think of them as being. Woody Allen has been quoted as saying that love is fickle, so it's almost a matter of luck whether the couple will be together at the end of the film. About half the time the main couple in his films don't end up together, although in Allen's films it's hard to say whether the film is a comedy or not. Someone else who's made anti-romantic comedies is the Australian director P. J. Hogan. I would describe both Muriel's Wedding and My Best Friend's Wedding as being in this genre.
February 24 Permalink
Jim Bowden attempted to defuse the long-term contract negotiations between the team and Brodie Van Wagenen, Ryan Zimmerman's agent:
"If Ryan is willing to sign a contract that is similar to what all the other good young players are signing for ... if he's willing to do a 'market signing,' we are prepared to do that with him," Bowden said Saturday at spring training. "We're not going set all new markets with him. We're not going to change the pay scale of Major League Baseball for one player."

Bowden went on to reference deals signed by Indians center fielder Grady Sizemore ($23.45 million for six years in March 2006), Braves catcher Brian McCann ($26.8 million for six years in March 2007), Rockies shortstop Troy Tulowitzki ($31 million for six years in January), and Yankees second baseman Robinson Cano ($30 million for four years this month).

"There have been so many signings - whether you look at Tulowitzki or Cano or McCann or Sizemore - so many that are all in the same range, and our organization is prepared to do that," Bowden said...

The GM said the Nationals have "made several offers," and acknowledged: "At this point, no, we're not close..."

"We'll see what happens. If it happens, it might happen. If it doesn't, that's fine," Zimmerman said Friday in an interview with The Associated Press. "If I keep playing well, I'm going to make money. I'm not worried about making hundreds of millions of dollars. Of course, it would be nice. Anybody who tells you it wouldn't be nice is lying to you. But I'm very comfortable with where I am now, and there's no rush."
This is a non-story as long as both sides remain mature about this - that the front office doesn't feel the need to put Zimmerman in his place or Zimmerman doesn't feel insulted. Judgement Day arrives when David Wright and Miguel Cabrera get their big paydays.
Permalink
Roger Clemens' Attorneys Say,"Never Mind".
Permalink
World-famous media fan Martin Morse Wooster sent me a link from The Chronicle of Higher Education about why college professors are predominantly liberal. This is one of the favorite topics of my best man Bob Maranto who wrote about it in the Washington Post. He also followed up the column with a chat where I wrote the smartass question,"Explain how you use market-based incentives to discipline your toddler." Somehow that question never got through.
Bob's quoted in the Chronicle article, but I found this interesting:
The Woessners also found that conservative students put a higher priority than liberal ones on raising a family. That does not always fit well with a career in academe, where people often delay childbearing until after they earn tenure.

The research led the Woessners to conclude that if higher education wants to attract more conservatives to the professoriate, it should smooth the way financially, offering subsidized health insurance and housing for graduate students, and adopting family-friendly policies for professors.
Attract the conservatives by throwing a socialist benefit at them? The liberal academics may be delaying childbearing for tenure, but don't conservatives also sacrifice family life for money as well?
Permalink
Watched the Monk two-part season closer "Mr. Monk is on the Run". A break-in at an electronics store results in stolen items which were the parts to make a bomb just like the one that killed Trudy. There are fingerprints on the crowbar from six different fingers on the same hand, just like the man Warrick Tennyson said hired him to kill Trudy. Finally, there is the mysterious message,"To Force Heaven Mars Shall Have a New Angel."
Monk figures out the message is an address and takes a bus to 247 Marshall Avenue in Angel, California. At a statuary sales garden, the six-fingered man mentions having just been in the town of Riverton and is expecting payment. He recognizes Monk and while Monk cannot bear to shoot him, the six-fingered man is shot through the chest.
Monk is arrested seconds later by Sheriff Rollins. The victim's name is Frank Nunn and Monk is held on a million dollars bail, up from $900,000 because Monk wanted an even number. While hugging goodbye to Natalie, he steals her visitor pass and uses it to escape from the prison van.
Monk makes it back to Natalie's house and wears Mitch's old naval uniform to go back to the Angel statuary. There he figures out at that Rollins had broken into Monk's apartment, drank four ounces of juice, then switched the barrels on Monk's gun. The break-in was staged to lure Monk to Angel. Rollins shot Nunn from behind Monk and, after he arrested Monk, switched the gun barrels back so the bullet in Nunn would match Monk's barrel.
Stottlemeyer gets a call from Monk explaining all this. Leland tells Rollins and the task force that Adrian wants to meet him alone, but there will be other police watching anyway. When the foggy nighttime meeting takes place, Monk panics and starts running away. Stottlemeyer shoots and Monk falls into the water as Part One ends.
Part Two begins as Monk finds Stottlemeyer on a beach waiting for him. Adrian had worn a bulletproof vest and now everyone must believe he is dead. He takes a job at car wash in Sparks, Nevada, under the name Leland Rodriguez.
In a casual conversation with a cleaning woman at the motel, he hears about the hit and run death of a construction worker by a silver SUV. At the car wash, he notices a silver SUV just recently painted red and gets one of his co-workers to find a piece of the construction worker's clothers underneath the axle. Back in San Francisco, a moving man tells Natalie of the news story about the "Carwash Columbo" who solves crimes.
Natalie is convinced Monk is still alive and Stottlemeyer verifies it. Though she's not supposed to find him, Natalie goes to Sparks, followed closely by Rollins. They spray Rollins with a cleaning nozzle and escape in his car. There, they find some checks and Disher goes online to find eventually that Rollins is being paid by Dale Biederbeck AKA Dale the Whale.
Natalie visits Dale the Whale in prison, taking a video camera with her. Monk notices Dale has been checking the weather in Riverton. Governor Wechsler will be making an appearance in the Riverton Centennial Parade and Nunn had just been in Riverton, probably to plant a bomb. Dale wants the governor dead so that the lieutenant governor, who is in Dale's pocket, can get him out of jail.
In Riverton, Monk and Natalie try to stop the parade while Rollins tries to get the Riverton police to arrest Monk. Adrian sees the transmitter on a banner hanging over the street that will set off the bomb underneath the car. Stottlemeyer and Disher show up with Leland finding the bomb under the car and disarming it. The episode ends with Dale telling Monk that Nunn was hired by someone called "The Judge".
February 23 Permalink
Phil Wood got a caller this morning who claims to have been a Navy sailor who rode up with three busloads of his comrades to Woodstock. I found this similar account onine:
We were the only "short hairs" in attendance that weekend - at least in the vast minority of short hairs! We had to walk with our camping gear on our backs to the gates. We paid a big $15/weekend (wow that was expensive). We approached the gate only to find out that the concert was declared "free" by the promoters...what a bummer...; here I was only an E-4 in the US Navy, making coolie wages-"I coulda spent that $15 on another lid, man!"...

I remember coming home late Sunday night, my jeans covered to my knees in mud and thinking: "how am I gonna explain being A.W.O.L. from the US Navy!"
Permalink
Watched the CSI:NY episode "Playing with Matches". A heavily charred body crashes onto a fire truck answering a call. Sid posits the victim might have just come through atmospheric re-entry.
But of course not, he was Declan Hollister AKA Demon, a street luger. The wheels on his streetluge and his suit appear to have been doused with accelerant before he was lit. The suit and luge were given to him by Sandra Polk AKA Concrete Cowgirl, played by Nicole Lenz.
Demon attempted to use his heels to stop on an unfamiliar steep street. He was going so fast, the rubber wore right down to the steel. The street itself was wet with both water and assorted vehicle fuels left on the road which served as accelerant. When the steel interacted with the road at high speed, it set off sparks which set him on fire.
In the other plot, social worker Vanessa Matlyn is drowned in a flooded automatic outdoor pay toilet. She has knife wounds on her arm and the DNA of convicted killer Seth Riggin underneath her fingernails. Riggin finds out this information and begins appeals to have his conviction overturned.
Someone sabotaged the toilet by pugging the drain and shorting out the safety wiring so that water would continue to flood the toilet completely. The fingerprints on the wires lead to John Szabo, head of F.T. Innovations, a rival toilet manufacturer. The city contract for the automatic cleaning pay toilets and hadn't been finalized and he hoped such a disaster would the doom the Swiss manufacturer.
Riggin and Matlyn met on a web site called felonydate.com. Communicating to her through stamps, Matlyn staged an attack on herself, cutting her own arm. She received Riggin's blood from smuggled ketchup packets and got it on her fingernails. With Riggin's DNA outside the prison, he could claim someone else with identical DNA committed the crimes he's in jail for.
Permalink
Went on to the CSI: Miami episode "Raising Caine". Billionaire Bill Winston is shot as he is signing papers. His widow is Julia Winston, Kyle's mother.
Though Bill was shot from the front, there is no blood on the front of his tie, meaning he was actually shot from beneath. His mansion has a wine cellar and there is an air conditioning duct beneath his desk. They find the blood and hair of white collar criminal Rob Mason. His original name was Tim Gilbert and he used to work on a cleaning crew with Pamela Osborne, the Winston caretaker. Julia asks him to kill Bill in exchange for keeping his secret that he is not really a billionaire.
In Kyle Harmon's trial for the kidnapping of Kathleen Newberry, the victim does not appear to testify. Both Horatio and Julia have filed for custody of Kyle. Newberry's apartment shows signs she packed hastily, possibly with hundreds of thousands of dollars in cash from Julia to just disappear. With her Sunpass, the police trace her as she speeds north. The episode ends with Kyle choosing to go with Julia while Kathleen Newberry, bound and gagged, sinks into a swamp, trapped inside a BMW.
February 22 Permalink
Stayed home instead of braving the icy roads. News reported a 30-car pile-up on the ramp from southbound 270 to eastbound 370. Did 270 get its designation because it leads to Washington and that's the number of electoral votes required to win the presidency? I travel that ramp every morning.
Permalink
Watched the Monk episode "Mr. Monk Paints His Masterpiece". Bennie Wentworth is a Vietnam special forces veteran who owns a junkyard protected by homemade booby traps. A well-dressed man is killed with a shotgun booby trap. Monk notices no dirt on the victim's shoes and suspects a partner. He also buys canvases and art supplies from Bennie to take up painting as hobby.
A day or two later, Monk is called back to the junkyard to find Benny apparently killed by one of his own booby traps. He notes however, that the knife trap is the wrong height. Bennie was killed a few feet away, then placed on the booby trap. The killer ripped a page out of Bennie's logbook. Dish and Stottlemeyer must find Hector Morales, an illegal alien employed by Bennie, to find out what the killer was seeking in that missing page.
Monk has taken up painting at the nearby college and his production has been pretty pathetic. Regardless, Russian art collector Petya Lovak turns up at Monk's apartment to offer in the low thousands for Monk's paintings. He continues to buy more Monk canvases, right up to an art show at the college. Monk helps Lovak carry a couple of canvases to his van and notices an unfamiliar painting there.
With Hector's help, Disher and Stottlemeyer have tracked the canvases and art supplies to Wendy Larson. They belonged to her late uncle Scott who worked at Carson Paper. Stottlemeyer knows that Carson supplies paper to the Bureau of Engraving and Printing. Larson smuggled currency paper from work and fashioned it into multilayered canvases. He painted on them and sold the paintings to Russian counterfeiters. The Russians took them out of the country as mere artwork and later scraped off the acrylic paint to use the paper to make counterfeits.
Lovak still has one more painting to acquire: a terrible portrait of Natalie that Monk gave to her. Lovak threatens her with a knife and will take away the canvas. Suddenly, Monk calls from outside. He has broken into Lovak's van, dragged out his paintings, and is setting them on fire. Lovak is horrified and as he tries to stop him, is captured by the police. All the money he has given to Monk has all been counterfeit and must be turned over to the police as evidence.
Permalink
Went on to the Cold Case episode "Spiders". In 1998, 16-year-old Tamyra Borden is going into family court for legal independence from her abusive father. She is friendly with young Truitt "Spider" Leland and later turns up in bad neighborhood, bludgeoned to death with a hammer.
Spider is running a skinhead movement out of his mother Rayanne's basement. The police check back on another cold case where a Honduran woman went missing, but her car was found with Nazi graffiti on it. Her son Miguel is able to identify Tamyra, Spider and a blonde girl named Lindsey as the group that attacked his mother. Lindsey says that after the group beat up Nora Mariposa, Spider ordered Tamyra to shoot her. Tamyra refused and Spider shot Nora himself. Rayanne ordered Eliott, another member of the group to kill Tamyra. Today Elliott is an economics professor who believes the Jews planned 9/11 although he himself is Jewish. Steadman see Nora's ghost the site where her body has been finally found.
February 21 Permalink
Hunter Pence was hurt walking into a sliding glass door. Maybe it was a bad spider nightmare.
February 20 Permalink
The Marlins are looking a few fat men to be on their Marlins Manatees fat guys dance team. Whitlock thinks they stole the idea from watching world-famous media fan Martin Morse Wooster dance at a ballgame. I don't like dance teams, male or female at baseball games. I'm fine with ballgirls and the Nat Pack.
February 19 Permalink
Whitlock and I watched Shakespeare in Love. As romantic comedies go, it's a little different because the lovers don't end up together. The plotting was not as tight as it could have been and I found myself more than once confused at the logical connection between adjacent scenes. In many ways, this was a middlebrow version of Scary Movie or Meet the Spartans, not a parody of Shakespeare, but a listing of elements from Shakespeare, that in and of themselves are intended to illicit a laugh.
The movie was enjoyable and entertaining, but a bit lightweight for a Best Picture winner. Not that comedies can't be Best Picture winners, but as mentioned above the comedy seemed slight. The romantic emotions seemed artificial and stylized, perhaps on purpose like a Shakespearian romantic comedy, but it made little emotional connection with me.
Its Best Picture competitors were another Renaissance costume drama Elizabeth, and three World War II stories: Life is Beautiful, Saving Private Ryan and The Thin Red Line.
For me, a beautiful actress in a Renaissance or medieval costume makes her less glamorous, more accessible and less intimidating, from all those years in medieval re-creation groups, they're just another beautiful girl in costume I've seen plenty of before. Cases in point are Keri Russell in Roar, Drew Barrymore in Ever After and Natalie Portman in Attack of the Clones. Gwyneth Paltrow is the first exception to this rule. Maybe because she has a convincing English accent. I never knew any medieval re-creationist girls with natural English accents.
February 18 Permalink
Bret Boone has joined Aaron and Bob on the Nats. See Needham for other Boones the Nats could sign.
February 17 Permalink
Watched the Monk episode "Mr. Monk and the Three Julies". While Natalie's daughter Julie is taking driving lessons, suddenly she hears over the police radio of the homicide of Julie Teeger, a wife stabbed with a kitchen knife. Then the police radio sounds with the death of another Julie Teeger - a bicyclist who was chased across the park and run over more than once by a truck.
Natalie's daughter Julie is put into protective custody as the police investigate Matthew Teeger, the mentally disturbed son of Juliet Teeger. Their house is right out of Psycho, right down to the taxidermy and Juliet Teeger, dead of natural causes for several weeks, but still propped up in her rocking chair. A few nights later, Disher dresses as the mother to capture Matthew.
But Matthew Teeger is not the murderer. Monk breaks the case when he spots some boxes in the bicyclist Julie Teeger's apartment. George Teeger had just broken an affair and his mistress was sending some items exposing the affair to his wife. The post office mistakenly sent the package to the bicyclist Julie Teeger. This happened frequently so she personally delivered the package to George's wife. She finds out about the affair and he kills her. Then to cover his tracks, George killed the bicyclist.
Permalink
Watched the CSI: Miami episode "Miami Confidential". Rachel Hemming is killed when she is pushed onto a glass coffee table and the neck of a wineglass pierces her carotid artery. Ryan proposes to fume her body for prints at the crime scene, but he realizes too late the apartment is a meth lab and the place goes up in flames.
Hemming was a confidential informant of FBI agent Mike Farallon, whom Natalia knew from her time with the agency, liked to sleep with his informants. Hemming was pregnant when she died, but the father was her stepbrother. At some point this brother Zack was a suspect and they must have taken his DNA, because that's how they knew he was the father of their baby. The writers deliberately withheld what the techs must have known early on that the two were not biologically related.
Hemming was killed by the head of the meth operation, Jeremy Broyles, who had started to suspect she was working for the police. She was wearing a wire and said the safe word "together" to get Mike to rescue her. However, Mike knew she was pregnant and allowed her to get killed, figuring that would take care of the problem.
February 16 Permalink
Watched the Criminal Minds episode "Limelight". The auction of an abandoned storage unit in Philadelphia leads the buyers to find the diary of someone who could be a serial killer. Field officer Jill Morris calls in the BAU and Rossi and Reid investigate. They even drive and don't take the jet!
Rossi can't find anything in the materials to go on until Morris shows him a lock of blonde hair the unsub may have kept as a souvenir. The diary shows a highly organized personality that would not forget to pay his storage bill so he wants to get caught. The diary also shows a fascination with binding and executing his female victims, so several unsolved victims are found - all career women in their 30s who were electrocuted at some point. All were buried off highways in different states.
At this point, Morris is going to the media and obsessed with being a star. Rossi realizes the lock of blonde hair was actually hers, but advocates for her to Hotchner, because he sees himself when he was young. Rossi is hoping to steer Morris away from his path.
The unsub calls in two bodies he buried on the highway and abducted the same day. He captures reporter Kat Townsley and coerces her to lure Morris to an abandoned parking garage where he abducts her as well. Townsley cellphone leads the FBI to the unsub, Jeremy Andrus. Though both women are rescued, Townsley does not survive her injuries and Morris is lured further into the web of being a star FBI agent.
Permalink
Went on to the CSI:NY episode "All in the Family". College senior Emily Miller is killed with a shotgun blast to the chest as she shops for flowers at an outdoor market. Someone tossed a shotgun from the roof of a nearby building, intending to hit a dumpster. Instead the gun hit a gargoyle and accidentally killed Miller.
From the rooftop, Taylor, Flack and Hawkes are called to another murder two blocks away. They run across the roof to the apartment of family court judge William Riverton. His daughter Madison, accompanied by her friends, brothers Jake and Charlie Fairwick, found his body.
Riverton was bludgeoned with the shotgun that was thrown from the roof. The killer then showered in the apartment to wash off the blood. It turned out to be the Fairwick Brothers whose father was taken away from them in family court by Riverton.
In the other plot, Messer doesn't show up to work. Flack goes to his apartment and finds out Ollie Barnes, the perpetrator of the robbery of a bodega that led to the death of ten-year-old Ruben Sandoval, has been released from jail on bond. Danny's gun is missing and Flack fears he may avenging Ruben's death on his own.
Flack finds Danny emerging from the storefront of Barnes' bailbondsman. Messer explains that Ruben's mother Rikki took his gun and is the one thirsting for revenge. He and Flack split up a list Danny got from the bailbondsman of the places Barnes frequents. Messer sees Barnes and Rikki following after. Danny doesn't answer his phone, but Flack tracks his GPS. Rikki confronts Barnes in an alley. Messer and Flack arrive in time to stop her.
February 15 Permalink
The Nats May 3 against the Pirates will be Homestead Grays vs. Homestead Grays. I don't suppose the Rangers game could be Washington Senators vs. Washington Senators.
February 15 Permalink
Some quick hits:
McNamee's lawyers say Bush will pardon Clemens.
Yankees spring training stadium Legends Field renamed George Steinbrenner Field.
And my Boys of Yesteryear pitcher Ole Olson seems to be taking the Andy Pettite/alleged Roger Clemens route to success.
February 14 Permalink
Jesse Barfield is a bitter old ballplayer:
One thing many of the fans remember about me is that I loved to play defence and took so much pride in it. But today, outfield defence is almost a lost art. What happened you might ask? Well, when I was playing, two of our outfielders almost got into a fight in spring training because one of the guys took too long to get off the field when he took his fly ball. The next guy up collided with him because he was loafing. We took it seriously and went at it hard. See, his lack of effort could have caused an injury.
I'm an old quizbowl player and I want to say that most players would have beaten the crap out my 20-year-old self. I hold my own now just out of sheer experience.
February 13 Permalink
I took the day off for Whitlock's birthday as we watched Batman and Robin. I have a t-shirt from that movie that I was supposed to give away to contestants of my SF trivia contest at Disclave, but nobody wanted it. It was mindlessly filled with chase scenes and fights, but it was harmless entertainment.
Unlike the sympathetic character of Ed Nygma/The Riddler played by Jim Carrey in Batman Forever, Uma Thurman as Poison Ivy was only a shadow of him as the best character in this film. You realize how short Governor Arnold is when he stripped of his cold suit in the Arkham Asylum cell. While Jason Russell had his wood lifted by Alicia Silverstone is a schoolgirl uniform, I found Uma Thurman, as both Poison Ivy and Pamela Isley, to be just a fangirl.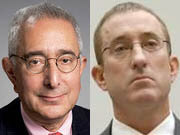 Permalink
You ever notice Brian McNamee looks like Ben Stein's illegitimate son?

February 12 Permalink
Today is the birthday of Tim Redding. He never reached a level of truly Bacsikian suckitude, putting together six starts with game scores in the 60s. By this method, his best game was August 20 when he and Colome shut out his former team, the Astros, 7-0.
Permalink
Watched the Cold Case episode "Sabotage". In December 1999, Big Box assistant manager Curt Fitzpatrick is blown up as he pushes a shopping cart into the back storage room. Today, pilot John Wojciechowski has his hand blown off by a bomb when he opens the his gym locker.
The bombing bears the characteristics of the 1999 Big Box, the bombing of a middle manager at an engineering firm in 2001, and a physician's assistant in 2003. Angel Perez of the gym cleaning crew says he saw a music box in a locker, then when he heard people coming, put the music box away in a different locker. The music box played the folk song John Henry and Wojciechowski heard someone humming that tune as went in and out of consciousness after the blast.
The music box was originally in the locker of broker Luke Ross who was the intended target. His wife Beth recalls a call from a purported credit card that phished information about Luke's daily habits. The music box was the triggering device and several cylinders of John Henry had been delivered to Carl Baxter. However, the only Carl Baxter had been imprisoned in 1995 for meth distribution, but he had the names John and Henry tatooed on his arms after his two boys.
John Henry Road in Germantown had been bulldozed for a 2001 development spearheaded by a dot-com that went out of business without building anything. The one holdout was Alessandro Rosselini, whose house was eventually taken in foreclosure. Rossellini's ex-wife tells his story which began with his being laid off at a computer company. His boss was the victim at the engineering firm. Without health insurance, their daughter couldn't get early treatment so she died of cancer. The physician's assistant gave Alessandro a hard time at the hospital and he was later a bombing victim. After the trauma of the death of a child and divorce, he attempted to return a defective shower radio to the Big Box store and got indifferent treatment from the assistant manager who was the first victim.
Luke Ross turns out to have been Luciano Rosselini, Alessandro's brother. He was targeted for ceasing financial support. Alessandro parks himself in the 20th Street train station with a music box on his lap. Their father worked on the decorative tiles in that station. As the SWAT team surrounds him, Alessandro doesn't have a bomb with him in the music box. Instead he's delivered a music box to Luke and Beth's daughter Mia. Rush realizes this and delivers a frantic phone call to Vera, who is watching the house from a car with Miller. An explosion is heard over the phone and Alessandro surrenders. However, Vera and Miller were able to get into the Ross house quickly enough to save Beth and Mia.
February 11 Permalink
Watched the CSI: Miami episode "Guerillas in the Mist". Three gun runners are killed by something deadly and apparently invisible, as if the Predator did it. Thousands of bullets, all the same are scattered about and only pieces are left of the victims.
Calleigh explains the weapon is the DX-4 Vaporizer, an electronic gun with 200 barrels and no moving parts that can fire several thousand rounds a minute. Now the primary feature of any automatic weapon is to move a bullet into firing position, eject it, and quickly position next bullet in place. That requires moving parts to put those bullets into position to fire thousands of rounds in a minute. In addition, 200 barrels are huge. You're better off with a shoulder-mounted rocket launcher. That'll get anybody's attention at a meeting of drug lords.
ATF has contracted out some its obligations to a company called Peregrine Security. After Horatio talks to the unhelpful CEO Steve Lancaster, he's found dead. He was killed by James Reilly, a co-founder of Peregrine who was ousted when the company's business took an unethical turn.
Delko goes talks to Gabriel Soto, the gun runner who employed the three men killed at the beginning of the episode. While there, another man who looks like Soto from a distance is killed by a sniper. Delko finds the sniper perch and prints lead to Peregrine employee Patrick Austin. He confesses to being ordered by new CEO Darren Butler to take out Soto. Austin also has information that Butler is selling the Vaporizer to terrorists.
Horatio drives his Hummer to the airport where Butler is demonstrating the Vaporizer to his buyers. Butler blows up the back half of the Hummer as Horatio calmly steps out of the vehicle. Horatio takes Butler out with one shot as he is trying to refire.
February 10 Permalink
Scott Olsen is a game show fan:
One of his more benign habits is TV game shows. At home one afternoon recently after a workout at Dolphin Stadium, he assumed a favorite position - slumped on the couch, feet on the coffee table, the remote aimed at the TV.

He stops at a show called Crosswords in time to hear the clue: Four letters, filled to the max. "Brim!" Olsen he shouts back at the TV.

"I'm really good at game shows," he said. "Really good. Deal or No Deal is one of the best. Are You Smarter Than a 5th Grader? might be the funniest show on TV. But Drew Carey hosting The Price is Right is terrible. They should have stopped the show when Bob Barker retired.''

Olsen grins.

"I'd love to be a game-show host," he said before quickly reconsidering the idea. "Maybe not. I'm too blunt to be a game-show host. If someone said something stupid, I couldn't put on that smiling face and just laugh."
Anyone who thinks Deal or No Deal is any good probably believes Tic-Tac-Toe is a challenging strategy game.
February 9 Permalink
World-famous media fan Martin Morse Wooster came over for dinner before we went to Georgetown Prep to watch the Maryland Nighthawks play the Wilmington Sea Dawgs. This is the same team we saw in the ABA two years ago. Since then their ambulance chaser owner, along with other fiscally responsible ABA owners, have formed the Premier Basketball League where teams are expected to play out the entire season before folding.
Instead of Montgomery College-Rockville, the Nighthawks play at Georgetown Prep. It's a pretty luxurious facility, but Georgetown Prep has a lot of money. I was only concerned that official high school courts are only 84 feet long, as opposed to 94 feet for college and pros.
The Nighthawks' public address announcer effectively did play-by-play as well. On the other side of the arena, a single camera and a single announcer broadcast the game for PBL Virtual Stadium.
The Nighthawks Dance Team can dance well, but some of the girls should not have been wearing halters. They looked much better covering up with a t-shirt.
The game program heavily promited Ratdech "J.O." Kruatiwa and Tamir Goodman AKA the Jewish Jordan. J.O. is supposedly the only member of the Thai national team to play in the United States. Goodman committed to the University of Maryland, but as an orthodox Jew, couldn't play on Saturdays. He played in Israel instead. However, both Kruatiwa and Goodman are both injured.
The Nighthawks are coached by former Wizards and Syracuse player Lawrence Moten who dresses like Luther Mahoney. Randy "White Chocolate" Gill sunk several three pointers. Another player with an interesting nickname is Andrew "Spongebob" Washington.
Everyone seemed to be playing hard. I didn't see any lollygagging back to the other end of the court. Martin wondered why some of these players weren't in the NBA. Height was certainly a reason for some of them.
Permalink
Watched the CSI:NY episode "Happily Never After". Fiona Chisolm, an obvious parody of Leona Helmsley is found frozen to death in an artificial snowscape in front of her Dorothea Hotel. Her heart was literally frozen.
It turns out Fiona was ejecting Felix Hall, a chestnut vendor from the corner in front of her hotel. He got very angry and pushed her into a liquid nitrogen tank that was used to create the artificial snow. A valve pierced her heart, freezing it instantly. Felix transported Fiona's body on her cart, back to the winter wonderland, to make it appear that any of her numerous disgruntled employees killed her.
In the other plot, a young woman's body in pajams appears out of nowhere as a school bus gets in a fender bender. The name Wendy is written in fingerpaint on her chest, she was stabbed with a hook-like device and could have been flying through New York like the J.M. Barrie character. The victim, Leslie Wright, had actually been dumped on top of the school bus and had been there all day, only to be dislodged by the accident.
Leslie was among a group of people who took the drug Foxy, a hallucinogen that created childlike wonder. They would break into a kindergarten classroom, create some vandalism while in an infantile state, then leave, stealing nothing. The night she died, Bryce Aldicott had sex with her in what could amount to date rape. As she was coming off the drug, Leslie started to fight back and he killed her with the hook, disposing her body out the window onto the school bus.
February 8 Permalink
Watched the Cold Case episode "Family 8108". It opens in Sunnydale, California in 1942. Hold on a second, that's Sunnydale, California, the fictional city that exists only in the universe of Buffy the Vampire Slayer, not Sunnyvale, the real Silicon Valley city. That makes this a Cold Case-Buffy crossover. Of all the possible Buffy crossovers, Cold Case was pretty far down on the list. Then again, Cold Case is the only cop show where the characters regularly see ghosts at the end of the episode. Anyway, whoever the characters are must be cursed because they've been living on the Hellmouth.
Raymond and Evelyn Takahashi are living the American dream with their teenage son Billy. They play football in the front yard with Billy's best friend Eugene "Skip" Robertson. Then the flyer comes around for the relocation of Japanese-Americans. In December 1945, Raymond is found beaten to death at the foot of a set of stairs the night of the Army-Navy Game.
Today, Ramond and Evelyn's daughter Barbara, played by Patsy Yatsutake, Alyssa Ogawa, finds papers that may lead to the finding her father's killer. Billy was killed in Europe and Skip was his commanding officer. Raymond approached him to recommend a posthumous medal for his son. After France, Skip was assigned to the Pacific where he saw first-hand the ferocity of the Japanese forces. Skip now hated Japanese and Japanese-Americans. He pushed Raymond down the stairs.
Permalink
Went on to the Criminal Minds episode "3rd Life". In Chula Vista, California, a girl's body is found strangled with her face and hands mutilated. It is Katie Owen who went missing with her friend Lindsey Vaughn.
While Garcia can find Katie's online confessions, Lindsey is but a ghost. It turns out Lindsey and her father Jack are under witness protection. He testified against the Irish mob in New England.
Lindsey and Katie were abducted at the movie theater by three boys led by 23-year-old Ryan Phillips. Katie was killed in abandoned house and Douglas Silverman, one of the other boys, was killed for not going along. Ryan has Lindsey captive in the Mayford High School bathroom. Jack finds them and Reid follows along. Lindsey demands her father shoot Ryan. Reid urges Jack not to. He kills Ryan anyway and, because he such an important witness, Jack and Lindsey are relocated to Atlanta.
February 7 Permalink
Watched the Everybody Hates Chris episode "Everybody Hates Driving". Chris doesn't have his license so that doesn't stop him from driving his father's car to park it across the street when the street sweepers come. However, he can't resist taking it to school and become a chick magnet. Amazingly, he's able to get it home without getting into too much trouble. In the other plot, Rochelle has to drag Drew and Tanya with her to traffic court to contest a speeding ticket. She is able to get the speeding ticket wiped away because the radar gun wasn't calibrated, but she gets a higher fine for contempt.
Permalink
Went on to the CSI: Miami episode "CSI: My Nanny". Dennis and Kate Lambert are hosting a garden party when their five-year-old daughter finds their nanny Vanessa Waters stabbed to death. The Lamberts have only two kids, but they saw fit to have two nannies, okay, now one.
Kate kept a hidden camera because she suspected Vanessa might be having an affair with Dennis. Actually, they were in the bathroom discussing Craig Abbott, a previous nanny, whom Vanessa suspected of an improper relationship with the adolescent son Jonah. The morning of her death, Kate fired Vanessa for being too close to Kate. With Vanessa no longer earning salary, her agent, Ron Coswell, owner of Model Nannies, stole $250,000 from the Lambert safe. Who the hell keeps that amount of cash around the house?
The other nanny, Mia Fernandez, was angry about the way Vanessa was preparing the kids for their upcoming trip. She was packing iPods and Wiis, rather than scuba gear and guidebooks. Mia poisoned Vanessa with eyedrops so she couldn't make the trip, but that didn't kill her.
Vanessa's old boyfriend Matthew Finn catered the party, They broke up because she didn't want children, but he saw how Vanessa was with Kate and perceived that was a lie. Matthew got angry and stabbed her with one his knives.
February 6 Permalink
Dayn Perry has a position-by-position look at the worst players in the majors. Amazingly, there are no Nats. Don't look at it if you're a Giants fan as he's listed three.

February 5 Permalink
Today is the birthday of Winston Abreu. He went 0-1 in 26 relief appearances in May, June and September 2007.
Permalink
Watched the Numb3rs episode "Power". Someone posing as a police officer is raping women. Ivy Kirk, from LAPD internal affairs is hellbent on proving the culprit is not from LAPD. She pressures one victim to making an incorrect identification.
One victim remembers a bell patch on the officer, identifying him as member of the fictional Colina police force. The victims were infected with a rare form of antibiotic-resistant gonorrhea. From confidential clinic lists, Charlie finds two patients of interest - a prostitute and the wife of a Colina cop.
That cop was Bill Mallard. He was partnered will Lane Cleary and both used to abuse their authority with sexual favors from the prostitutes on their beat. For Cleary, the hookers were not enough and he was reprimanded to motor pool duty. He would take squad cars without signing them out to commit his rapes. Using the the GPS in the police cars, the FBI are able to corner Cleary in a parking garage where Megan comes this close to killing him herself.
Permalink
Went on to the Monk episode "Mr. Monk Goes to the Bank". The episode begins with Monk, Natalie, Disher and Stottlemeyer trapped inside a bank vault. Two days earlier, this very bank, the branch that Monk patronizes, was robbed by a masked gunman with a Russian accent who shoots one of the tellers non-fatally.
Disher talks to one witness, a man painted silver who portrays a human statue. Monk is distraught that Trudy's bracelet was taken from his safety deposit box. He hires on as a security guard to investigate the robbery, which he is convinced is an inside job.
During that day, Mr. Crawley, the manager, is gone for a long time. Later, Natalie and Monk go to his house to find a new Jaguar, but Mr. Crawley has been shot and stuffed in the trunk. When Monk, Natalie, Disher and Stottlemeyer go back to the bank after hours to investigate further, Madge the teller locks them in the vault.
Monk finds a bunch of toothpicks in the vault, including one broken one. He realizes all the employees were in on the robbery. They drew straws to determine who would get shot to make it look good.
Throughout the next day, a Friday, the employees explained that a defect kept them from opening the vault. They promised it would be fixed by Monday. Strangely, no one from the police department notices Disher and Stottlemeyer are missing.
The employees turn off the air and times is of the essence. All the loot is still in the valut. Monk finds Trudy's diamond braclet and it is used to break a lock to an electrical box. Disher uses it to change the rolling marquee sign outside and direct the human statue to call the police.
February 4 Permalink
Watched the CSI:NY episode "Child's Play". Internet entrepreneur Essex Palmer lights up a cigar in a bar and it explodes, killing him. He got the cigar from Lawrence Gelachter AKA Laughing Larry, famous seller of overpromising toys from the back of comic books.
Larry had just signed a deal where Palmer would take Laughing Larry onto the internet for a considerable sum of money, so he had no motive. The quality of the cigar and surveillance footage leads to Benjamin Sutter as the man who gave Larry the cigar. As a child, he and his friend Sam bought a mail order submarine from Larry which turned out to be a flimsy cardboard vehicle that really couldn't float. Sam drowned and Sutter blamed him for it. One wonders why Larry hadn't gone bankrupt from fraud or wrongful death lawsuits by now.
In the other plot, Messer takes Ruben Sandoval, the 10-year-old boy from across the hall, to church for the annual blessing of the bicycles. Just a block away from their apartment building, they pass a robbery at an outdoor fruit stand. A robbery takes place and shots are fired. Danny yells at Ruben to go straight home as he stays to investigate the crime. Some time later, Ruben turns up dead in the morgue.
Ruben was not shot by the robber, but the store owner's sisters, trying to shoot the robber. With the rush of adrenaline, Ruben didn't even realize he was shot and fell unconscious in an alley.
February 3 Permalink
Watched the Everybody Hates Chris episode "Everybody Hates Caruso". Caruso is no longer the school bully when he gets beaten up Bernard Yao. However with many boys wanting to be the school bully, Chris actually has it worse because he has to fear more than one kid. Chris arranges for Caruso to get back on top by talking Yao into losing to him. In exchange, Chris must tutor Yao in math.
February 2 Permalink
My brother-in-law Greg and my cousin Jerry helped me take our old sofa and loveseat to the dump. Afterwards Greg, my sister Bea and their children Victoria and Ian hung around while I watched Sunderland lose to Liverpool.
Permalink
Watched the CSI episode "Bull". Aging bullrider Cody Latshaw is thrown from bull Wintwister and is also kicked in the head for his trouble. Still, he walks away and doesn't immediately head for the hospital.
Cody turns up dead on the floor of the arena, apparently from on a last drunken ride on Wintwister. Elsewhere, prostitute Tiffany Rigdon is the victim of a hit-and-run and the offending vehicle is registered to Cody. Joseph Campanella makes a cameo appearance as a witness who verifies she died after Cody.
Tiffany's pimp Eric Hong AKA Precious Ricky is questioned in her murder, but he soon winds up dead from a shotgun blast in the restroom of a bar. Tiffany had gotten into a fight in the bar with some non-prostitute girls and she was rescued by young rodeo cowboy Troy Burkhart. They agree to a quickie Las Vegas wedding, but she never appears at the wedding chapel. Suspecting her pimp, Troy kills Precious Ricky, then tries to kill himself in the LVPD parking garage. Warrick sees Troy and alerts Brass and the SWAT team. Nick talks him out with his Texas charm.
Two rodeo hangers-on - elderly Cash Dooley and young Dustin Lightfoot were rustling Wintwister's highly valuable sperm to a buyer across town. The drunken Cody tried to stop them and Dustin laid him out and killed him with just one punch - not a difficult task considering Wintwister had done most of the work earlier that evening. Cash and Dustin staged a scene where it looked like Wintwister finally did Cody in. Later on, they drove too fast through town in Cody's pickup and killed Tiffany.
Permalink
Wento on to the Criminal Minds episode "Birthright". In Fredericksburg, Virginia, teens are partying out in the woods, despite the recent disappearance of Julie Stanton, a girl from their school. While making out with her boyfriend, Molly McCarthy disappears without a trace.
Molly sees Julie held captive with her in a barn, just before the unsub takes her out to kill her. Julie's body is found on the grounds of the Chancellorsville battlefield. The outdoor establishment shots have mountains way too high for Virginia.
Back in 1980, there was a similar set of killings that ended in December. A likely suspect, Robert Wilkinson, fell in a combine and died. The murders ended with his death.
His widow Mary has an adult son Charlie and Karen Foley, the only survivor of the first set of abudctions, has a son named Stephen. It's pretty clear that Robert was the original unsub one of his sons has taken up his father's calling. Mary found out about the murders and shoved Robert in the combine. Meanwhile, Tara Ricker, a third girl is abducted.
From her 28-year-old memories, Karen Foley is able to remember a rocky the place that Mary can identify. Tara and Molly are found safe in a cave. Charlie is the new killer and his wife Christine is pregnant with their son. When she realizes what her husband is, she shoots and kills him.
February 1 Permalink
World Series Odds from Las Vegas Sports Consultants. The Red Sox lead at 9-2, but the Nats are at the bottom with 200-1. I don't see how Washington should be ranked lower than Baltimore, Tampa Bay and Florida. The Nats finished ahead of the Marlins last year and most prognostications see them finishing ahead of them again. Also, the Orioles and the Rays have to get past Boston and the Yankees, a much tougher task than the Mets, Braves and Phillies. I don't know if these odds are based on evaluations or volume of public betting.