March 2008 Archives
Links were checked and verified as active only in the month the Eucalyptus entry was published. Links outside the silverscreentest domain may be inactive from this archive.
March 31 Permalink
Nationals win late again, knock off Phils with five-run ninth. This game went back and forth. The Phillies sarted 2-0 and the Nats fought back to a 6-2 lead. Hanrahan and King blew the lead in the 7th. The Nats finally won pounding Tom Gordon. Johnson drove in Milledge with the go-ahead run as Milledge danced around Carlos Ruiz at the plate.
March 30 Permalink
Somebody on the Yudachat said that Chipper Jones would hit the first homer at Nationals Park. Darn if that didn't happen. Somebody else thought Zimmerman would hit the first Nats homer. Beyond that happening as well, I remember a promotional video of a virtual tour of Nationals Park narrated by Dave Jageler. On every television, whether in a luxury suite, in one of the restaurant clubs or on the huge screen, showed Zimmerman hitting the walk-off home run against the Yankees. And just like the video, the first game ends on a Zimmerman walk-off homer.
March 29 Permalink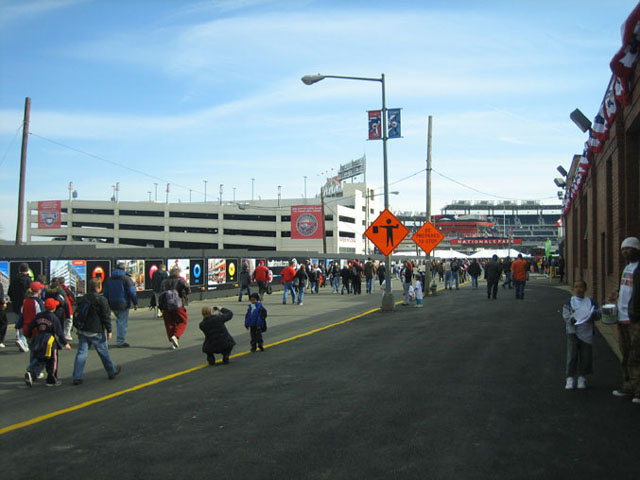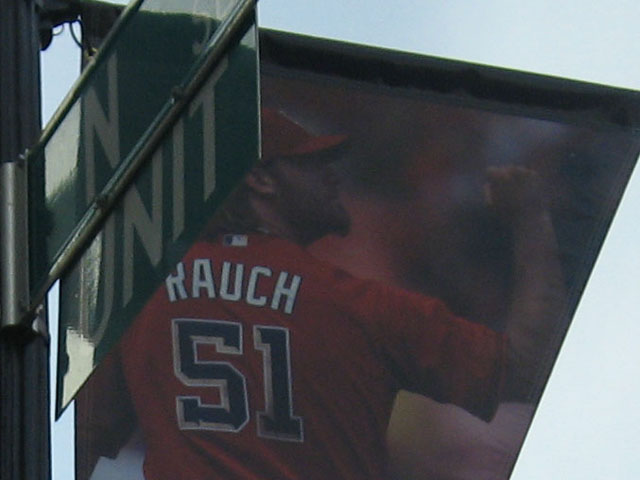 Down Half Street, there weren't many street vendors selling food or souvenirs. I suppose the District of Columbia government would like to put a Taxation Without Representation banner over the garage walls on the left. The streetlights around the stadium are draped with Nats actions shots flanking them. John Rauch's banner is by the sign for the Unit Block of N Street. It's an interesting juxtaposition since Rauch beat out Randy "The Big Unit" Johnson as the tallest player ever in baseball.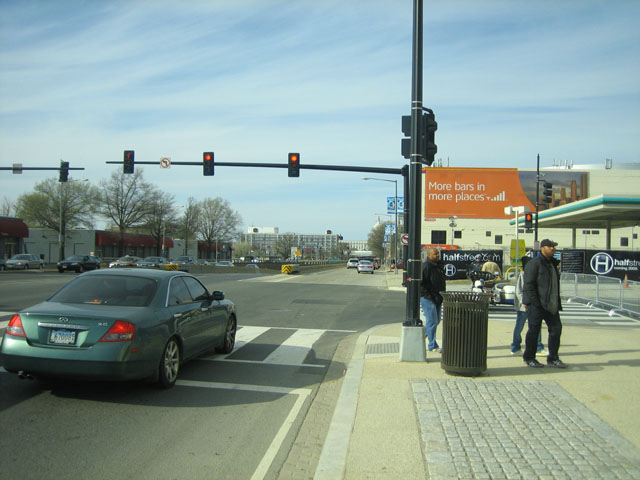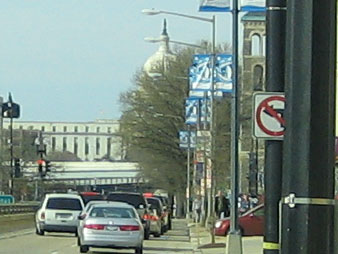 Looking North on South Capitol Street, you can see the Capitol, but it may take the telephoto lens or blowing up a corner of the frame.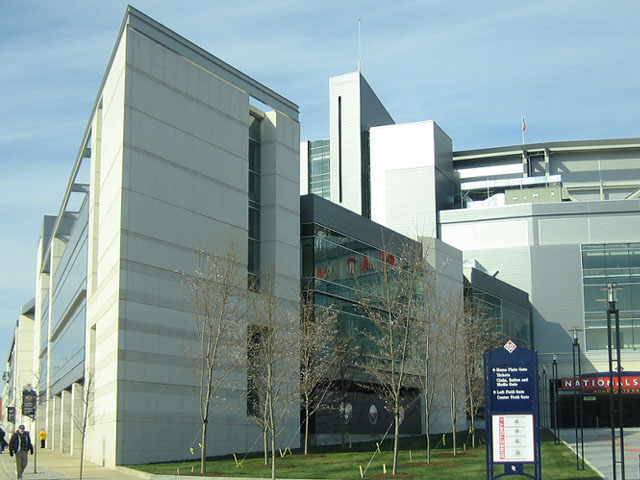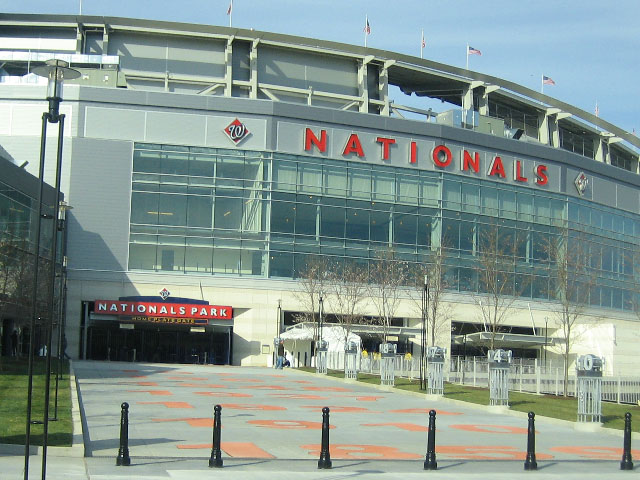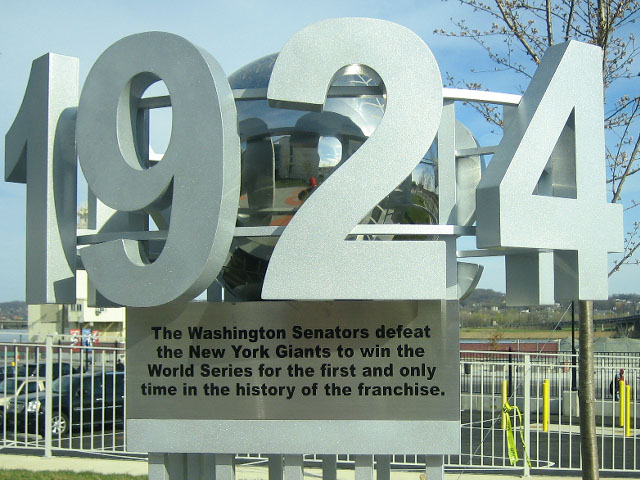 On the Southwest corner is a wedge-shaped building housing Nationals offices that pays homage to the East Wing of the National Gallery of Art. The walkway leading to the Home Plate Gate has large numbers on the ground representing significant years in Washington baseball history. To the right are short pylons with the year and an explanation of what happened in that year.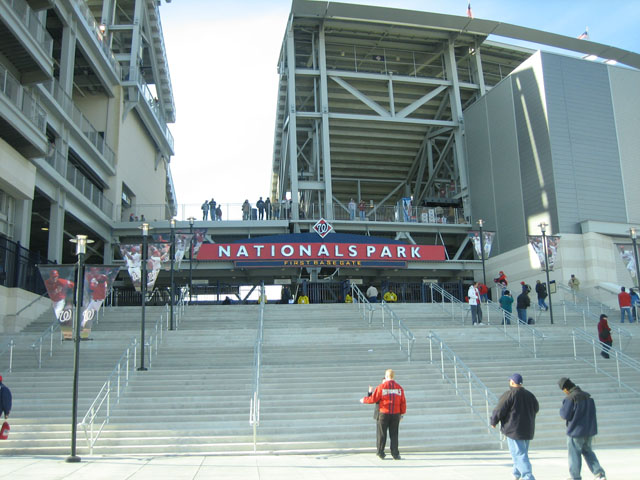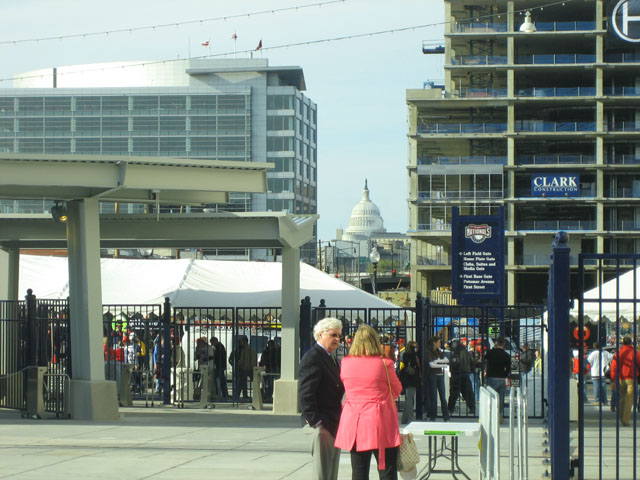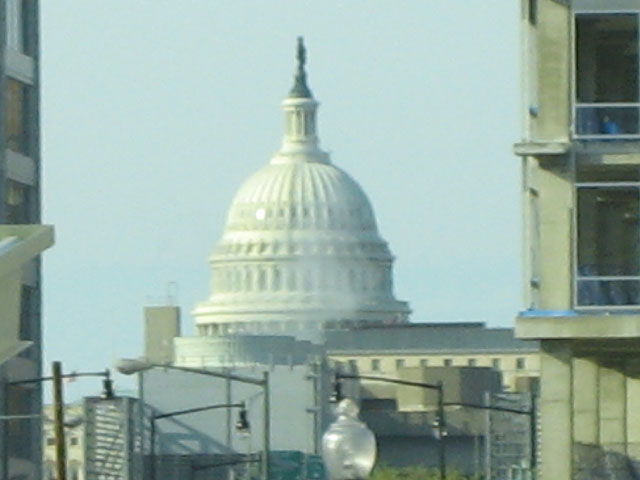 I entered by the First Base Gate where my seats are located, but I continued to walk around the concourse. This morning, Phil Wood said the Opening Night program would not be available other than Opening Night. Well, that wasn't right as they were selling plenty at the concession stands. I also picked up a pin commemorating Opening Night (although it says Opening Day) for my ticket lanyard. I have pins for tomorrow night and Opening Night in 2005, but I wasn't at that game and I won't be there tomorrow night either. You can see the Capitol peeking through the buildings lining Half Street.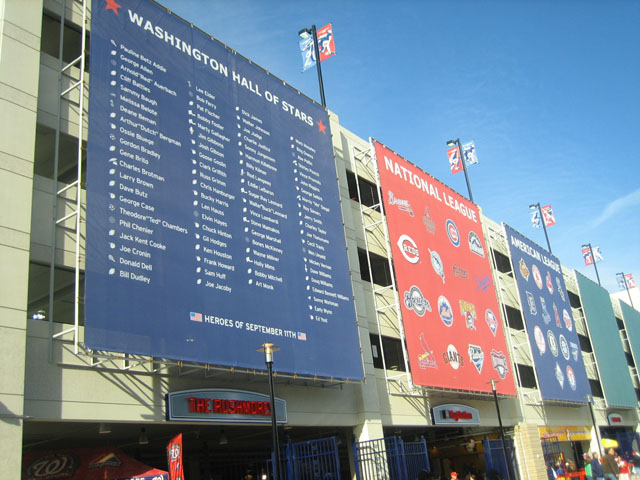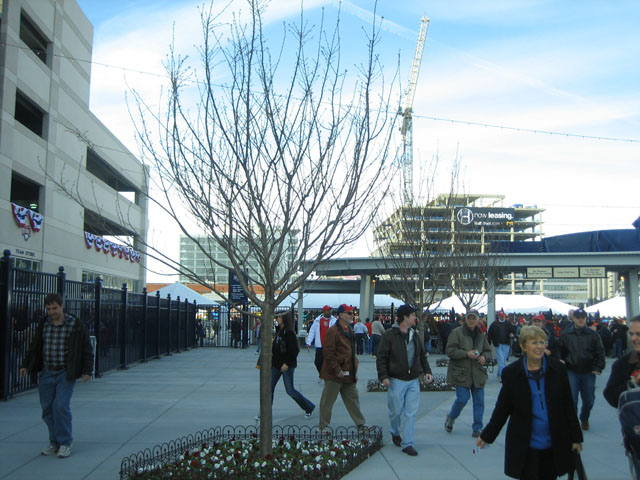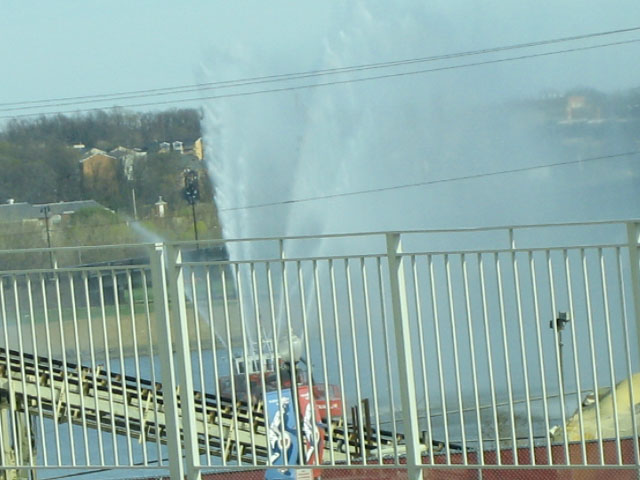 While the original Hall of Stars banner remains at RFK for DC United, there's a new banner at Nationals Park which is still missing Sam Rice. The American League and National League Logos are supposed to be in alphabetical order, but it gets sketchy when city/state/region names start with the same letter. On the Anacostia, a tugboat sprayed water.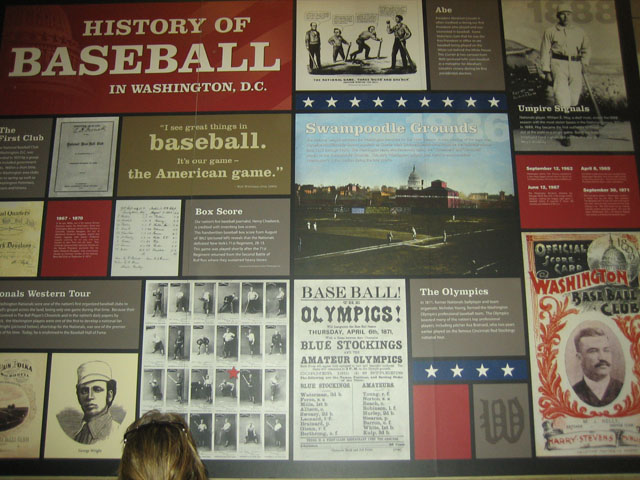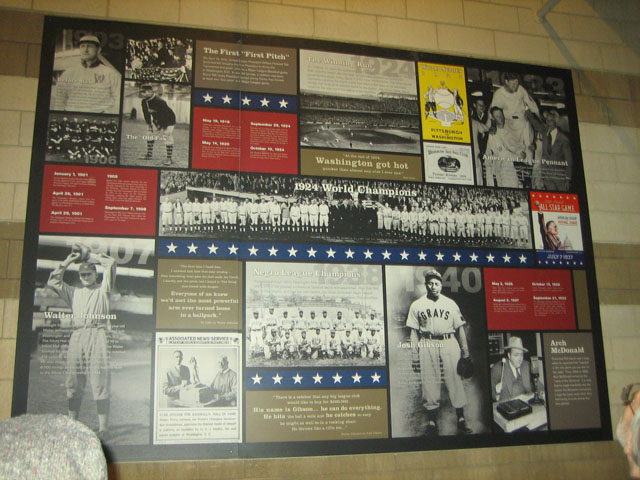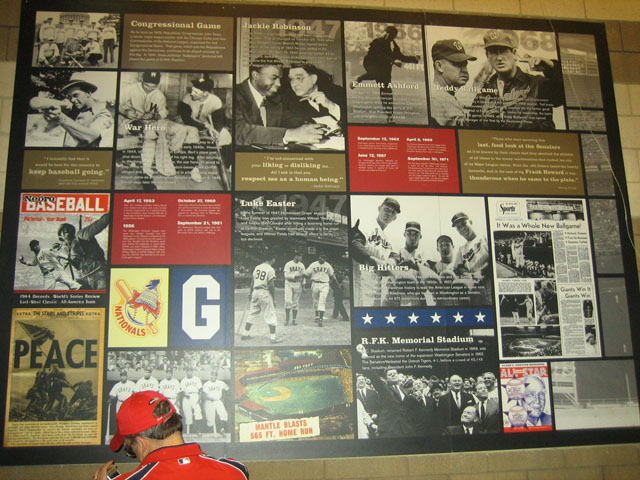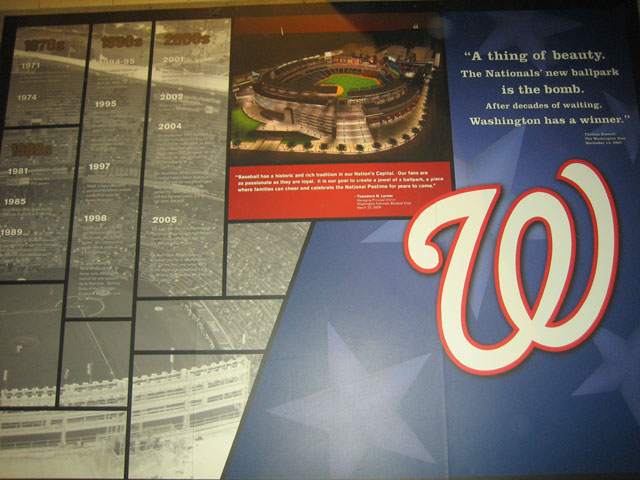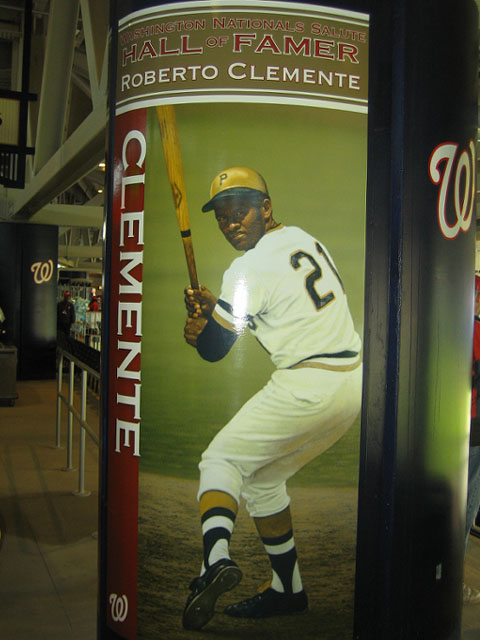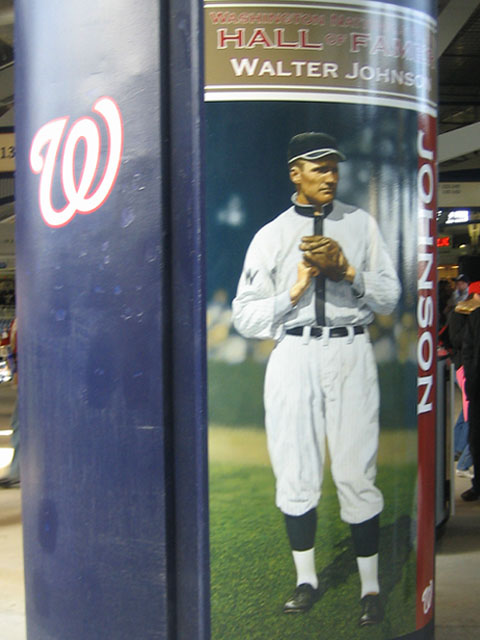 On the concourse behind home plate, there are four banners telling the history of baseball in Washington from 1859 to the the present. The posts are decorated with pictures of Hall of Famers, except for Frank Howard. Given this is Washington, Bucky Harris, Sam Rice and Joe Cronin ought to be represented as well. Perhaps there should be additional pictures of Ted Williams and Frank Robinson as Washington managers.
So, how do my seats compare with RFK? See for yourself.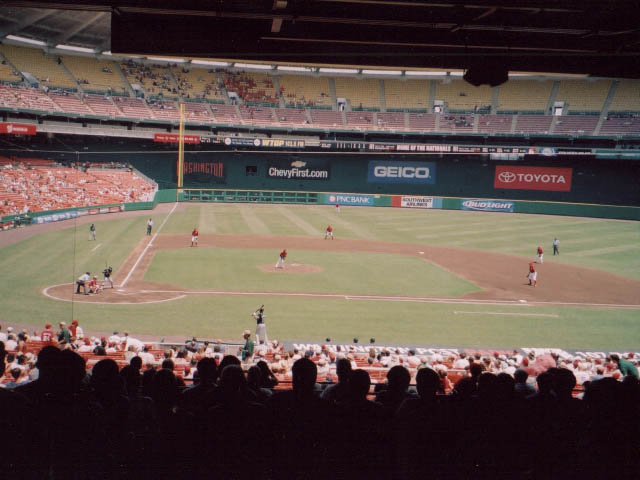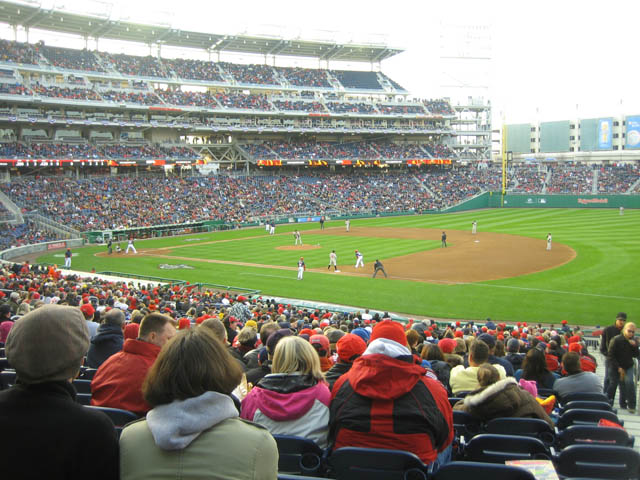 As discussed before, I listed six sections in order of preference and didn't even get my sixth choice. I'm paying twice as much for seats that are both further away from the field and further away from the action in the infield. This is not an improvement.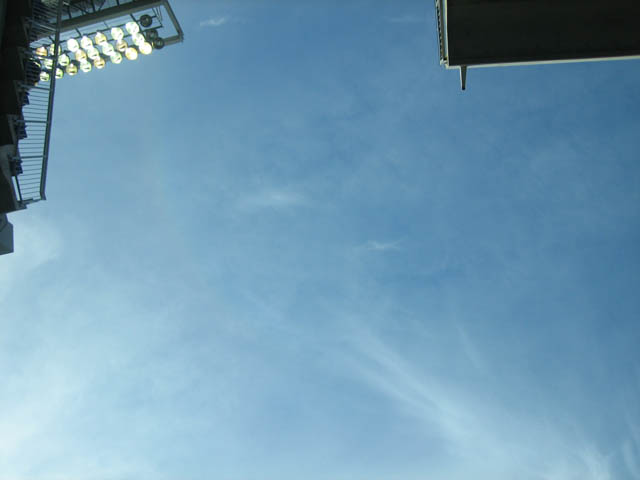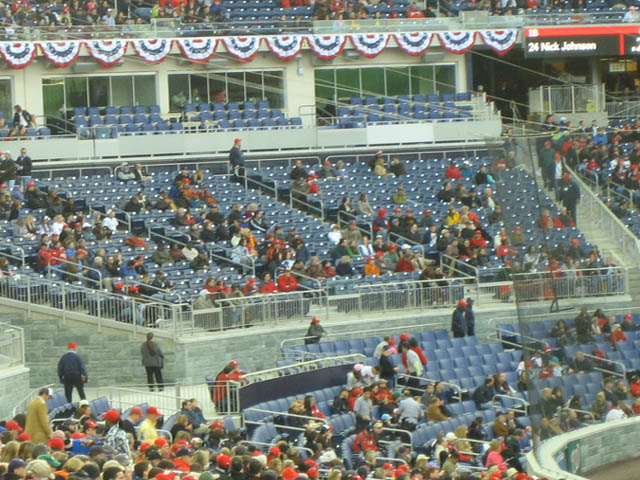 I also asked to be under cover. Directly overhead is sky. I'm sitting in the only place in the back of the lower deck where the upper deck doesn't provide shade and shelter. Meanwhile, the PNC Diamond Seats and Presidents Club seats, the best seats in the house, were sparsely occupied. Apparently PNC stands for People Not Coming.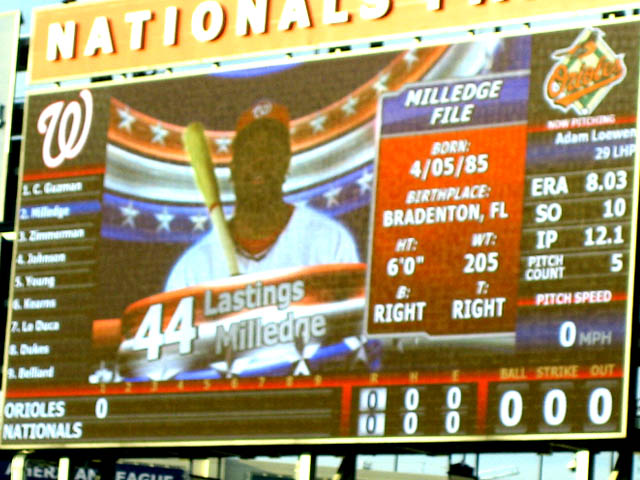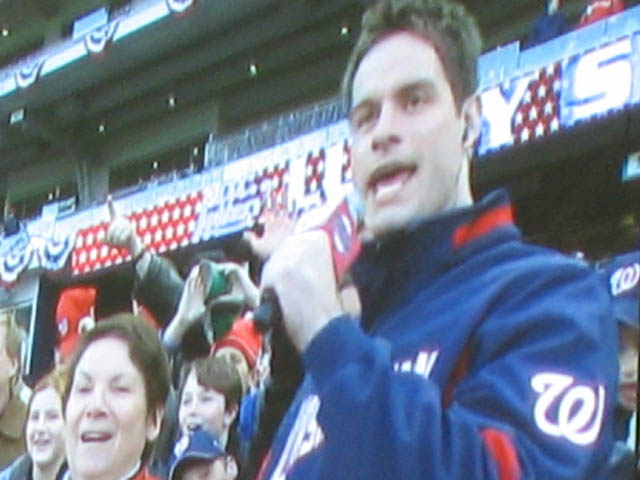 I'm strangely unimpressed by the huge HD board, especially given that I don't have an HDTV. Both batting orders should be shown along with the positions of the players. When a DH is used, as was the case tonight, the pitcher should be listed as well. I'd prefer interesting information about the batter on the board rather than standard regurgitations from the media guide. Most of the time this would be mean stats, but personal trivia could also be posted. There seems to be great difficulty in transmitting changes quickly to the press, especially with multiple switches and non-obvious batting order substitutions. Why can't the homep late umpires have a walkie-talkie or cellphone to directly call the public address announcer? That line could also go directly to the scoreboard operators and the home PR head who makes announcements to the pressbox who would merely listen in. That way, changes could be transmitted quickly and correctly to everyone.
The out-of-town scoreboard on the right field fence was a riot of color with no useful information. Tonight, they should have been showing updates from the NCAA mens basketball tournament. When it's up and running, I would expect an up-to-the minute summary of every MLB game providing what we never hear from Charlie Slowes. There should be a textual section for each game with room for one piece of fantasy information. As many games as possible should be shown on this board. Since they won't all fit, they should be changed and rotated between every pitch. The fantasy highlights for each game should also be rotated so that you're likely to see something different the next time a particular game comes back. Between innings, the scoreboard should be showing scores from other sports. In other words, I expect that board to be a veritable ticker for fans.
The good news was that I could hear the trivia questions and see and hear the King of Menacing quite clearly. The bad news was that I could see and hear the King of Menacing quite clearly.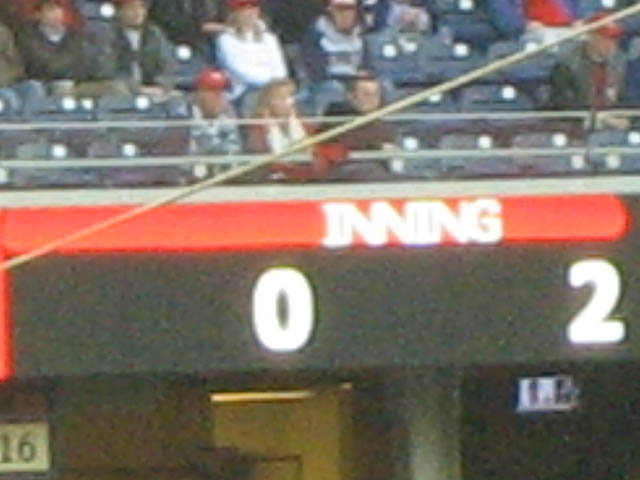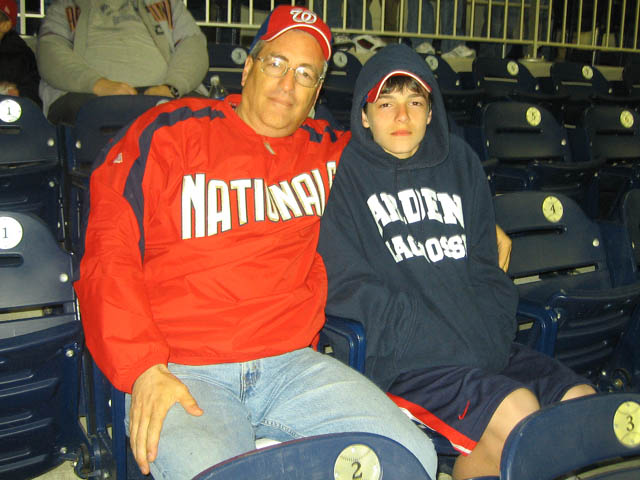 There's an auxillary scoreboard behind home plate that me forever to figure out. The word "inning" was there with numbers that turned out to be the score, but they never bothered to put the team names with the numbers. There are also auxillary scoreboards behind the bullpensthat showed what players did the last time, but was otherwise blank. Every inch of scoreboard space should be used for actual information or advertising.
Randy Brunk and his son David saw the game with me. They parked at RFK and said that the shuttle was a breeze. They went three times for food and was successful twice. The first time the lines were too long. I noticed a line stretching the width of the entire concourse at Ben's Chili Bowl. I just had a bag of Cracker Jacks and didn't get hungry anymore.
On the field, the Nats won 3-0, which was a hopeful sign along with the fact that no home runs were hit. I want a pitcher's park.
On the way out, the main Navy Yard entrance was packed so instead of going to the other Navy Yard entrance, I followed a bunch of folks to the Waterfront Station.
The good things were the history - the walkway outside with the dates and the banners with Washington baseball history. I don't know if there's room for more banners, but I'd like to see Hall of Fame-like biographies of great players. I didn't get to the main center field team store, but the home plate store wasn't much. Still I was able to get the program and the pin at a tent near the playground. The smaller souvenir stands should have display cases for counters so people can window shop before they're ready to buy. Right the counters are just forbidding opaque blocks.
I was disappointed with my seats and that's pretty much all I care about. I'm sure the food is better, but I always ate at Union Station on weeknights and bought from the street vendors for weekend day games. I didn't see too many street vendors and I hope the Lerners don't oust them completely. You can see the game from all around the concourse, but I prefer to be in my seat when watching a game. And I wish my seat was closer. For what really matters to me, Nationals Park is a disappointment.
Permalink
I got home in time to watch some of the game between the Red Sox and the Dodgers at the LA Coliseum. There really weren't any dugouts, so it looked like a little league game, or a game at the Elysian Fields in 1845. Even when RFK hosted exhibition games with a 250-foot left field, there were real dugouts.
March 28 Permalink
Nats320 has pictures of the Nats staring open-mouthed on the field. Dmitri Young has an interesting fashion sense.
March 27 Permalink
Took the day off to go with the family to see the Maps exhibit at the Walters Art Gallery. There are some very old maps going back to Ancient Mesopotamia. Miranda's favorite map was the Land of Make Belive by Jaro Hess which ske liked for the hole that said,"Don't Go There".
We ate lunch at the famous Five Guys. It wasn't bad but I wasn't impressed like the other Five Guys fans.
March 26 Permalink
Evan Longoria got send to Durham this week.
But the move raised questions — including in their own clubhouse — if doing so was best for a team touting its increased commitment to winning.

"If I say I commit to winning, he's on my team for sure," rightfielder Jonny Gomes said. "I think everybody wearing a Tampa Bay hat and un"rightoverhead.jpg"ere. I don't think it's a good day on the players' end and fpncdiamo"
The players know this is about delaying his free agent year. See if Longoria stays around for the home town discount. You may believe the Lerners are cheap, but they're not this cheap. If they were in control, would Ryan Zimmerman'ave been delayed? We'll never know and Nats fans are fortunate.
March 25 Permalink
Watched the How I Met Your Mother episode "Ten Sessions". Ted actually did try to date his dermatologist Stella, trying to wear her down until he was no longer her patient nad she could date him under AMA regulations. She says at the end of the twn weeks that her life revolves around her eight-year-old daughter and she has no time to date. Ted manages a literal speed date of two minutes along a street.
Of course, this episode was known worldwide for the casting of Britney Spears as the receptionist Abby. Britney is a piss-poor singer and a decent dancer. She's still trying to live off her Lo Duca-bait charisma. However, I think she has comic promise and an infectious smile. If Britney would get life together, she could still be a successful nostalgia singer and comic actress.
Permalink
Went on to the CSI: Miami episode "You May Kill the Bride". Susan Halston is about to marry baseball star Greg "The Legend" Tanner when she is shot right before she says,"I Do". There is only one shot. Do they help the bride? Do they look to see where the shot came from? No. They scatter like ex-lovers of Lindsay Lohan when she turns up preganant.
Tanner himself is hustled into his limo by bodyguard and driver Duane Cross. Tripp stops the limo later on GSR on his pants leads to the revelation that Susan was shot with an automatic device underneath the limo, triggered by a cellphone. Susan had a $1.8 million veil, which replaced by one with cubic zirconiums rather than diamonds in it. From the best I could understand, the index of cubic zirconia are different from diamonds, so the targeting laser was altered, killing Susan instead of the intended target.
The intended target was stripper Kelly Chapman. She had a relationship with Greg that included pictures she had of him in ladies lingerie. She was blackmailing him and Greg's teammate Russell Brooks took care of it by planning the murder that killed Susan instead.
The veil was stolen and substituted by sports agent Alan Farris who had a $2m bill to collect from Tanner. If an agent is not getting his money from a client, he's going to garnish the paycheck, not stoop to larceny. And this kind of murder was the response to blackmail. At worse, they should have hired a professional to kill Kelly.
March 24 Permalink
Now Redding is hurt, but Jesus Flores will be on the Opening Day roster.
Permalink
This morning, in a story about Beckham possibly purchasing the Galaxy, Stuart Scott continued the myth that the Galaxy are paying him $25 million a year. For the record, the Galaxy are paying more like $10 million with the rest coming in endorsements because Beckham happens to be playing for an American team.
Permalink
Watched Hulk. Good lord are there daddy issues here. All of the Incredible Hulk themes like anger and scientific experimentation are subservient to daddy issues. In the resolution, Bruce could get away to Central America, but Betty couldn't.
The Hulk jumping across the desert resembled the flying scenes from Crouching Tiger, Hidden Dragon. Multiple screens were used to actual effect. In the story, Betty and Bruce had broken up so while their bond of love was strong, romance did not further complicate the plot. So there were many technical plusses to recommend it, but the daddy story just overwhelmed it.
I'm not a fan of chases. When the helicopters had no effect, I kept screaming to bring in B-52s or tomahawk missiles - you know, some serious high-powered conventional weaponry.
March 23 Permalink
After having six teams in the tournament, the Washington-Baltimore CMSA is down to zero. We all knew the area would be down to now more than four since four of the teams played each other. The most likely conceivable outcome was two with both Georgetown and George Mason winning, but the Hoyas chocked on this one.
Permalink
It looks like the opening night starter will be Odalis Perez. I was hoping for Tim Redding. This has nothing to do with Perez not having pitched a game for the Nats before. Would you begrudge Opening Night to Johan Santana, Erik Bedard, Jake Peavy or Brandon Webb if they were new Nats? Of course not, especially if you believed those aces were going to pitch Opening Day next year. I'd say Lannan or Chico have a better chance at being the starters for Opening Day 2009 than Perez.
Permalink
Watched the How I Met Your Mother episode "No Tomorrow". Barney convinces Ted to go out drinking on St. Patrick's Day. They find a bar packed with beautiful women and Ted gets involved with Ashlee, a married woman. In the end he gets punched out by a guy named Garrado. All night Ted and Barney have been buying drinks and putting it on Garrado's tab, a name they just heard in the bar.
The next morning, Marshall plays a bunch of messages Ted accidentally left on his phone. Ted feels like a real idiot and returns to the bar, taking away the yellow umbrella supposedly left behind by his future wife. In the other plot, Lily and Marshall find out their apartment is crooked, but Robin discovers apartment luge.
March 22 Permalink
Went to the Knossos meeting. The book was Story by Robert McKee. We've had non-fiction books before, but but this one was just a too little pedantic for a discussion group. It glosses over the fact that tons of movies with stuff blowing up get made every year because it's fun to go to movies to watch stuff get blown up. Even Knossos whipping boy The Silver Tower is packed with literary merit compared to a typical multiplex boomfest. The studios might buy your screenplay masterpiece, but that doesn't mean it will ever get made.
However, the book made me think of Union Station. I walk through there everyday and apparently, so did a noted prostitute. There's a literal Grand Hotel at my doorstep. I really should be spending quality time out there, just listening to the conversations and people-watching as material for a future screenplay.
Permalink
Watched the Battlestar Galactica episode "Crossroads, Part Two". Somewhere, I missed "Crossroads, Part One." In Baltar's tribunal, Apollo suggests a mistrial which Baltar refuses because he'll have to go through it all again.
On the stand, Gaeta denies that Baltar ever offered any resistance to the death warrant he was forced to sign. Against Baltar's objections, Lampkin puts Apollo on the stand to testify that William believed Baltar didn't deserve a fair trial. Instead Apollo gives an impassioned speech about justice listing everyone else, including him, who should be on trial for some form of treason or mutiny. His best line is,"We are not a civilization anymore, we are a gang."
Baltar is acquitted and taken away for his protection by what apparently are some admirers. Roslin's aide Tory, Anders, Tyrol and Tigh all hear "All Along the Watchtower" and discover they are Cylons. The Cylon god must be some badass Old Testament version for torturing Tigh, one of their own, like that. As the fleet is attacked by Cylons, they go back to their posts, believing more in their identity and duty as a human.
Roslin, Athena and Six all have the same dream about protecting Hera. Apollo, unauthorized in a Viper, finds Starbuck in a Viper, telling him she's been to Earth and will lead the fleet there.
Permalink
Went on to the Battlestar Galactica episode "Exodus, Part Two." William sends Apollo with the Pegasus and the civilian fleet to find Earth. Ellen is exposed as a traitor and Saul poisons her with the same care we'd euthanize a pet.
Adama's big plan was to jump in atmosphere and dump the vipers. Galactica takes heavy damage from the Cylons, but the Pegasus comes back in the nick of time to save the day. The Pegasus crew escapes in Raptors as their ship blows up.
Snow-like debris floats over New Caprica reminiscent of Kuwait after Saddam blew up the oil wells. Hera's adoptive mother Maya and their military escort were killed in the attack. However she survives and Baltar and Six recover her.
Starbuck won't leave without Kacey. Kara is forced to tell Leoben she loves him and kill him first. It turns out Kacey was never Starbuck's daughter and her real mother finds them on Galactica.
Permalink
Finished up with the 2005 version of Pride and Prejudice. I don't understand why Matthew Macfayden is considered a hearthrob. I remember him from MI-5/Spooks and his conceptual substitute Rupert Penry-Jones was way better looking. Macfayden just looks like a dork to me.
I watch Jane Austen the way I watch Shakespeare. I look carefully at the variations and nuances. The sweeping landscape of Elizabeth on the edge of a cliff is a riff off Titanic. However, the scene was so distant, it almost made no sense to have the character there at all. For true spectacle, I wanted a helicopter shot that ended on her or the party. Well, maybe I just wanted the helipcopter shot. It ends with a medium shot from below with only the sky for the background. I thought the effect was disappointing.
Otherwise, it was just scene after scene of "let us show you a different way to make Keira Knightley look beautiful".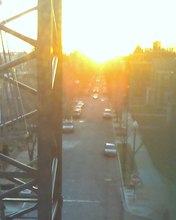 March 21 Permalink
In the last of couple of weeks construction on the building next door has finally eliminated my view of the Shrine of the Immaculate Conception and the rest of the Northeast of the city. But because the streets of the District of Columbia are aligned on the cardinal points, sunrise around the equinoxes will shine right down the east-west streets. So this morning I got G Street Henge. Sorry about the crane.
There is a similar effect in New York called Manhattanhenge. The grid of Manhattan is tilted 29 degrees, so sunset occurs on May 30 and July 11.
March 20 Permalink
The Nats released John Patterson. Zuckerman adds concerning his contract:
He was given a nonguaranteed, $850,000 major-league contract over the winter. If he had made it to Opening Day, the contract would have become guaranteed. Because he was released within 16 days of Opening Day, the Nats are now only responsible for 45 days of prorated salary ($212,500). Had Patterson been cut 17 or more days prior to Opening Day, the club would only be responsbile for 30 days severance pay.
From Patterson himself:
*Patterson also said it didn't help his case that Mark Lerner witnessed his most recent start Sunday in Fort Lauderdale against the Orioles, an admittedly rocky performance. "I pitched pretty well my [previous] two starts," Patterson said. "But he didn't see those."

*He also said he was "caught in between" Manager Manny Acta's desire for him "to get outs" and GM Jim Bowden's desire for him to throw more fastballs.
In a nutshell, you can see how their positions colored their view of Patterson. Acta is the manager who wants to win the game so he needs outs. Bowden sees him as a tradeable commodity to other GMs who want velocity, regardless of whether Patterson is actually getting anybody out. Lerner is an owner who sees his team being embarassed by the one team he doesn't want to lose to, even in an exhibition game, resulting in the Ian Desmond Effect.
Patterson looked bad in front of the owner and releasing him saved $637,500. The downside is the thought that this was Mark Lerner's idea. The immediate fan reaction was not so much that the Big Nasty, the Delicate Flower, the Cherry Blossom was gone, but that the Nats got nothing for him. It raises the spectre of cheap ownership.
On the other hand, maybe Kasten convinced Lerner that this was his idea, so he won't interefere in the future.
The reality is that it doesn't matter much. In his career, John Patterson has won 18 games. He turned 30 in January and he won't win 18 more. The over-under on future wins is probably more like three. Best case scenario: Patterson becomes a brief feel-good story, maybe for a pennant contender some September.
Permalink
And the Terps men are out.
March 19 Permalink
John Romano suggests sending Evan Longoria to Durham after spring training:
If Longoria is on the roster on March 31, he will probably be eligible for free agency after 2013. If he is in the minors until late April, he won't be a free agent until after 2014.

That means the Rays could either keep Longoria for a month in 2008 when he is just beginning his career and the team is not a contender, or they could hold on to him for an entire season in 2014 when he will be in his prime and the team might just be in better shape to contend...

So, yes, the Rays cannot afford to alienate Longoria. If they do send him to Durham, they cannot get cute and try to keep him down until June or July so they can also avoid an extra year of salary arbitration.

At this point, they can at least make the claim that — with only 104 at-bats above Double A — he could use a little extra seasoning.
Here are some comparable young players Romano cited along with another example he didn't:

Alex Gordon
Age Level   BA  OBP  SLG OPS+
22   AA   .325 .427 .588
23   ML   .247 .314 .411   87



Ryan Braun
Age Level   BA  OBP  SLG OPS+
21   Rk   .341 .383 .585
21   A    .355 .396 .645
22   A+   .274 .346 .438
22   AA   .303 .367 .589
23   AAA  .342 .418 .701
23   ML   .324 .370 .634 153



Troy Tulowitski
Age Level   BA  OBP  SLG OPS+
20   A+   .266 .343 .457
21   AA   .291 .370 .473
21   ML   .240 .318 .292  53
22   ML   .291 .359 .479 108



Ryan Zimmerman
Age Level   BA  OBP   SLG OPS+
20   A    .336 .377  .564
20   AA   .471 .471 1.059
20   ML   .397 .419  .569 162
21   ML   .287 .351  .471 114
22   ML   .266 .330  .458 107



Evan Longoria
Age Level   BA  OBP  SLG OPS+
20   A-   .424 .487 .879
20   A+   .327 .402 .618
20   AA   .267 .266 .486
21   AA   .403 .528 .931
21   AAA  .269 .398 .490

What wasn't mentioned was that Gordon and Braun conquered AA at age 22, Tulowitski and Longoria at age 21. Zimmerman's a prodigy, conquering AA at age 20. The younger a position player achieves a level, the more of a sure thing you've got.
The Rays aren't the Pirates. They can play the Moneyball of the Athletics, but holding back Longoria now would be a Scrooge-like, using a teabag 35 times, frugality. That would be the kind of stunt that gets around the union to leave a team as soon as you can.
Permalink
The Red Sox held up a spring training game and threatened not to go to Japan over the stipends paid to the coaches. The last time the Red Sox came close to boycotting a game, they won the World Series, but wouldn't win again for 86 years.
March 18 Permalink
The Washington-Baltimore Consolidated Metropolitan Statistical Area started the day with six teams in the Mens NCAA Basketball Tournament. Only Los Angeles (Cal State-Fullerton, UCLA and USC) and Philaldelphia (St. Joe's, Temple and Villanova) come close with three.
The Nats pounded Tigers pitching. But it's only spring training so that means jack.
Mount St. Mary's eliminated Coppin State. Maryland defeated Minnesota, but that doesn't mean a home game because the Terps have to go to Syracuse next.
DC United defeated Harbor View 5-0. Now that the Nats have moved out, United loves RFK again.
March 17 Permalink
Didn't find the NIT or CBI bracket until this morning. So I likely won't get to see that NIT game at the Comcast Center this year. Maryland's first round game is in Minnesota. The second round game might be at home if Robert Morris beats Syracuse. The Terps would also get a home game in the qurster-finals if Akron defeats Florida State and Stephen F. Austin beats UMass. This all assumes that Maryland wins their games.
March 16 Permalink
Congratulations to the Georgia Bulldogs Mens Basketball team for pulling off an improbable run in the SEC Tournament including three wins in two days.
With six area teams in the NCAA Tourament, four of them will be eliminated in the first round as Georgetown faces UMBC and Mount St. Mary's plays Coppin State.
March 15 Permalink
The University of Georgia's day will be told often through the years. First, a tornado hit the Georgia Dome, delaying their quarter-final game until Saturday. They beat Kentucky in overtime in the afternoon and Mississippi State in the quarter-finals in the evening.
Meanwhile, closer to home, Georgetown, George Mason, UMBC, American, Mount St. Mary's and Coppin State will be in NCAA Tournament, but not UMCP.
Permalink
Watched American Pie. Whitlock didn't realize she would find it so funny. I liked the relationship between Oz and Heather. I just want to know where Oz was able to find his jazz choir blazer after leaving the lacrosse game.
Alyson Hannigan managed a very difficult character who was nothing more than annoying stereotype for 90% of the movie. Then the mask comes off and she becomes the amusing character you've known in her other roles.
March 14 Permalink
Wily Mo Peña will be out four weeks with an oblique muscle tear. I have no evidence, but I have always associated muscle tears with performance enhancement use. It's as if the body can handle the strain of the larger parts.
I'm predicting 71 wins at this point and even the Orioles may pass the Nats win total. Only the Giants are certain to have a worse season.
March 13 Permalink
Came home early to help Whitlock get Kauai into the carrier for the vet. We had to corner him into the powder room before stuffing him into a soft carrier and closing up the zippers.
Permalink
Maryland got beat bad. Maybe this year I can see an NIT game at the Comcast Center. This is the first time I've heard a college coach defended by his lack of assistant coach recruiters, but that is the prime excuse give for Gary Williams. I think making the NCAA tournament just once in the last four years is underachieving for the Maryland program, but winning the national championship earns Williams plenty of slack.
Permalink
DC United let one get away by allowing Harbor View to tie. This was the first game I saw with the new stripeless kits. At least the shoulders and sleeves still have the stripes.
March 12 Permalink
The Nats have assigned ex-cop Jim Williams to watch Elijah Dukes:
They hired an ex-cop named James Williams and named him "special assistant for player concerns", which, loosely translated, means bird-dogging Dukes 24/7 and making sure he doesn't A) Hurt someone; B) Hurt himself; C) Commit any illegal acts and, D) Embarrass the Nationals.

Yes, it's a dangerous world out there, rife with red phone moments. And Dukes, whose talent is off the charts, isn't simply another guy looking to take advantage of a second chance...

That's what Williams, the ex-cop, will do 'round the clock. The Nationals expect Williams, who is off-limits to the media, to keep them apprised of Dukes' comings and goings, from what time he steps into the men's room to what he had for lunch. "We want to help him off the field," Bowden says. "He's made mistakes in life. We want to help him, help with his personal life, with his financial life, his baseball life, any way we can help him and make him a better player."
As a fan, I thought the Dukes signing was a reasonable risk. You expect a ballplayer to not get into trouble, unless he's Elijah Dukes. I don't know what the Nats are paying Williams, but I wouldn't expect it's more than $200,000 a year. That's worth it considering the $10 million per year performance Dukes could provide. I just don't understand why a fan would be "embarassed" if he truly screws up. Just forget about Dukes and move on.
March 11 Permalink
Watched the Nats play the Braves on Fox Sports South. Patterson and Hanrahan looked good, but Ayala blew the shutout and the save. I wonder why he went two innings and Cordero wasn't brought in for the save. The game ended in a 2-2 tie after 11.
Jon "Boog" Sciambi did the play-by-play. I'm a bit biased for him for pwning Buzz Bissinger last year. Sciambi seemed very knowledgeable about both the Nats and Marlins. If the Nats ever need a replacement for Carpenter, they could do worse than Sciambi.
Zimmerman went out with a hip flexor. That isn't as bad as the injuries suffered by Kaz Matsui and Felix Pie.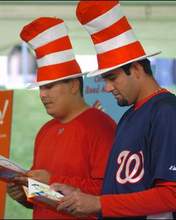 March 10 Permalink
The picture of Chief and Ayala is from an event Sunday morning where they read The Cat in the Hat to kids at Spacecoast Stadium. It needs the MASN voiceover of,"Whattayagonna do, Ryan Howard?"
Permalink
A glowing profile of Dusty Baker in the Cincinnati Enquirer was skewered by Fire Joe Morgan and ends with this cryptic tribute to the Nats skipper:
Now if you'll excuse me, I have to run a level-5 diagnostic on the M.A.N. eACTA. His verillion modulator is on the fritz.
Permalink
Jeremy Tomasulo at Fantasy Baseball Generals thinks Zimmerman may have a shot 3,000 hits.
Final sleeper - Ryan Zimmerman - 373 hits so far and only 22 years old. I am willing to believe that with age will come a drop in strikeouts which should hopefully lead to more hits. The new DC park is supposed to be kinder to hitters, so there is hope for him, assuming that Nats hold onto him for a while.
March 9 Permalink
Larry Dierker has taken up writing drama:
Larry Dierker has been a pitcher, manager, broadcaster and author. Add playwright and lyricist to his résumé.

Readings and songs from Old Stories, a musical written by Dierker, will be performed Monday and Tuesday at 7:30 p.m. at Stages Theatre, 3201 Allen Parkway. The public is invited at no charge.

The play draws on Dierker's 40-plus years of experience in major league baseball and follows the fictional 1970s Washington Capitals and their star right fielder Arthur "King" Cole as the team makes a run for the NL pennant while Cole struggles with new love and a declining career.
It seems to be reflex to set a fictional baseball team of 1972-2004 in Washington. Two other examples that immediately come to mind are Squeeze Play by Jane Leavy and the Ball Four television series.
March 8 Permalink
Even the Fox Sports Net Houston broadcast of the Nats-Astros game today encouraged fans coming to Nationals Park to use Metro. Unfortunately, the announcers were a little confused saying a new Metro station was under construction, but unfinished.
Permalink
Watched Chicken Little. A combination of unique and cliched elements. The cliches were the taunting of the unpopular kids in school and some embarassingly overt pop psychology about parents supporting their children.
The unique aspects were a game-winning home run in the middle of the movie and putting the ancient fable in modern times with space aliens thrown in. My favorite character was the Fish out of Water, kind of like Fez in That 70s Show, an obvious outsider who's oblivious to that fact.
Whitlock noted the many unoriginal songs from the 1970s. This points to the film's attempt to make sure the parents are enjoying the movie. It's like Disney was using a checklist for maximum audience accessability. Remind the parents how tough being a kid is, support their child and here's some music from your youth to tide you over. So, it was a little contrived, but what isn't it Hollywood?
March 7 Permalink
Two guys Who, Like, Never Agree has a roundtable of opinions. Here are some Nats-related views from Ryan Finley of the Arizona Daily Star and Connor Doyle, a former Idaho sportswriter and co-founder of the blog:
What non-favorite team of yours are you most interested in this season?
Finley: The Nationals. The ex-'Pos are proving that you don't need to have a large budget — or a minor-league system, or an experienced manager, or a capable pitching staff — in order to be noteworthy. Jim Bowden continues to launch half-court shots (mixed metaphor alert) as Washington's GM, with Elijah Dukes, Lastings Milledge, Wily Mo Peña and a cast of thousands (a few hundred of them being Boones) competing for spots in a clubhouse straight out of "Major League." The anticipated return of Nick Johnson, the fate of Dmitri Young and the disastrous catching situation should make the Nats either exciting to watch — or fun to watch lose...

What's the one annoying thing you hope this season will be the swan song for?
Doyle: Baseball's anti-trust exemption. Like most, I'm very much against the insane level of interaction between the feds and baseball lately, but I've also been excited by the prospect of the legislators finally thwacking baseball with the stick it's been threatening to use this entire time. Not only is there no need for the exemption — it is impossible for an upstart league to unseat MLB at this point — but it's given baseball the mistaken impression that it somehow deserves a governmental loophole (or that it's fine for Peter Angelos to block the Nationals unless he gets a kickback). Make MLB compete on the same playing field as every other major business in America; no one's going to try an monopoly-bust a sports league at this point in time
Non-Nats related, Voros McCracken would like to see the affiliated minors abolished and institution of a promotion and relegation system.
Permalink
Watched the Everybody Hates Chris episode "Everybody Hates Blackie". After the family gets robbed Chris is allowed to get a dog. His name is Blackie, but he only understands Spanish. Greg apparently has every book in the world in his locker and gives Chris a book on training dogs.
After the family finally gets their insurance check, the house is robbed again while they are shopping. However, since they didn't have much anymore, only Blackie gets stolen.
Permalink
Went on to the legendary Brokeback Mountain. More emotionally consistent than Shakespeare in Love, the opening sequence outside Aguirre's trailer was kind of slow. Whitlock thought there was enough to non-dialogue to plant an entire MST3K routine. I suppose that being less phsyically inclined, I prefer the verbal banter and flirting at the start of a relationship to other forms.
Heath Ledger's Ennis Del Mar is one of those people who seems to enjoy misery and suffering. I did find myself asking why the protagonists didn't consider moving to San Francisco or New York. Heck, there may be even friendly enclaves of Austin, Dallas or Houston for them. I thought Anne Hathaway was unconvincing as a Texas belle until she had blonde hair.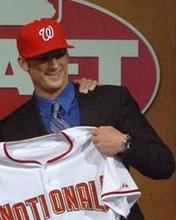 March 6 Permalink
Today is the birthday of Ross Detwiler. In his only major league appearance, he retired three Braves while one reached on a Zimmerman error. Not that I expected him to make the major league roster, but his demotion to the minor league camp so early in spring training surprised me. I'm guessing the Nats brass don't want any suggestion of putting him in the bullpen out of Viera.
Permalink
JD was at the cherry blossom planting where George participated in the shoveling ceremony with an invisible spade. The National Park Service Chief Horticulturist predicts March 27-April 3 for peak blooms. That coincides with the Orioles Exhibition and Opening Night.
March 5 Permalink
MLB is claiming that "non-text content, be it images, audio, or video created in a Major League ballpark, can only stay online for 72 hours." Editors arent' happy. Misschatter isn't happy. So am I to believe that three days after Nats320 posts a picture of himself, the African Queen and his best friend posing happily at Nationals Park, he's going to get a cease and desist letter from MLBAM? And after that a lawsuit for several hundred thousand dollars in back royalties?
MLB spokesman Pat Courtney said:
"You would have people setting a recorder down when a manager is speaking and post 12 to 15 minutes of unedited audio online."
If that's the problem, then restrict media to credentialed personnel or restrict club officials and players access to only highly controlled events. ESPN, CBSportsline and Yahoo! all have searchable galleries of team and game action. MLB shouldn't be able to restrict online distribution of content they don't own the copyright for.
And as far as fansites, just be glad there are people who care enough to write about your sport. As long as they don't claim copyright your trademarks, be happy. Dont go suing some grandmother for posting pictures of her outing to Fenway Park with her grandchildren.
March 4 Permalink
Chris Jaffe on the most interesting splits of 2007 has two Nats entries out of thirteen:
10) Manic Manny Acta. New Nationals manager Manny Acta won accolades by raising his team, with its all Quadruple-A starting rotation, up to the heights of craptitude. Instead of being historically dreadful, as some predicted, they just weren't very good.

One key point was his willingness to go to his bullpen. The 2007 Nationals tied a record set the year before by the Cubs by using pitchers on consecutive days 101 times. While the Cubs win a tie-breaker (they once used a pitcher on both ends of a double header, something the Nationals never did), Washington's experience may have been more impressive.

The Nationals used pitchers on no rest for 183 of their innings, shattering the previous mark of 168. I have no idea what it means for their future, but that's one thing that got them through 2007...

13) The Jim Palmer Seal of Approval. Last year, the Nationals pitchers did not allow a single grand slam. That's nice, but by itself is by no means historic. Many other staffs can make the same claim, including the 2007 Indians.

However, one key fact separates DC from the rest. Those other staffs all had no more than 170 occasions when they faced a hitter with the bases loaded. The Nationals did it 198 times. For the record, over 200 teams in the last 51 years have had more than 170 times that they pitched with the bases loaded. The Nationals, who are obviously nowhere near that 170/171 border, are the only ones to survive that experience unscathed.
Permalink
Gary Gygax died. It was quite a revelation the first time I realized my friend the referee, our group didn't call them dungeonmasters or gamemasters then, had made up the rooms all by himself. I got into world creation with the literal planet creating tables in Traveller and Universe. I ran my own live-role playing game which seriously teaches you how to think on your feet. After that I ran a couple of games in the Doctor Who universe on just half a page of notes. No stack of books, loose-leaf binders or a laptop. Just a half-page of notes.
March 3 Permalink
Went to trivia night at the Greene Turtle, questions provided by TriviaMaryland. I played with a group of waitstaff that called themselves the Ninja Turtles. Thanks to Gus, Chonte and Megan for letting me play with them.
Here are the questions (Highlight for the answers.):
Who was the last U.S. President not to attend college? Harry Truman.
Who were the three oldest coaches to win a Super Bowl? Dick Vermeil, Weeb Ewbank and Barry Switzer.
Who had a hit song entitled "This is the Night"? Clay Aiken.
What were the last three movies to win Oscars for both Best Actor and Best Actress? As Good As It Gets (Jack Nicholson and Helen Hunt), The Silence of the Lambs (Anthony Hopkins and Jodie Foster) and On Golden Pond (Henry Fonda and Katharine Hepburn).
What is your occupation if you have apiaries? Beekeeper.
Who are these people? (Click each photo to enlarge)

(Left to right) Woody Harrelson, Woody Guthrie, Woody Austin, Natalie Wood, Woody Allen, John Wooden, Alfre Woodard and Elijah Wood.
What current drama holds the record for most Emmy nominations? ER.
Other than Canada and Mexico, what two countries are closest to the United States? Bahamas and Russia.
Who composed the 1791 opera The Magic Flute? Wolfgang Amadeus Mozart.
What three U.S. National Parks are in two or more states? Death Valley, Great Smokey Mountains and Yellowstone.
What Maryland county borders only one Maryland county? Garrett.
What were Casey Affleck's last three films? The Assassination of Jesse James by the Coward Robert Ford, Gone Baby Gone and Ocean's 13.
What was the name of Jacques Cousteau's research vessel from 1950-1996? Calypso.
What six artists or groups have had the most #1 pop hits? The Beatles, Mariah Carey, Michael Jackson, Madonna, Elvis Presely and the Supremes.
In what year did all these events take place? The Broncos win the Super Bowl. Dr. Jack Kevorkian convicted of second-degree murder. Napster debuts. Wilt Chamberlain, Joe Dimaggio and Payne Stewart die. 1999.
Identify these television shows. (Click each photo to enlarge)
(Left to right)Duck Man, Everwood, Courting Alex, Cold Case, Ed, The Dick Van Dyke Show and Dancing with the Stars.
Acrophobia is fear of what? Heights.
What three men have coached the Washington Wizards/Bullets for five consceutive years or more? Eddie Jordan, Gene Shue and Wes Unseld.
What product had the tagline,"He likes it! Hey Mikey!" Life Cereal.
Within 40 years, when was the tin can invented? 1810.
Tiebreaker:
How much was a Whopper when it was introduced in 1957? 37 cents.
We were leading going into the final question which we got wrong and wagered too much, plunging us into fifth. There was a tie for third that was broken by whoever got closest to the sudden death question.
The enlarged pictures have all been standardized to 176x220 pixels, the standard main wallpaper size for my cellphone, the Motorola KRAZR, and a whole bunch of other phones. So if you ever wanted wallpaper of these people or these shows, there you go.
March 2 Permalink


Former Nats Marlon Anderson, Ryan Church Collide. In Washington days, only their forearms collided. It seemed to be exactly like the collision that disabled Nick Johnson for more than a year right down to Ruben Gotay substituting for the immobile Jose Vidro. In this case, Church got the worse of the impact, a concussion, rather than Anderson who had a bruised sternum.
Also from yesterday's game, SNY repeated it in the evening. I thought Don Sutton was doing color for the Mets when Keith Hernandez said,"Catcher Brian Snyder."
March 1 Permalink
Look up the dictionary definition of fundament. Now I hope you better understand fundamentalism.
Permalink
Finally watched Ice Age. I liked this one a lot. There was a good, believable connection between characters. Except with the humans. The humans had been doing bad things to the mammoths and sabertooths, so I don't know why they'd help a human baby. The landscapes and vistas were excellent, a lot nicer to look at that than the cityscapes in Spider-Man and Batman and Robin.